Chicago Agenda: Tuesday, January 21
BY: Tyler Clark |
Jan 21, 2014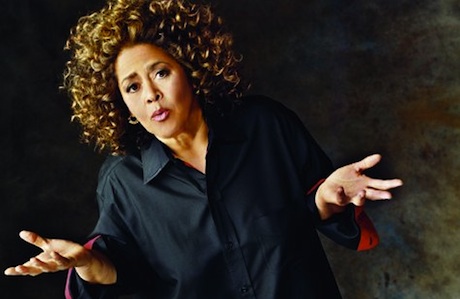 "On Grace"
Actor and playwright Anna Deavere Smith explore resilience and spirituality during a performance of this in-progress work
How do people find the strength to persevere in a world filled with tragedy? It's a big question without an easy answer, and for playwright Anna Deavere Smith, that's exactly the point. During her residency at San Francisco's Grace Cathedral, she sought out the opinions of theologians, politicians, and thinkers from across the religious and philosophical spectrum.
On Grace
transforms their opinions into moving monologues made all the more resonant by the music of cellist Joshua Roman. Now concluding her 2014 Presidential Arts Fellowship at UChicago, Smith will share her findings during a rare performance at the
Harris Theater for Music and Dance (205 E. Randolph Dr.)
. The show remains a work in progress, but here that's an opportunity instead of a drawback: after her performance, Smith will sit down for a chat with audience members, asking those in attendance to consider what forms, if any, their own concepts of grace assume.
(7:30 p.m.; $10–$25; buy tickets here)
WBEZ's The Year In Review
Six WBEZ reporters and six artists stage a month-by-month rundown of 2013's biggest stories
In 2013, Edward Snowden revealed the secrets of American surveillance, a new pope revitalized the Catholic Church, and I got seven haircuts. The newshounds at WBEZ spent their days chronicling these and other major events, so it should come as no surprise that they have some stories to share. Tonight, six reporters and six local artists will take the stage at
Park West (322 W. Armitage Ave.)
for The Year In Review, a month-by-month recap of 2013 that blends hard news with engaging personal narratives. It's a packed slate; performers include WBEZ personalities Natalie Moore, Lauren Chooljian, and Odette Yousef, poet Malcolm London, and Do Not Submit host Shannon Cason. Chicago storytelling kingpin Scott Whitehair and The Moth GrandSLAM winner Stephanie Douglass co-host.
(8 p.m.; $10–$25; buy tickets here)
The Chop Shop's New Holland Beer & Artisanal Spirits Dinner
A five-course feast, craft cocktails, and New Holland beers headline this upstart Wicker Park butcher shop's first beer and spirits dinner
When it opened in October, butcher shop/bar/steak-house hybrid
The Chop Shop (2033 W. North Ave.)
instantly became Wicker Park's go-to spot for anyone who wanted to sip a craft cocktail while eating an entire salami. The restaurant continues that strong start tonight with the inaugural edition of its Beer & Spirits dinner. To mark the occasion, they're bringing in some out-of-town guests of honor; as you read this, the dudes of Michigan's
New Holland Brewing
are barrelling down I-94, bringing with them handcrafted beers and spirits including Beer Barrel Bourbon, Knickerbocker Gin, and the ever-popular Dragon's Milk. The drinks will complement an as-yet-unrevealed five-course feast from resident chef Josh Marrelli. We're not sure of the specifics, but a quick glance at the restaurant's
regular menu
tells us you'll be in good hands.
(Seatings at 6:30 p.m. and 8:30 p.m.; $75; call (773) 537-4440 for reservations)
Photo courtesy of Harris Theater for Music and Dance
BY: Tyler Clark
Tyler is a writer, storyteller, and musician from Chicago. His stories have appeared on stage at shows including Mortified, Story Club, and Lethal Poetry.