January's a Colorless, Wintry Void. These Lipsticks Might Cheer You Up.
BY: Liz Juranek |
Feb 24, 2014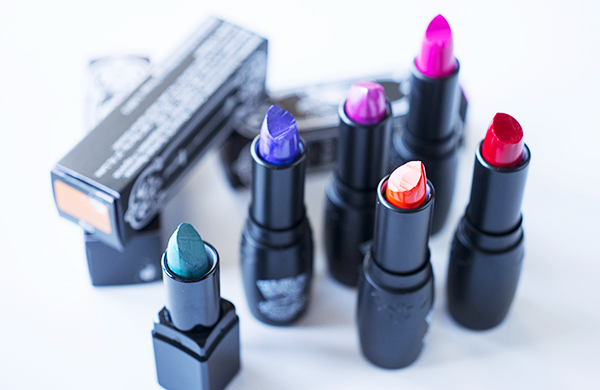 It's been said that in times of economic depression, lipstick sales skyrocket. The explanation? It's an inexpensive way to perk up an otherwise bleak time. We thought we'd test that same theory against a different kind of depression: the winter blues.
Freelance makeup artist Lorelei Gagnon came to the rescue with a palette of vivid lip colors mostly from Medusa's Makeup, a Chicago-based brand known for its unusual hues. She created four unique looks from the ultra-bright shades and shared her tips on how to wear them (even if you're only brave enough to do so in hibernation).
A Pop of Pink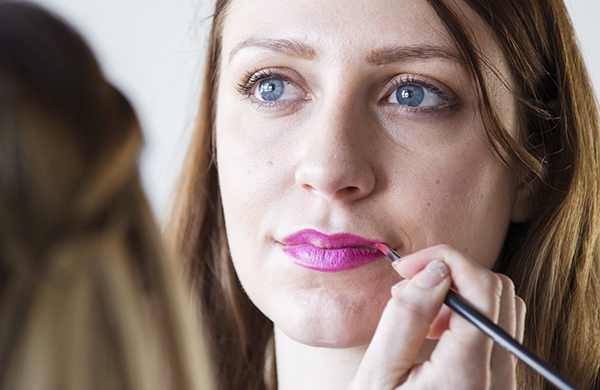 Shades used: Medusa's Makeup Luxurious Lipsticks in Triple X and Miami ($12 each)
Lorelei's first look is the most beginner friendly. She started by covering Colleen's lips with the darker Triple X (straight out of the tube) but introduced an unexpected twist by using a lip brush to blend the lighter-colored Miami into the center of each lip.

Orange-Red Ombre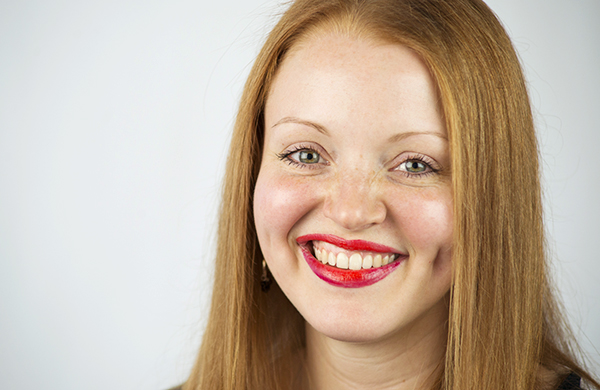 Shades used: Medusa's Makeup Luxurious Lipsticks in Red Square and Rio ($12 each)
Lorelei used the same technique here, creating an ombre effect she described as a way to try bold colors that "won't seem too outrageous." She suggested pairing red with a little bit of orange, which is especially flattering with Christie's orange-red hair. By adding a dab of Rio on top of the true-red lipstick, Lorelei updated a classic look.
Radiant Orchid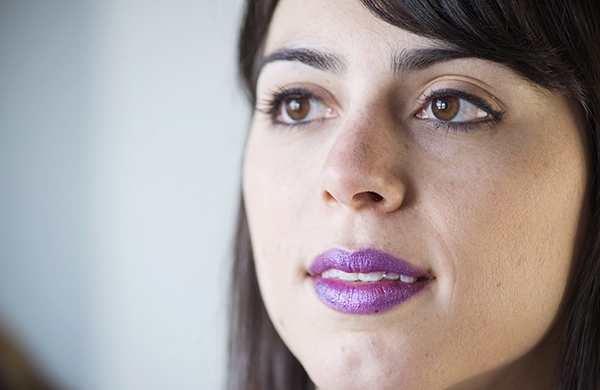 Shades used: Medusa's Makeup Luxurious Lipsticks in Undead and Skid Row ($12 each)
This look was inspired by Pantone's 2014 Color of the Year. Lorelei applied Undead all over and highlighted the center of the lips by brushing on Skid Row.
(These first three looks require a little more maintenance. Lorelei suggested checking the color every one to three hours; if you won't have time for that, she recommended applying a thin layer of lipstick, blotting with a tissue, and then reapplying. Doing this several times will make the color last like a lip stain.)
Aurora Borealis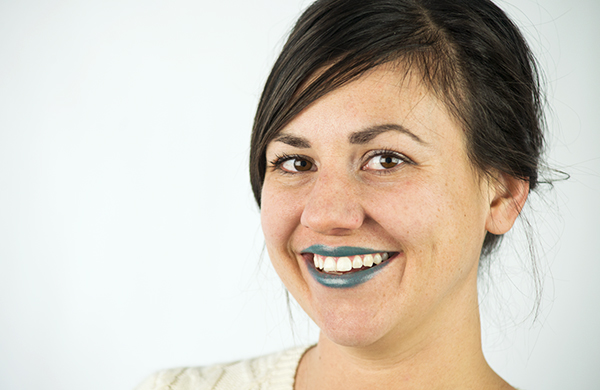 Shades used: Illamasqua Lipstick in Apocalips ($30.02), clear gloss
This curious green-blue color (also seen recently at Dolce & Gabbana makeup counters) is the boldest of the four looks. Because it has a very matte finish, Lorelei swiped clear gloss over it to create a softer effect. "You want it to look like you're wearing lipstick," she said, instead of looking like you just ate a lollipop.

Some Final Tips
Know your skin tone. Lorelei said the first step to choosing a bright lipstick is to understand what skin tone you have. According to makeup artist Jenny Patinkin, if you tend to gravitate to gold jewelry, you're probably a warm undertone; if you can only wear silver, then you're a cool; and if you look good in both, you're a neutral.
Keep everything else neutral. As Tim Gunn would say, this is a lot of look. Balance the brightness with very neutral eye makeup. Nude shadow, mascara, and possibly black liner.
Moisturize and exfoliate your lips. Otherwise, Lorelei said, "the lipstick can get in the little crevices in your lips and it's not flattering."
Ultimately, wear what you like. "If you're feeling pretty and confident, you can get away with anything," Lorelei said.
Photo: Tim Burkhart, Groupon
BY: Liz Juranek
Liz is a beauty writer whose two greatest joys are red lipstick and her pet dwarf hamster.