Chicago's (Sort of) Russian Foods
BY: Shannon Jewitt |
Feb 5, 2014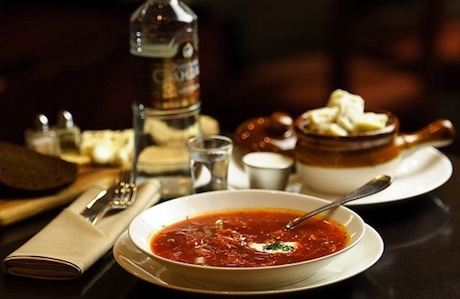 With the Winter Games right around the corner, it's the perfect time to eat like a Sochi local. Unfortunately, Chicago doesn't have a lot of Russian cuisine. What it does have is a lot of food sort of like Russian cuisine: specialties from Ukraine, Poland, and other areas of Eastern Europe. Here's where to kick back with some stuffed cabbage, sauerkraut, vodka, and other Russian—or Russian-ish—delicacies.
Red Square (Wicker Park | 1914 W. Division St.)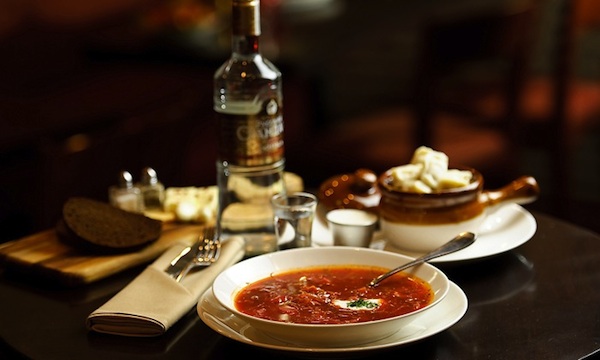 In addition to a sauna, spa, and tanning beds, Red Square includes a restaurant. Start with hot or cold borscht, cured slabs of fatback ukrainian salo, and tayga, made with pickled mushrooms, green onions, and cranberries, dressed with mayonnaise. Then move on to veal pelmini, russian herring, and vereniki, a ukrainian dumpling stuffed with potatoes and onions. And be sure not to forget the bar's crisp, citrusy Moscow Mule cocktails.
Andrzej Grill (Humboldt Park | 1022 N. Western Ave.)
Although this Polish restaurant has a wide variety of offerings, be sure to check out its stuffed potato pancakes, kielbasa, pork cutlet, and, of course, its housemade pierogi.
Podhalanka (West Town | 1549 W. Division St.)
Conveniently located off the Division Blue Line, this Polish restaurant serves
sour-cabbage soup
, cheese blintzes, housemade polish sausages, stuffed-cabbage rolls, and borscht.
Kasia's Deli (West Town | 2101 W. Chicago Ave.)
In addition to a wide variety of deli meat, Kasia's, which has been in business for more than 20 years, makes the best pierogi in Chicago, according to its website. The deli also sells beef roulades, hungarian stew, stuffed cabbage, and lazanki, a traditional Polish pasta dish with cabbage and onions.
Russian Tea Time (The Loop | 77 E. Adams St.)
If you're looking for vodka, this is the place to go. Russian Tea Time serves more than three dozen kinds of vodka, in addition to vodka flights. To soak up all the vodka, check out the restaurant's meat dumplings, borscht, and blini, russian pancakes.
Klas (Cicero | 5734 W. Cermak Rd.)
This Eastern European restaurant opened in 1922 and has been serving beef goulash; svickova, pickled beef with creamy vegetable-root gravy; koprova, boiled beef with dill gravy; and tasty kolacky ever since.
Sawa's Old Warsaw (Broadview | 9200 W. Cermak Rd.)
Sawa's has provided its buffet of Polish cuisine to customers for more than 40 years. If you can't stuff your face with the entire smorgasbord of food, be sure to check out the sausage, potato pancakes, and rotating selection of blintzes.
Vesecky's Bakery (Berwyn | 6634 Cermak Rd.)
This is the place for all your Eastern European baked-good needs. Check out kolacky and hot dogs baked in the bun, as well as houska, a slightly sweet czech bread with nuts and dried fruit.
Rich's Deli (Ukrainian Village | 857 N. Western Ave.)
As a deli, Rich's has numerous meaty foodstuffs, including pasztet, otherwise known as pâté, and kabanosy, polish dry sausages. However, it also has a selection of Polish vodkas and liqueurs.
Staropolska Restaurant (Logan Square | 3030 N. Milwaukee Ave.)
This Eastern European eatery's hearty menu includes red beet-root soup and three different kinds of potato pancakes. To wash it all down, sip on more than a dozen vodkas. If vodka's not your thing, there's plenty of whiskey, too.
Grand Duke's Restaurant (Summit | 6312 S. Harlem Ave.)
This Lithuanian restaurant provides food from just about every Eastern European country, including hungarian goulash, polish sausage with sauerkraut, and siberian dumplings with pork. Unsurprisingly, there are also a few Lithuanian specialities, including kugelis, a potato pudding with bacon, and zeppelins, lithuanian dumplings filled with meat. To wash all this down, sample from countless Russian, Lithuanian, Polish, and Ukrainian vodkas.
Photo courtesy of VIP Pro Lab & Video, Inc
BY: Shannon Jewitt
Resident Beer Stalker Shannon has an insatiable thirst for craft beer. Despite being a vegetarian, she always makes an exception for fries cooked in duck fat.