Chicago's Three Best Sushi Restaurants by Neighborhood
BY: Kari Herrera |
Jan 8, 2015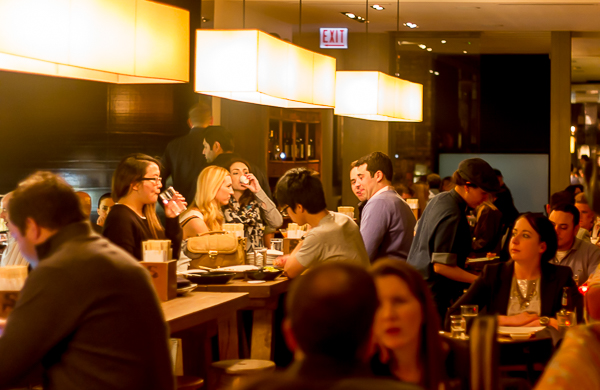 In the last ten years, sushi has become as plentiful on the Chicago scene as hot dogs. To be clear, this is a bad thing. There was once a time your average eater didn't know the difference between maki or sashimi and food snobs preferred it this way. Culinary ignorance kept the raw seafood pool shallow enough to easily weed out the not-so-serious from the meticulously fresh and authentic sushi houses. Today, the market suffers from fishy inflation and it's growing increasingly difficult to tell the faking flounders from the master sharks.
How do you spot a great sushi restaurant? Three things to look for: Fresh fish, excellent service, and reasonable prices.
Freshness. As a rule of thumb remember that if the smell is bold, the fish is old. This applies best to sashimi, raw fish served without rice. Compared to Maki (sushi rolls) which can be doused in anything from cream cheese to layers of mayonnaise, sashimi is naked, openly exposing the quality of seafood served. If your first whiff is anywhere near offensive, chances are the restaurant isn't too particular about their quality. Translation: A distasteful platter now and a sick stomach later.
Service. There's no need to put up with poor service in a town as rich in restauranteurs as Chicago. You should expect a friendly wait staff and chefs who are happy to make recommendations. Nothing less.
Price. At the end of the day, this is raw fish. It shouldn't cost an arm and a leg. If exotic fish varieties are your thing, expect to pay a little more. Otherwise, for tuna, salmon and the like, assume your final bill will in no way compete with next month's rent.
So what Chicago restaurants excel at the three most necessary elements?
Chicago's Three Best Sushi Restaurants by Neighborhood
Sunda (Near North Side)

110 West Illinois Street, Chicago, IL 60654

Known for its celebrated regulars (Barbra Streisand, Michelle Williams, Katy Perry, and Lady Gaga have all been seen dining here), Sunda is a great place to go for people watching and date impressing. Apart from the spots lovely dim, romantic atmosphere, its new Asian fare is exceptional.

Suggestion: The crispy Brussels sprouts salad. I first ordered this item on a dare. Now, it's my go-to appetizer. The texture created with fresh Brussels sprouts and fried shallots, topped with a homemade minced shrimp vinaigrette is more addiction making than a bag of ruffled potato-chips. It's a celeb fav as well.

Tip: Avoid the $7 spicy edamame. Grocery stores sell this veggie by the pound for $1.99. I really don't see the point of buying it in smaller qualities for a much higher price at a place like Sunda. There are better ways to start your meal.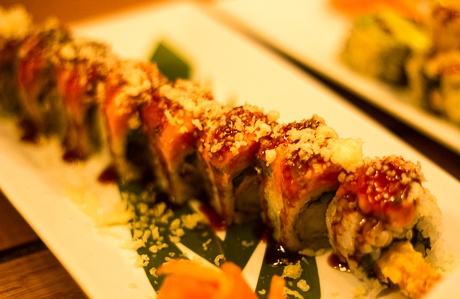 Union Sushi + Barbecue Bar (River North)

230 West Erie Street, Chicago, IL 60654

Famous for its drinks as much as for its food, Union Sushi and Bar is a late night diners dream, opened to midnight Friday and Saturday. Come for a modern bar atmosphere and dishes that will both exceed and redefine your expectations.

Suggestion: In addition to the fresh sashimi, I recommend the Clifton #4 Maki, stuffed with fried calamari, asparagus, and garlic mayo. Healthy? Not so much. Delicious? Heavenly so.
Tip: The delicious scallop sashimi is essentially $6 for one small scallop? Order from their list of signature cocktails instead.
Enso Sushi & Bar (Wicker Park)

1613 North Damen Avenue, Chicago, IL 60647

Where do I begin with Enso? The little black space ship of a restaurant is delightfully quirky. A Megatron- like transformer greets you at the bathroom, and an "Enso-gram" game card awaits guests at their table. Take a photo, post it to Instagram, and tag it appropriately to win a delicious prize. While hand-crafted cocktails are offered, along with an assortment of premium sake, Enso smiles upon patrons who favor bringing their own wine – waiving the first bottle's corkage fee. Aside from these hospitable touches, the restaurant offers fresh, affordable sashimi, maki, and nigiri dishes.

Suggestion: The Soul of Fire Maki made with tuna, salmon, Sriracha, and Shishito pepper. It's full of fire and flavor.

Tip: Skip dessert. Sweet tooth calling? Simply walk to the corner where you'll be met by three of the city's top donut bakeries.