Chicago's Vegetarian-Friendly Summer Dining
BY: Shannon Jewitt |
Jun 21, 2013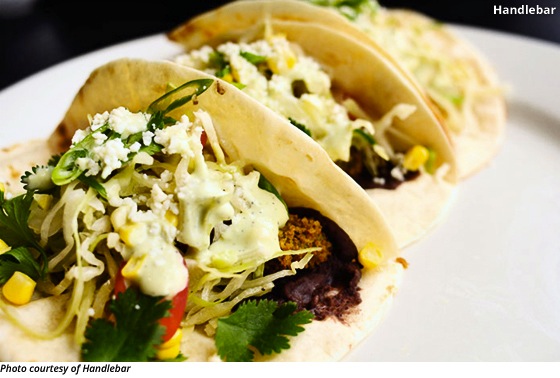 Summer can be a lonely time for vegetarians and vegans, who need refuge from the grilling and barbecues that take over summer festivities. So if you want to go somewhere where everybody knows you don't eat meat, check out the following vegetarian and vegan establishments.
Handlebar
| 2311 W. North Ave. This Wicker Park eatery not only serves vegetarian and vegan comfort food, such as chili cheese fries and shrimp and grits, but it also includes a beer garden. Be sure to check out the Green Meanie, composed of a few of my favorite things: avocado, spinach, tomato, sprouts, and the pinnacle of them all, herbed goat cheese.
Chicago Diner
| 3411 N. Halsted St. I once asked my server if the reuben at this Boystown diner was as delicious as all the awards claimed. He looked at me with complete disgust. And rightfully so. After I tried it, I couldn't believe I'd doubted that it would taste like anything but the real thing—meaty, creamy, delicious, but above all, meat free. To complement the reuben or any of the diner's tasty treats, have a seat on the back patio to enjoy a dairy-free milk shake topped with whipped cream. You won't believe there's no milk in it.
Green Zebra
| 1460 W. Chicago Ave. If you are itching to put on your fancy pants, which tend to be itchy anyway, check out Green Zebra. This gourmet restaurant's chef and owner, Shawn McClain, has won a slew of awards—and for good reason. Green Zebra's contemporary cuisine includes pearled barley risotto and housemade coconut curry. And if you would like a drink but not a hangover, take refuge in the air conditioning with the restaurant's refreshing nonalcoholic cocktails, such as pink-peppercorn thyme soda and umeboshi shiso soda.
Original Soul Vegetarian
| 203 E. 75th St. Being vegetarian doesn't necessarily mean being healthy, and Original Soul Vegetarian proves that point. The menu brims with numerous barbecue dishes, burgers, and battered everything. If you want to feel healthier after gobbling down all the greasy goodness, wander into Eternity Juice Bar and gulp down a glass of nectar. The juice bar's elixirs include Apple Detox, Pineapple Supreme, and Strawberry Heaven, which help you detoxify, cool off from the summer heat, and achieve otherworldly bliss, respectively.
Mana Food Bar
| 1742 W. Division St. If you want to take an international vacation but can't afford the airfare, check out Mana Food Bar. The menu is divided into cold and hot dishes and includes everything from bulgogi to potato pancakes. In addition to smoothies and fresh-squeezed juices, the eatery offers wine, beer, and half a dozen sake cocktails, which you can sip while basking in the sunlight in one of the restaurant's 20 outdoor seats.
BY: Shannon Jewitt
Resident Beer Stalker Shannon has an insatiable thirst for craft beer. Despite being a vegetarian, she always makes an exception for fries cooked in duck fat.