Chicago's Vietnamese Cuisine from Uptown to Chinatown
BY: Kevin Moore |
Aug 13, 2013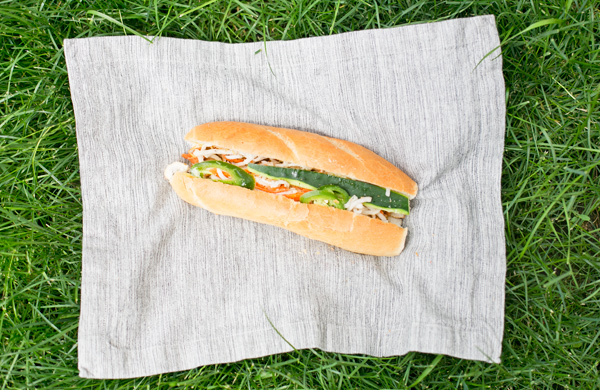 When temperatures and humidity skyrocket during Chicago summers, the city can occasionally feel more like a tropical jungle than a Midwestern metropolis. In a handful of regions, Vietnam's cities and people are accustomed to these sorts of rainy summer seasons. That being said, the best way to experience a bit of Vietnam without leaving Chicago doesn't involve sitting outside in the muggy heat. Instead, try visiting one of these eateries and either duck in to avoid the sunshine or snag a small meal to enjoy alfresco:
For when you only have $5 in your wallet:
Nhu Lan's Bakery
(Lincoln Square | 2612 W. Lawrence Ave.) The oven at Nhu Lan's Bakery cooks as many as 450 miniature loaves of french bread at a time, which ensures that the neighborhood's worst-kept culinary secret can assemble bánh mì sandwiches all day long. Pickled carrots and daikon, jalapeños, and fragrant cilantro drive home the sandwiches' southeastern Asian roots while silken pâte and crusty bread demonstrate the cuisine's French influences. The best part about this delicious bit of cultural fusion: no sandwich costs more than $4.25. Grab a quick bite to enjoy in one of the many parks in nearby Lincoln Square or Albany Park.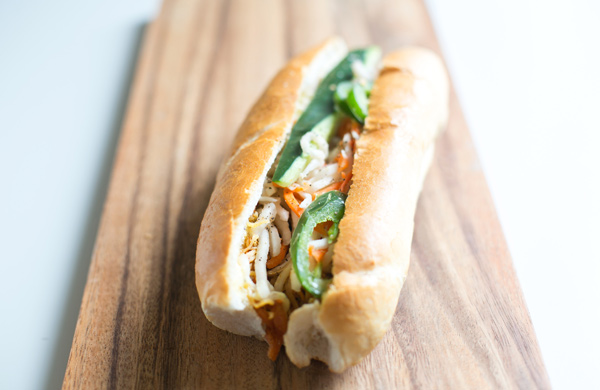 For guests who prefer to order by number:
Café Hoang
(Chinatown | 232 W. Cermak Rd.) As featured on
Check, Please!
, Café Hoang introduces some Vietnamese flair into the heart of Chinatown. The menu helps simplify the ordering process so that requesting anything from tamarind fish soup to grilled beef rolled in hawaiian leaves is as simple as giving a number. Street food goes well with street tours and, with the heart of Chinatown lying nearby, a visit to Café Hoang can easily become a full afternoon excursion when the mercury is manageable.
For diners who are curious about time travel:
Le Colonial
(Near North Side | 937 N. Rush St.) It's always the 1920s at Le Colonial, which recreates the atmosphere of a jungle plantation in the heart of French-occupied Indochina. Ceiling fans lazily twirl above diners' heads and circulate cooling summertime breezes amid the room's woven rattan furniture and potted banana plants. Black-and-white photographs of Saigon in the early 20th century line the walls, further demonstrating the eatery's commitment to an era as well as a place.
For people who miss their college dining hall:
Tank Noodle
(Uptown | 4953 N. Broadway) Getting a table isn't impossible at Tank Noodle, but expect to share some elbow space with surrounding patrons as you slurp on a bowl of noodle soup at this perennially popular establishment. The room echoes with conversations—only a fraction of which tend to be in English—although eavesdropping is difficult when you're too busy customizing your pho by adding the perfect amount of sprouts, basil, and jalapeños. Even though hot soup might not be everyone's first choice for summertime cuisine, a meal at Tank Noodle is an excellent way to wait out the torrential rains of an evening thunderstorm.
For patrons with passports for their sweet teeth:
La Patisserie P
(Uptown | 1052 W. Argyle St.) There are two display cases at La Patisserie P. One brims with familiar Western baked goods, such as croissants, apple turnovers, and cream horns—conical pastry shells filled with decadently dense cream-cheese frosting—but the other case features some more adventurous treats. French pastry techniques meet Vietnamese and southeastern Asian flavors at La Patisserie P, leading to items such as buns filled with curried beef as well as cakes with red or green bean paste, which help complete even the most eclectic picnic basket.
Photo: © Stephanie Bassos, Groupon
BY: Kevin Moore
Iowa-born, Arizona-raised, and Illinois-tax-paying writer who can answer any Trivial Pursuit question about wine or snakes.