Chocolate in Six States, from Salted to Cakey to Boozy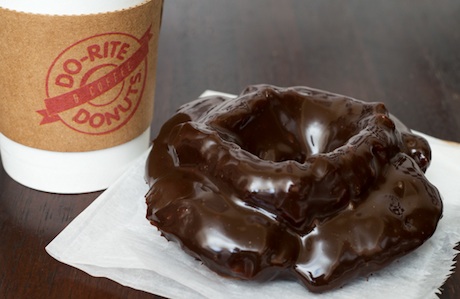 Like all matter in the universe, chocolate can appear in three different states: solid, liquid, or fondue. That's not the whole story on your sweet tooth's favorite element, however. Below, our intrepid Groupon explorers investigate more six more elusive forms of chocolate in Chicago.
SALTED: Salted Caramel Truffles at Katherine Anne Confections (Logan Square | 2745 W. Armitage Ave.)
I sampled several truffles on my first visit to this confiserie's cozy café, but the salted caramel truffle was a clear standout. A crisp chocolate shell topped with flecks of salt gave way to an incredibly smooth center, thanks to cream culled from a herd of Jersey cattle in central Illinois. Forget sugar plums—visions of that truffle will be dancing in my head come Christmas.
– Jorie Larsen
WARM: Hot Chocolate at Margie's Candies (Northcenter | 1813 Montrose Ave.)
Although Margie's is best known for its ice-cream sundaes, the hot chocolate there holds its own. Since I had my first taste six years ago, I find myself drawn back for more each winter as the mercury plummets. With my first sip the world seems to stop, letting me lose myself in the decadent mixture of rich hot fudge and whole milk. The wafer cookie served alongside is a kind but unnecessary gesture; in my excitement to get my hands on the cocoa, I shove it into my purse, where I find it the next morning, broken, simultaneously reminding me of last night's gluttony and the fact that I don't have to limit my indulgence to once a year. –
Melanie Zanoza Bartelme
TOROIDAL: Double-Chocolate Old-Fashioned at Do-Rite Donuts (River North | 50 W. Randolph St.)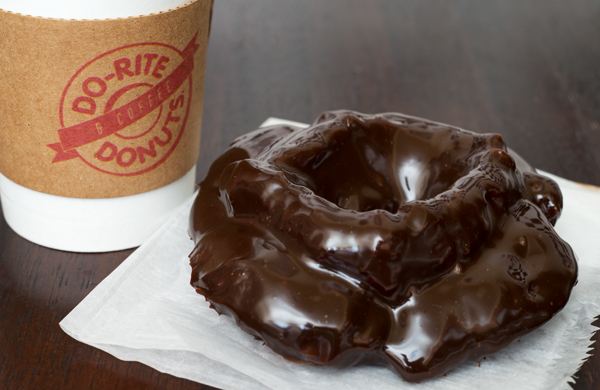 Despite its clear promise of chocolate, the double-chocolate old-fashioned at Do-Rite Donuts wasn't cloyingly sugary. The ultramoist, dense cake inside had a depth and complexity of flavor reminiscent of dark chocolate, though it wasn't at all bitter. The slightly crunchy topping, however, was all milk chocolate, a sweet confection that tasted like a cross between a frosting and a glaze. Together, the cake and frosting created a delicately restrained chocolate flavor that left me, against the odds, ready to tackle a day filled with more than just napping. –
Michelle Schuman
BOOZY: Dark-Chocolate Martini at The Solstice (Lincoln Park | 2666 N. Halsted St.)
This liquid dessert is my go-to favorite at The Solstice, a full bar that specializes in chocolatey confections and drinks. The combination of Ketel One vodka, half-and-half, vanilla syrup, and chocolate syrup is topped with white-chocolate shavings and served in a martini glass rimmed with what tastes like chocolate sugar. The dark-chocolatey flavor almost makes me forget that it even contains alcohol—or maybe that was the vodka that made me forget.
– Christie Succop
CREAMY: White Chocolate & Apricot Croissant Bread Pudding at Parkers' (Downers Grove | 1000 31st St.)
This is the creamiest, silkiest bread pudding I've ever eaten. The croissants feel airy inside the dense pudding, which is smooth and rich with white chocolate. The best bits are the caramelized corners around the edge of the cast-iron pan it's baked and served in. It's easy to see why Chef Pat McLaughlin, who was recently interviewed by the
Chicago Tribune
, picked this as one of his dessert recommendations on the menu. The pudding comes with two accompaniments: crème anglaise, served in a chilled porcelain saucière, and a tiny scoop of strawberry gelato. I did yearn for a bit more of the gelato—it sang against the bread pudding, but there wasn't enough to go around.  
– Rachel Matuch
CAKEY: The Ron Bennington at Molly's Cupcakes (Lincoln Park | 2536 N. Clark St.)
Radio personality Ron Bennington made millions as a standup comic and jerk-faced loudmouth. For this, he's been forever commemorated in icing at my favorite bakery in the whole wide world, Molly's Cupcakes. The Ron Bennington cupcake is a mini miracle, with chocolate cake, velvety chocolate ganache, and crushed butterscotch topping. There's also a secret inside: peanut butter. Yes, it's filled with peanut butter, people. You can further dress up your Ron at the signature sprinkle station or ask owner Eileen Kerbel about her appearance on the Food Network's
Cupcake Wars
. (She won, of course.) –
Adam Bass
Photo credit: Andrew Nawrocki, Groupon
BY: Groupon Guide Staff
Groupon Guide Staff