Climb Jamaica's 600-Foot Dunn's River Falls
BY: Michelle Schuman |
Mar 18, 2015
Dunn's River Falls in Jamaica achieved star status in 1962, when it was used as a location for the James Bond film Dr. No. It takes a lot to draw attention from Sean Connery and Bond girl Ursula Andress, but the spectacular Dunn's River Falls, a 600-foot cascade stretching across a series of naturally occurring limestone steps, fits the bill. Today, eco-adventurers from all over the world line up to climb the towering terraces, which start in a lush rainforest and bottom out at a postcard-worthy beach.
The current can be strong and the rocks slippery, but almost anyone can ascend the falls safely; many visitors make the climb holding hands in a human chain. Not feeling up to it? You can always walk alongside the water on a trail dotted with observation decks.

Why it's worth the trip: For the photos and the satisfaction of conquering a world-famous waterfall.
Where to stay: A hotel or resort in nearby Ocho Rios is your best bet. At Hermosa Cove Villa Resort & Suites and the adults-only Jewel Dunn's River Beach Resort & Spa, staff members will help you arrange transportation.
How to get here: Take a shuttle from the cruise terminal at Ocho Rios or grab a taxi (it's only about 3 miles from town). If you're coming from Montego Bay, hop on the Knutsford Express bus to reach Ocho Rios.
Best time to go: To avoid crowds, try to get to the falls as early in the morning as possible—and don't visit on days when there's a cruise ship in port. The best months to visit are May–November, the island's off season.
What to bring: A swimsuit, a towel, water shoes, and a waterproof camera. If you don't have appropriate footwear, you can rent jelly shoes onsite.
Know before you go: Though you can climb Dunn's River Falls on your own, it's worth hiring a licensed guide (not a freelancer) who knows the best routes up the rocks and is trained in emergency protocols. Fair warning: your guide will expect a tip.

Check out other activities on our Caribbean bucket list: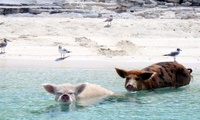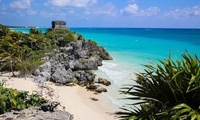 BY: Michelle Schuman
Michelle is a freelance fashion designer and dancer from Detroit. She has traveled the US extensively (and loves it!), but her biggest goal is to travel abroad.