Clown Shoes' Undead Party Crasher
BY: Cody Braun |
Nov 11, 2013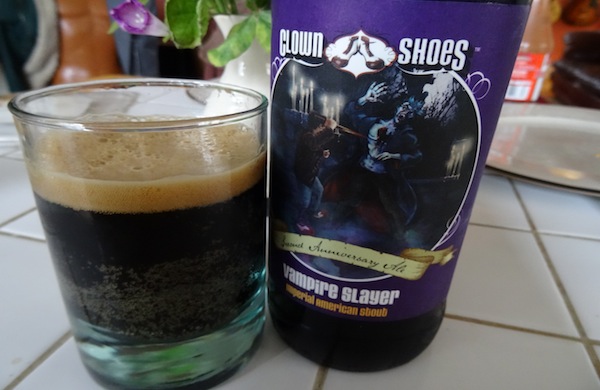 The beer:
Vampire Slayer
(which will soon be known as Undead Party Crasher) from
Clown Shoes
Why the name change? 
The entire ordeal is outlined
here
, but basically another beer distributor took legal action against Clown Shoes. Fighting the case would have cost hundreds of thousands of dollars, so they're ditching the old name. The new bottle features an adventurer battling undead trademark attorneys.
The style:
Smoked imperial stout. Smoked malts can be overpowering, leading to beers that taste approximately like an uncleaned barbecue grill. That smokiness is very delicate in Vampire Slayer, though. "With Vampire Slayer," says Clown Shoes' Sean Geary, "we smoke a very small portion of the malts over hickory and ash, which balances the flavor and aroma with the roasted malts."
Is this beer actually any good for killing vampires? 
The hickory and ash represent stakes, which are crucial in fighting the undead. It also contains holy water. "It's a funny story actually," Geary says. "When we conceived the recipe and decided we absolutely needed holy water in this beer, we contacted a bunch of local priests to ask if they would do the honor. The answer was always no. They all explained that it isn't sacrilegious and we wouldn't be excommunicated for brewing with holy water, but it was just simply something they weren't ready to do. We went to the Internet and found a source online for the first few batches but since then have been picking some up at a store in Boston."
What's the ideal place to drink a Vampire Slayer?
"On the grave of your enemy," Geary says. "Just kidding, kind of. I'd say sitting by the fireplace in late fall or early winter."
If I like this, what other smoked beers should I try?
We talked about Lava in a previous Beer Stalker
. Geary likes
Stone Brewing Co.
's smoked porter with chipotle peppers and
Jack's Abby Brewing
's Smoke & Dagger, a black lager.
Photo credit: © Cody Braun, Groupon
BY: Cody Braun
Guide Staff Writer
Cody is a banjo-carrying gypsy now accustomed to having a permanent home in which to brew beer, store journalism degrees, read Wodehouse, and bake bread.