Colleen Moore's Fairy Castle Gets a Face-Lift at the Museum of Science and Industry
BY: Katie Cortese |
Nov 25, 2013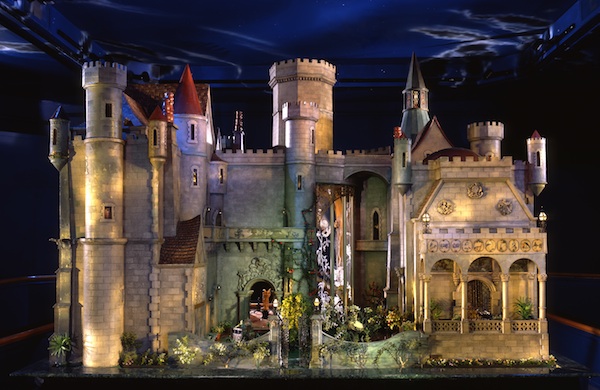 A rare 19th-century edition of the Bible resides at the
Museum of Science and Industry
, but you'll need a magnifying glass to get a good look at it. The microscopic holy book, which measures just three quarters of an inch tall, is one of more than 1,500 miniature artifacts tucked inside
Colleen Moore's Fairy Castle
. Moore, a silent-film star of the 1930s, was known for her extravagant lifestyle and her passion for dolls. Traces of both are evident in the scaled-down castle she commissioned, which measures 9 square feet, stands 12 feet high at its tallest point, and purportedly cost the actress $500,000. Moore took her treasured dollhouse on a national tour to raise money for children's charities before donating it to the museum in 1949.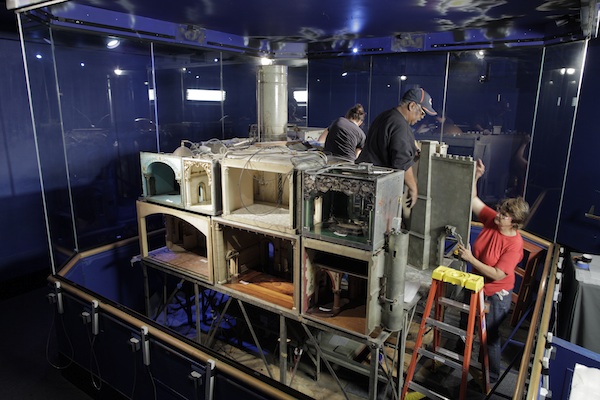 Conserving a Miniature Icon
Today, more than 70 years after the Fairy Castle moved into the museum, it is at the center of a major conservation effort. The historic event, which kicked off on November 12, is open to the public through February 2014. Curator Margaret Schlesinger calls it a "once in a lifetime opportunity," and the thrill in her voice makes it clear that she isn't exaggerating. During the conservation process, the rooms and their furnishings emerge from glass cases that normally force guests to observe at a distance of 6 feet. Conservators work on the rooms at tables located on the museum floor, where anyone can walk right up to them and ask questions. "The reaction from our guests has just been … amazement," Schlesinger exclaims. "They are seeing these rooms as they have never seen them before."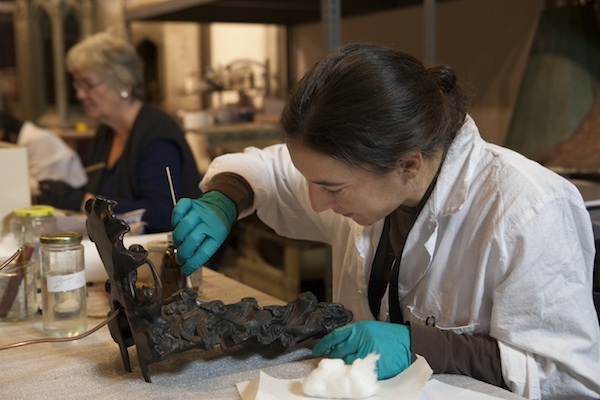 A team of four conservators from Litas Liparini Restoration Studio in Evanston will clean every surface in each of the 12 rooms, which include Ali Baba's cave and an attic that has almost certainly collected dust over the years. They will replace the aged electrical system and revamp the plumbing with modern fiber-optic techniques that control water in the garden and both bathrooms. It's fascinating to hear Schlesinger talk about the house as if it were no different from its life-size counterparts. "Similar to any old house, the pipes within the walls leak sometimes," she explains matter-of-factly. The water is corrosive to the bronze and alabaster in the bathrooms, she adds.
Once-Hidden Artifacts Take the Spotlight
Currently, the museum is displaying all 1,500 of the castle's miniature artifacts in glass cases viewable from every side. From the normal distance of 6 feet, guests may not notice objects such as a tiny pair of scissors, but "now they can see it literally inches in front of their face," Schlesinger says. In fact, the Castle's entire rare-book collection is on display during the preservation work. According to Schlesinger, these books were one of Moore's most treasured possessions. The actress even carried in her purse a stash of small leather-bound books, which she would ask her fellow celebrities to sign with a note. In one such book, Julia Child wrote down a recipe before signing her name. As one might gather from her wealth of knowledge, Schlesinger has spent countless hours with the Fairy Castle and its many artifacts. Though some miniatures—namely the Bible and a painting by Walt Disney—are popular sightings for guests, Schlesinger shares her own list of five artifacts you won't want to miss:
1. The Silver-Plated Iron Maiden:
The iron maiden—a torture device consisting of an upright coffin with spikes lining the interior—stands 1 inch tall. Look for it on one of the library's bookshelves.
2. The "Polar Bear" Rug:
A taxidermist actually crafted this "polar bear" rug from an ermine pelt and mouse teeth. Look for it on the floor of the prince's bedroom.
3. The Ivory Musket:
In keeping with her love of mystical lands, Moore had an artist produce an inch-long musket that can actually shoot silver bullets. Look for it in the Great Hall.
4. The Bust of Pope Pius IX:
Beneath the head of this ivory bust—and invisible to the naked eye—is an official Vatican seal. The bust and its stand were gifted to Moore during her world travels. Look for it in the chapel.
5. The Pewter Mugs:
In the 1940s, an employee at the Museum of Science and Industry handmade these tiny mugs as a gift to Moore. Their handles contain wood salvaged from Westminster Abbey after it sustained damage in World War II. Look for them in the kitchen.
The restoration gallery will be open daily through mid-February (it's closed January 4–14). For more information about the Fairy Castle and to plan your visit, click here.
Photo: J.B. Spector, Museum of Science and Industry, Chicago