Combating the Food Desert in Humboldt Park
BY: ADENA RIVERA-DUNDAS | 6.13.2013 |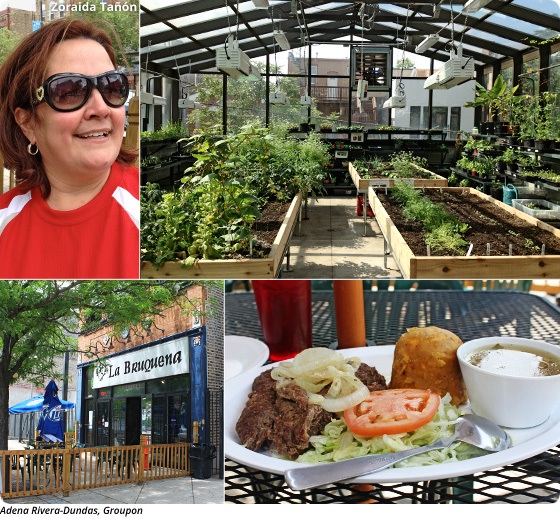 La Bruquena is on Division Street in Humboldt Park on the Near Northwest Side. Its Facebook page promises a gastronomic experience with Puerto Rican cuisine fused from the culture's more than 500 years of Taínos, Spanish, and African influences. Zoraida Tañón has owned it with her husband, Roberto, for 25 years.
When I wandered into her restaurant a week before this year's controversial Puerto Rican People's parade, we didn't talk about food. We didn't talk about the parade, or the summer, or even La Bruquena's expansive sidewalk café. Instead, we talked about the greenhouse across the street from her restaurant.
The next day, I walked with Zoraida through this greenhouse, located on the rooftop of Dr. Pedro Albizu Campos High School. As we walked, she pointed to plants that were just sprouting and others spilling from planters.
"The seeds come from Puerto Rico," she said as she plucked a flat, spiky leaf. "This is recao. We use this in everything we cook." She held it up for me to smell and smiled at my confusion. I'm half Puerto Rican, and I'd never seen, smelled, or heard of recao. "It smells a little bit like cilantro," she said. I just nodded; she was right.
Students plant these Puerto Rican seeds in the greenhouse, nurture them into budding plants, then plant them in community gardens around the neighborhood. Most of the plants—recao, ají dulce, tomatoes, and peppers—are the basic ingredients needed to make traditional sofrito.
Zoraida has two connections to this greenhouse. First, her restaurant buys some of its produce. Second, she's been teaching at Albizu for eight years, first as a culinary instructor and now as a Spanish teacher. And in that time, she's watched students develop a thriving urban agriculture program at the school.
It began several years ago when a group of students wrote a report on food deserts and decided not to just gather information, but devise a solution. On the school's roof, the group built a greenhouse, where it plants starter seeds. Once those grow into plants, the students transfer them to community gardens in the area. And once those produce vegetables, they sell the fresh, local produce to families in the area. Today, Zoraida estimates that about 25 families, including her own, buy produce from the school.
This kind of problem solving is evident at Albizu. Zoraida told me that most of the programs run through the Puerto Rican Cultural Center were proposed and designed by students. Take Vida/SIDA, for example. It's an HIV-testing center that has evolved to provide housing for runaways.
For most of these students, Albizu "is their second chance," Zoraida said. She mentioned the daycare—there are about 15 children of students enrolled there. She also said about 20 of the students are homeless. She listed other students who have made Albizu their safe harbor: students who were kicked out of their homes for being transgender, students who dropped out of bigger high schools, students who couldn't afford to eat lunch if they didn't eat at school.
And Zoraida is intertwined in this community. For one, she and her husband are small-business owners here. In the late '80s, Zoraida moved to Chicago from Puerto Rico after a six-month layover in Connecticut. She ended up at La Bruquena when Roberto quit his job as a banker to buy the restaurant.
But more than that, everything they do, she said, "is for the community." So when the school asked her husband if he could prepare lunches for the high schoolers, he said yes. For the past three years, Roberto has made breakfast and lunch for the students, using the student-grown cilantro and recao to flavor rice and beans."We don't do it for the profit," Zoraida said with a smile, "but it's something you do for your community."
And in keeping with the inclusive, welcoming feel of the school and community, Zoraida invited me to the school's weekly assembly. That week in early June, the meeting focused on the graduating seniors, and the energy level in the room was infectious. The room overflowed with laughter and shouting. Students shouted jokes at each other from across the room. There was a dance battle to "Gangnam Style" between a student and the principal. Throughout, students stood up to cheer and take pictures.
But underneath the levity was a sobriety that was hard to miss. Graduating, for these students, was a big deal. A handful of the seniors stood up to say their senior goodbyes, which ranged from from goofy to emotional. One student, a tall, sinewy young man who has just won a handful of senior awards, including Most Athletic and Best Personality, got up to speak. He admitted that his journey to graduation was hard. He had recently had a child, but he was still graduating on time. He looked around the room and said, "Those who are having a baby, I'm just letting you know you can still do it." And then he looked directly at the principal and said, "Matt … you shaped me into the man that I am today, and I just want to thank you."
After the ceremony, back at La Bruquena, Zoraida placed in front of me a plate of mixta —a traditional Puerto Rican workman's lunch of beef stew, rice and beans, and tostones brushed with garlic. My mind was swimming. I was emotionally exhausted, but I swear it was the best-tasting food I have ever had. Zoraida and I sat and ate on La Bruquena's patio as we watched the students meander down the sidewalks on their way to gym class. We talked about the restaurant, and she confessed it isn't easy to run. But, she said, "For me, the school is my therapy."
BY: Adena Rivera-Dundas
Guide Staff Writer
Originally from Los Angeles, Adena is a Chicago-based writer and casual Sacred Harp singer.