Confirmed: There Are About One Million Cookbooks In These Chefs' Homes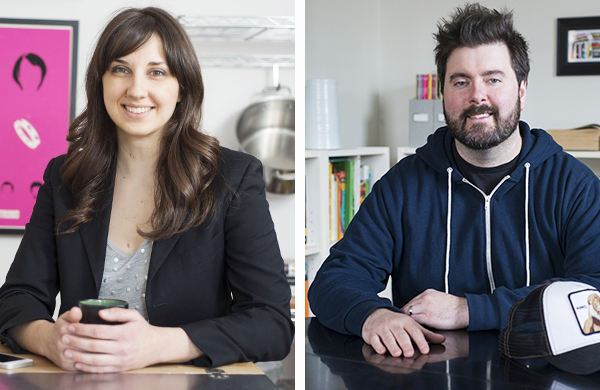 Joshua Kulp and Christine Cikowski's Sunday Dinner Club series feels like a dinner party at a friend's house. Which made us wonder: what are their actual homes like?
For Christine Cikowski and Joshua Kulp, the chefs behind Honey Butter Fried Chicken (3361 N. Elston Ave.), cooking is an intellectual act. Sure, the reason they butcher whole Amish chickens in-house and prepare their dishes using local milk, eggs, and cheese has something to do with flavor. But it also has to do with philosophy. They don't brine a drumstick or batter a breast unless they're convinced doing so conforms to their vision of sustainable cooking. So perhaps it's no surprise their homes demonstrate this same level of thoughtfulness. Christine, who lives in a Logan Square one-bedroom, says, "What I keep in my house is intentional. With a few exceptions, everything I own either has to serve a utility purpose or have some personal meaning." As a result, her space has a calmness about it: lots of white, broken up by a few attention-grabbing objects. There's the washboard and thimble on her bedroom vanity, the string of Polaroids on her refrigerator, and the concert posters on just about every wall in-between. One of her favorites is a series of six The National posters in her bedroom, which together create a panorama of the Brooklyn Bridge. Christine says, "Waking up to it immediately starts the day bright."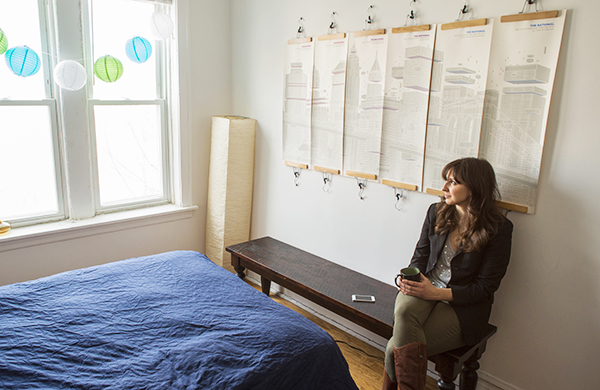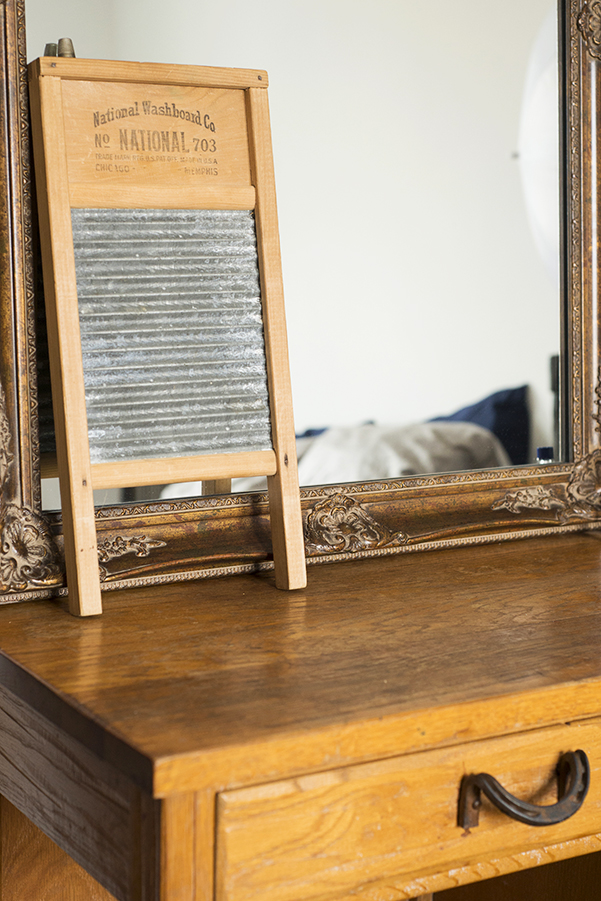 Joshua also uses the word "intentional" to describe the Lincoln Square condo he shares with wife Rachel and dog Joey. For the couple, the primary purpose of decorating is to provide comfort. "We are both pretty nostalgic," he says. "Our home reminds us of different times in our lives and gives us a touchstone that feels familiar." Meaningful mementos fill the space, including snapshots of Joshua's grandpa, fine-art photos taken by Rachel, and the focal point of the room: a dark brown leather recliner, which was a gift from Joshua's wife and family. "I had been working round the clock on the [Honey Butter Fried Chicken] opening and one night I came home and the chair was in our living room wrapped in a bow! It was amazing. As a pretty big guy, this chair holds me in ways I've never been held before."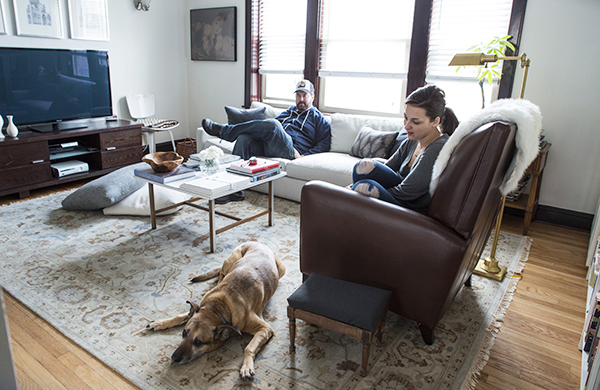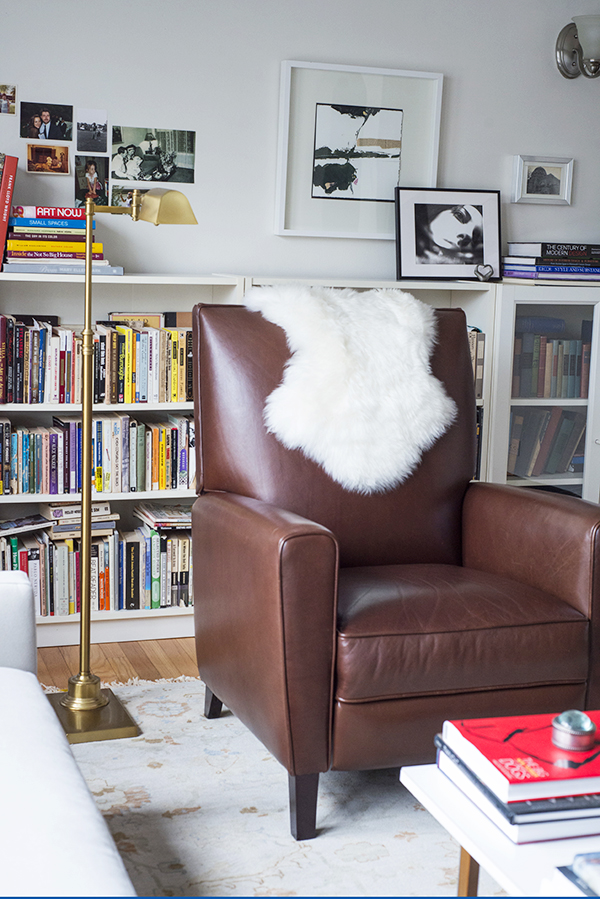 Though the two homes aren't exactly the same, they are both bright and uncluttered. Pops of color grab the eye, as with Christine's lime-green couch and pink KitchenAid mixer. In Joshua's home, the same effect is achieved by the turquoise record player in the bedroom and the colorful spines of cookbooks in the dining-room-slash-office-space.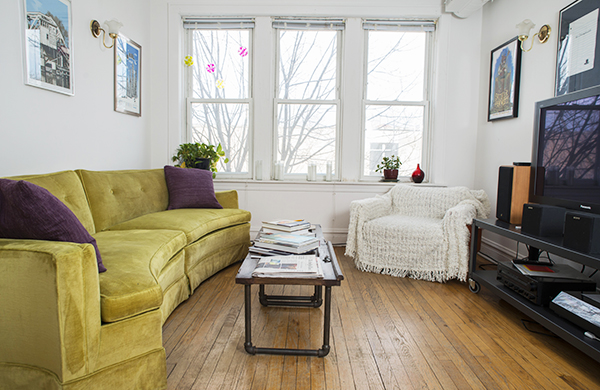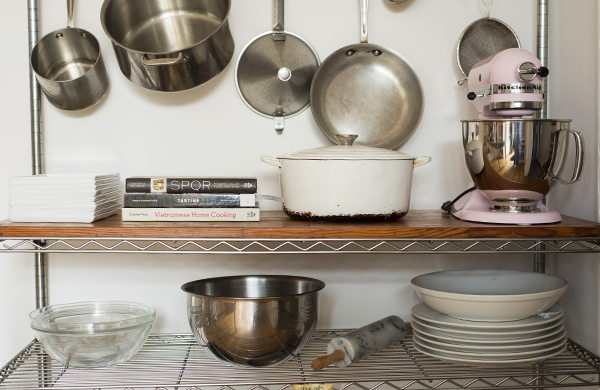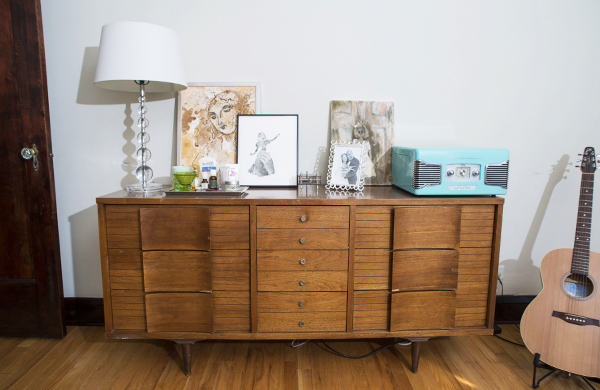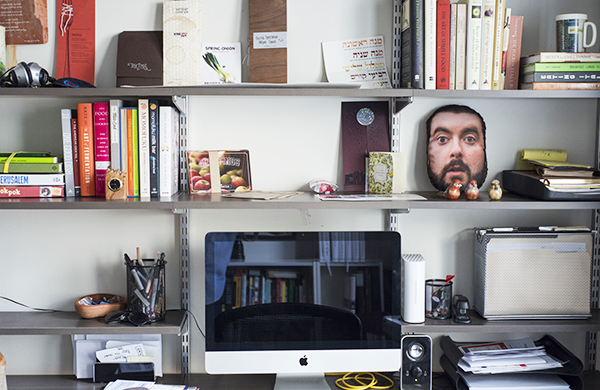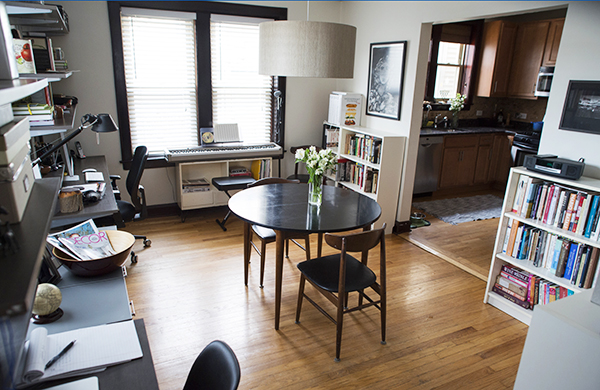 Unsurprisingly, both homes abound with cookbooks, which Christine and Joshua say they spend their free time reading. But one has to wonder: where does this free time come from? The two chefs have a lot on their carving boards. In addition to Honey Butter Fried Chicken, Christine and Joshua run Sunday Dinner Club, hosting intimate dinners above HBFC 5–10 times per month. The dinner series actually predates the fried-chicken restaurant, and in fact was the inspiration for opening it. Christine describes the relationship between the two businesses: "We think of SDC as the main hub for our creativity and food, and HBFC is a terminal extending out from it. It was the most natural way to expand without changing: take a popular menu at SDC and flesh it out as a separate concept." She's pleased with how the strategy has worked out, and optimistic about expanding on it. "The two businesses truly serve and feed each other," she says. "Hopefully other terminals will get built in the future."
Check out our The Guide article on the Honey Butter Fried Chicken restaurant.
Photos by Timothy Burkhart, Groupon