Plate by Plate: Fried Chicken at Honey Butter Fried Chicken in Avondale
BY: Aimee Algas Alker |
Sep 24, 2013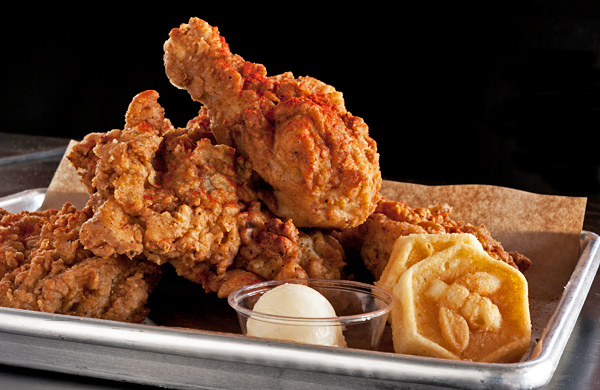 It was a dark and stormy night.
And the line outside
Honey Butter Fried Chicken
(3361 N. Elston Ave.) stretched out the door and just to the limits of the building's overhead awning. "Great," said my husband. "No umbrella." This did not bode well. We were celebrating our wedding anniversary, but there was another kind of love I was hoping to celebrate that night. The love of my favorite food: fried chicken. A friend once said to me,
You think even mediocre food is good
. And he wasn't that far off base. If you gave me a choice between a beautifully presented plate with a slice of beef cut to look like a scallop with an orange-lemon foam on top or a plate of thick and angry ribs cooked with the
crisp bark Michael Nagrant so eloquently described for me
, I'd take the ribs. I've professed
my love for cheese fries
, but the food that takes top place in my heart is fried chicken. The crisp and bready crust, spices ameliorated by a dip in ketchup (yes, ketchup), fried chicken would be one of my downfalls if I ever went on any kind of diet—paleo, Atkins, whatever. So imagine my chagrin when I got pregnant, and the sight, smell, and taste of my beloved food turned my stomach. Not once could I manage one bite of fried chicken. Even now that Koko's been born, I've had fried chicken, and it's never been the same. I enjoy it, but I haven't had any that's made me want to do the cabbage patch at the table. And then I started hearing rumbles about Honey Butter Fried Chicken. One of my Facebook friends, part of
Chicago's Sunday Dinner Club
, tipped me off to the place. Its origins sound like the stuff of legends: when preparing the fried chicken for one of the gatherings, a dollop of the honey butter meant for the corn muffins accidentally fell onto the fried chicken. Fate, it is rumored, had intervened. Two years later, I'm standing under a dripping awning, waiting in a creeping line to order at the counter of HBFC. Neither my husband nor I are very good at waiting in line, so I tried to distract him by pointing out all the woodworking details inside the restaurant: chairs recycled from the prior tenant, with seatbacks made from reclaimed wood; end-grain wood cut in a honeycomb pattern, forming an ombre effect at the order counter; repurposed metal trays displaying the menu. The wait wasn't long, maybe 15 minutes. To share between us, we ordered a four-piece meal and three sides: creamed corn with thai green curry, pimiento mac and cheese, and kale coleslaw. And my husband ordered a toffee chocolate cookie as an appetizer. He's the one with the sweet tooth. I tried not to stare as all around me, people were digging into their chicken. It
looked
amazing: golden-brown breading with flecks of pepper and paprika, served alongside corn muffins shaped like honeycombs. It was all I could do not to reach over to the table next to me and grab a drumstick. This was promising. And then our food came. I tasted all the sides first, an old habit I have of saving the best for last. The green curry gave the creamed corn more dimension—I slurped down every bite. The mac and cheese got a nice kick from the pimiento, and the kale gave the coleslaw a nice density that was unexpected. Delicious, all of them, and thoughtfully composed. The chicken. How do I begin? Sometimes when I see my husband at the end of the day, the way he takes my bag to lighten my load reminds me why I fell in love with him in the first place. My first bite of this fried chicken was like that. The breading was sturdy and crisp but not overpowering. Smearing it with honey butter better balanced its spice—more smoothly, even, than my usual ketchup dip. And the chicken itself? Meaty and moist and so filling. We're back together, me and fried chicken, and this time I think it's for keeps.
Photo: © Andrew Nawrocki, Groupon
BY: Aimee Algas Alker
Guide Staff Writer
Though Aimee stays up to date on the latest food trends for the Guide, most of her meals are served cold and cut into tiny, toddler-sized bites.