The Rules for Cheese Fries
BY: Aimee Algas Alker |
Aug 28, 2013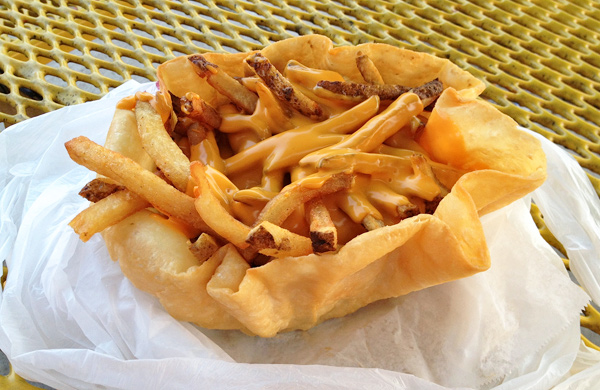 I still remember the first time I set fork to cheese-drenched french fries. I was around 11 or 12, and had ridden my bike to a sub shop in the neighborhood. I never much cared for cold cuts, so for a snack I ordered cheese fries. They arrived in an elongated white styrofoam container: fresh-from-the-fryer shoestring potatoes coated in a rich, orange sauce. I swooned. I was in love. I began to make them myself. My mother had a deep fryer in the kitchen, so I'd cut fresh potatoes and melt a jar of Cheez Whiz in the microwave. No matter how old I get and how my palate changes, cheese fries will always be my jam. But when I go out, I'm pretty strict about what makes a good plate of cheese fries. Here are my five (and a half) rules:
1. Never nacho cheese.
Especially not the kind with added jalapeño flavor. And if you're older than 12, same goes for Cheez Whiz. Now, I don't mean shredded melted cheese, but cheese sauce, that yellow-orange creamy-textured goo, which, admittedly, is probably highly processed and made with very little real cheese. I prefer the fries to be doused in the sauce, the way they do it at
Mr G's Beef
(2715 N. Milwaukee Ave.). But a cup of cheese tossed into the bag alongside the fries, à la
Phil's Last Stand
(2258 W. Chicago Ave.), is acceptable as well. This way, if you're doing carryout, those fries don't lose their crisp exterior.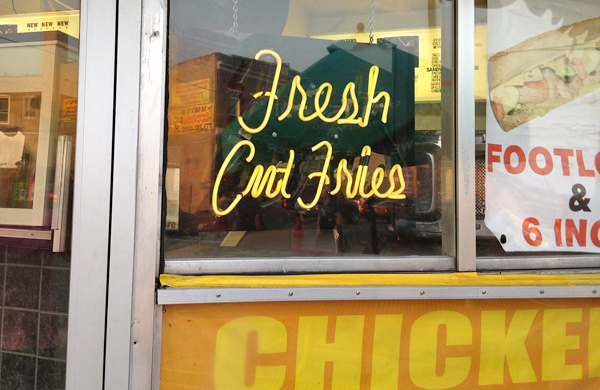 2. Fresh-cut fries are always best.
In fact, this is the rule with french fries in general,
fresh
being the key word here. Potatoes should be just-sliced before being tossed in the fryer, skins still on. Evidence:
Susie's Drive-In
(4126 W. Montrose Ave.), which in addition to its tome-like menu, serves its skin-on taters sprinkled with seasoned salt. They also get bonus points for scooping them into a taco-salad shell, dubbed the "edible bowl." Ask anyone on the North Side where to go for cheese fries, and most likely, they'll say Susie's.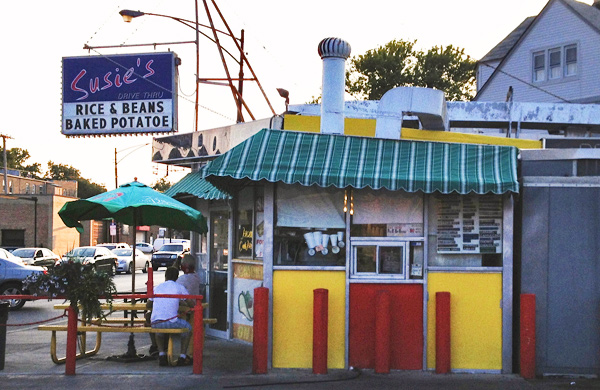 3. Crinkle-cut fries are second-best.
Portillo's
(multiple locations) has the crinkle-cut french fry down.
4. Cheese should be creamy, not chunky.
This probably comes down to personal preference, since my first love was the smooth, creamy cheese on the sub-shop fries. Still, I have been swayed by spots that use Merkt's Cheese Sauce, such as
Max's Italian Beef
(5754 N. Western Ave.) and
Murphy's Red Hots
(1211 W. Belmont Ave.). It's a little thicker and sharper, probably because it contains actual cheddar cheese. The only caveat: eat those fries fast, otherwise the sauce congeals into a gloopy, chunky mess.
5. Don't mess with success.
Don't put stuff on my cheese fries. Cheese fries should be just that: cheese and fries.
5 1/2.
I realize rule #5 was meant to be broken. Here are a few places that take cheese fries to the next level by topping them with carefully curated ingredients:
Al's Beef
(multiple locations): Chunky blue-cheese dressing and buffalo sauce
Del Seoul
(2568 N. Clark St.): Kimchi, porkbelly, and cheddar and jack cheese
Pleasant House Bakery
(964 W. 31st St.): Poutine-like concoction of skirt steak, gravy, and aged cheddar
Photo: © Aimee Algas Alker, Groupon
BY: Aimee Algas Alker
Guide Staff Writer
Though Aimee stays up to date on the latest food trends for the Guide, most of her meals are served cold and cut into tiny, toddler-sized bites.