Cooking, Serving, and Fasting at Halal Restaurants During Ramadan
BY: Shannon Jewitt |
Jul 30, 2013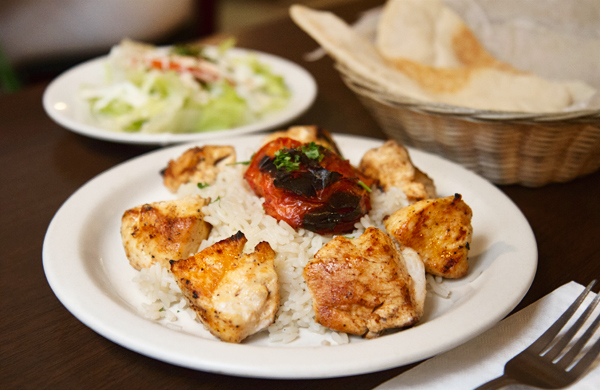 Your mouth is like sandpaper. Your stomach grumbles. You haven't had anything to eat or drink since before the sun was up. But it's dinnertime, and customers are waiting for their plates of steaming kebabs and fluffy rice. During Ramadan, the Islamic holy month, this is a typical day for Muslims, who cannot eat or drink anything between sunup and sundown. Our writer met with four Chicago-area Muslims who work in restaurants to learn more about the temptations that go along with fasting while cooking.
Furdeen Zahir
Noon-O-Kabab (Albany Park | 4651 N. Kedzie Ave.)
Although his family is from Afghanistan, Furdeen was born in the United States and says he's heavily influenced by American culture. At Noon-O-Kabab, he's considered a jack-of-all-trades who helps with the cooking, catering, and delivering. "Fasting is not alone not eating," he said. "All temptations, you have to keep them aside." As they do throughout the year, Muslims do not consume alcohol, pork, or meat that is not halal. During Ramadan, though, they also avoid music and other enticing activities. But not eating might be the hardest part, and when the sun goes down, Furdeen is still waiting on customers to finish up so that he can finally break his fast. He has to think about what his family might be eating—usually Afghan dishes such as a dumpling appetizer called mantu and bolani, a flatbread filled with vegetables such as potatoes, spinach, or lentils. To some, Ramadan is about cleansing your body and being healthy. To Furdeen, though, it's also about inner strength.
Deejack 
Deejack (who preferred to be attributed only by her nickname) works at a Turkish restaurant on the North Side. At work, she appears to never sit down, too busy pouring water for customers and taking their carry-out orders. Her family usually goes out to eat twice a week for kebabs after the sun goes down, but she's often stuck at work. After that long wait, she emphasized the importance of breaking the fast with something light: "We don't want to get a heart attack!" Despite the difficulty of fasting, you feel happier and don't care about being hungry, she said, because you are close with God.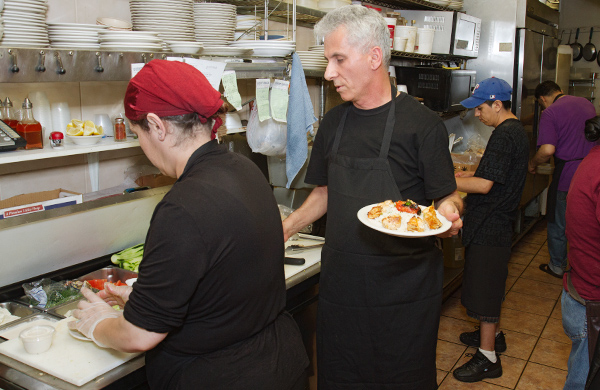 Ahmad Awad
Old Jerusalem (Old Town | 1411 N. Wells St.)
As the owner of the 30-year-old Old Town staple, Ahmad stresses that he and his employees "cannot break their fast until they finish their work," which can be "two extra hours sometimes." In between telling stories about his children and devotion to Islam, he explains how he's tried to work around that. "When the time comes, part of us eats, and the other part waits. If some people are not fasting, they take that shift and let other people break their fasting," he said. Ahmad stressed getting enough protein. "You have to eat chicken. You have to eat beef, lamb. You have to eat salads. You have to wait hours to eat, so your body needs protein," he said. "And juices, fresh juices. Every day." "You feel what other people feel," he said about the fast. "You feel what they're suffering from, when people want to buy their stuff and cannot afford it. You have to get away from your money."
Zaki Qasi
Kabul House (Chicago and Skokie)
Dealing with the heat is another challenge of working in a restaurant during Ramadan. The holy season is based on the lunar calendar, so every year it is 10 days earlier. This year, Ramadan takes place in the middle of summer. "It's not that you're hungry," said Zaki Qasi, owner of Kabul House and a cousin of Furdeen's who was also born in the US. "It's more that you're thirsty," he said. After a prayer—one of five each day—fasting is nearly always broken with water and dates; it's been said that the Prophet Muhammad and his companions used to break fast this way. To break their fast at Kabul House, Zaki gives customers dates and then has them order off the menu. The meal begins with soups and salads, nothing too heavy. From there, the food for iftar, the postfast meal, differs based on the fasters' culture. Although they can break their fast with any type of cuisine, those observing Ramadan often eat foods native to the Muslim countries of their ancestors. For Zaki, whose family is from Afghanistan, "it's a lot of rice, a lot of kebabs, a lot of stews, salad, and sides of eggplant or spinach or cauliflower." He also finds that he craves carbs when he's fasting, so some of his favorite meals involve rice and pasta. After the main course comes dessert, which might be baklava, ice cream, or katif, a pancake stuffed with cheese or walnuts. The meal ends with tea. Most meals during Ramadan are held at home with family and often extended family. It's the one time Zaki's family sits down for dinner together, he said. "We all sit at the dining-room table and have dinner 'cause we're all hungry and we're all eating at the exact same time." "For my family," he said, "Ramadan is just about giving thanks for what you have throughout the rest of the year, giving back to the less fortunate. The way we think about it is, we're fasting, and there are people who barely have any food to break their fast, and they're still fasting."
BY: Shannon Jewitt
Resident Beer Stalker Shannon has an insatiable thirst for craft beer. Despite being a vegetarian, she always makes an exception for fries cooked in duck fat.