Road Trip to Kentucky's Otherworldly Caves
BY: Editors |
May 7, 2015
"There is no end in sight." So say the experts in charge of mapping out Mammoth Cave, a task that's been underway for two centuries. Even though they've mapped more than 400 miles of underground caverns and labyrinths, researchers still have no idea how far the caves go, or what's inside them all.

Mammoth is within a four-hour drive of Indianapolis, Nashville, and Cincinnati, and it's one of several noteworthy caves in Kentucky. (Diamond Caverns and Lost River Cave also lie within a short drive.) Together, the caves make an excellent one- or two-day road trip no matter the season—it's always cool, damp, and stormproof underground. Let's drive to a mystery, shall we?
First Stop: Mammoth Cave National Park
Time commitment: 1.5–6 hours

There are few places more otherworldly than Mammoth Cave. It's the longest cave system in the world—that we know of, at least—and its gypsum-lined passages, dramatically narrow canyons, and jaw-droppingly huge rooms have been attracting tourists since the 1800s. The cave was also once home to an ill-fated underground tuberculosis hospital, and the jury is out on whether Mammoth is haunted. (It's probably haunted.)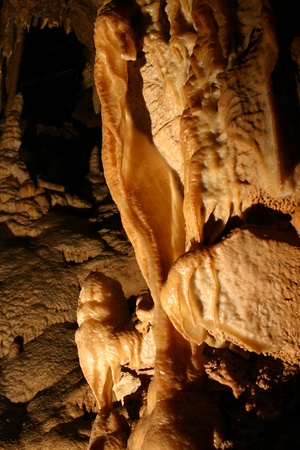 Depending on the season, you can choose from several guided tours that range from super-easy strolls to extremely strenuous, adults-only tours through the dark and more remote sections of Mammoth. If you're new to spelunking, try the summer Intro to Caving tour. The 3.5-hour adventure will get you all geared up to climb up rocky slopes and squeeze through tight areas. Check out the Frozen Niagara flowstone formation (it looks like bubbling water turned to stone) and ogle nature's cathedrals—domes and dripstone formations that sprout from the ceiling. You can also explore the cave by old-fashioned paraffin lamp to see what the cave looked like to early explorers.




Second Stop: Diamond Caverns
Drive time from Mammoth: 10 minutes
Time commitment: 1 hour

Of all the caves in Kentucky, the historical Diamond Caverns has been hailed as the most beautiful. Giant dripstone hangs like melting monster teeth, and dramatic calcite drapery curves into formations so thin they're practically translucent. White floodlights illuminate giant stalactites and stalagmites, and, when invited, you can reach out and touch one of the clammy, smooth formations as you descend a steep staircase. Keep an eye out for the creepy, white, eyeless crawfish that reside in some cave pools.

One-hour tours run on demand, so it's entirely possible you'll have one of the enthusiastic and knowledgeable tour guides to yourself if you arrive in the morning. If you're feeling bold, ask your guide to turn out all the lights to experience complete darkness.
Third Stop: Lost River Cave
Drive time from Diamond Caverns: 35 minutes
Time commitment: 1 hour
Lost River Cave is the only place in Kentucky where you can ride a boat beneath the earth's surface. A cavern the size of a cathedral and impossible-seeming red-rock formations surround you as you glide along the cave's eerie green river with your guide. At some point, you may realize that you're in the worldly incarnation of the underground lake where Voldemort hid his Horcrux. We won't blame you for gasping.

Photos: stalagmite, mammoth caves, KY by Peter Rivera under CC BY 2.0 [cropped from original]; Flowstone at Frozen Niagara courtesy NPS Photo