Craft Breweries and Their Sustainability Efforts Across the Country
BY: Shannon Jewitt |
Apr 21, 2014
Above: solar panels outside of Flying Goose Brew Pub in New London, New Hampshire
Frozen pizza, solar panels, and organic beer. These are just a few of the ways that microbreweries around the country are working to reduce their environmental impact. Their reasons for doing so are as varied as their efforts. For some, it just makes economic sense. For others, protecting the earth's future is the driving force behind their brewery. After speaking with craft breweries from coast to coast, however, one thing is clear: microbreweries and sustainability go hand in hand.
THE MIDWEST: The Upstart
In some ways, the Midwestern craft-brewing scene was a bit behind the West Coast a few years ago. Brewers in the heartland are making up for lost time, and many are doing so in a sustainable fashion. In addition to being home to
Brewery Vivant
,
the country's first LEED-certified microbrewery
, its craft brewers are finding creative ways to increase efficiency, as is the case with Chicago's
Argus Brewery
.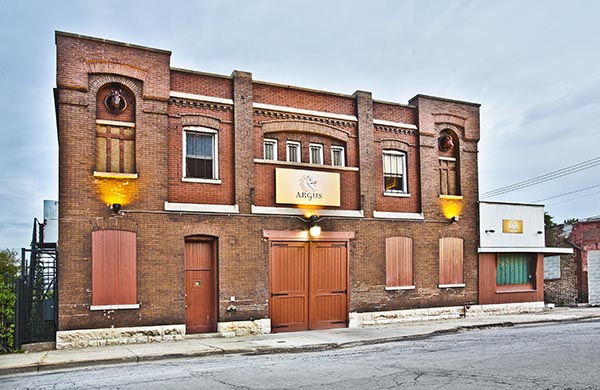 "The biggest waste that we see as a brewery is if our spent grain goes into landfills," said Joe Mengel, the brewery's vice president. Many breweries donate their spent grain to farmers to be used for animal feed. Because Argus is located in a major city, coordinating schedules with a farm willing to pick up the grain would be difficult. That's where Scott Ashby, a local food manufacturer, comes in. Ashby ran into an old friend, a cofounder and owner of Argus Brewery, who took him on the tour of the brewery. The brewers complained to Ashby about how much they hated seeing the spent grain go to waste. "Give me some of that stuff and let me play with it," Ashby said. The result was the brewery's line of locally made frozen pizzas. In conjunction with the production of the frozen pizzas, Argus developed an in-house procedure for cooling spent grain, which, left untreated, goes bad in several hours. These efforts are only the beginning for the microbrewery, though. Argus is currently developing growler and bomber tote bags, which will be made with woven plastic grain bags that would otherwise be discarded. They're also making coasters using spent beer filters. Currently a customer of BlueStar's Renewable American Energy, which relies solely on wind power, the brewery is also looking into alternative sources of power and methods of generating heat.
THE EAST COAST: Moving Forward with Green Goals
Tom Mills didn't start out with the goal of running a green business. The owner and founder of
Flying Goose Brew Pub
in New London, New Hampshire, was operating the brewery in a 170-seat restaurant on fossil fuels for years. But costs started adding up. "Our utility bills were approaching $70,000 a year, and we're a small business," he said. To reduce these costs, Mills began looking into efficiency measures. "Without even being worried about our carbon footprint or our green focus or any of that, purely on a business analysis," he said, "if you can invest in something and have it pay for itself in five years, it's a no-brainer, especially if it has a 25-year life." That's why he decided to use solar power.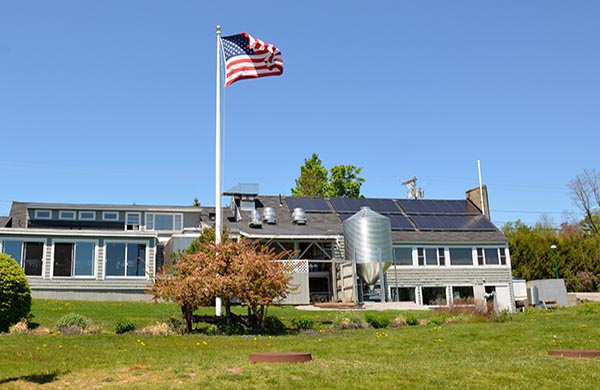 But that's not the only place Mills found to reduce costs. "Renewables don't make a whole lot of sense if you're very wasteful to begin with," he said. So he performed an energy audit on the brewery and brewpub, from windows, doors, and insulation to the kitchen's to-go containers. "How your coolers are running, how your tanks are running, how your pipes are insulated and wrapped, your yields and ingredients … all of those processes can be tweaked and perfected to reduce waste and increase yield," Mills said. In addition, Flying Goose draws on local resources whenever possible. The brewery donates spent grain to local farmers. The team also tries to employ local ingredients in beers, but it is difficult. "We do a beer in the summer that has wheat from Maine, but most of the grain products are coming from large grain producers in the Midwest," Mills said. Flying Goose's 3.5-acre property also includes a hop garden. Unfortunately, the garden is only large enough to provide hops for approximately two batches of beer. With an expansion in the near future for Flying Goose, Mills would also like to expand sustainability efforts. He would like to develop a treatment for the brewery's wastewater so that it can be used for irrigation, and he plans on adding solar panels to the building. He didn't rule out other alternative-energy sources, either. "I think we have a pretty good wind resource in our location," Mills said. "Wind and solar kind of work very nicely together because typically when the sun's not out, the wind's blowing, so you can have continuous power generation from the two different sources."
THE WEST COAST: The Green Machine
"We would never say that we are a sustainable business," said Nate Young,
Hopworks Urban Brewery
's director of sustainability. "We are striving toward sustainability." After having some success with an organic beer, including winning a gold medal at the Great American Beer Festival in Denver, Christian Ettinger founded Hopworks, which is focused single-mindedly on sustainability.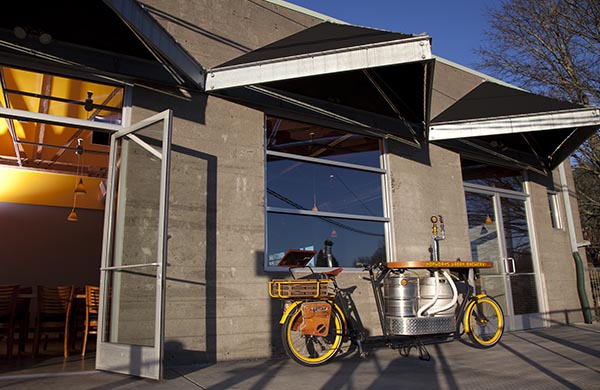 "We're just constantly looking for ways to reduce our impact on the planet," Young said. That ranges from
using all organic ingredients in beers
to
recycling or composting 89% of its waste
. Much of this is possible because of the brewery's location in Portland, Oregon. For example, the company uses hops from the nearby Yakima Valley, which produces about 80% of the country's hops, and grain comes from eastern Oregon, Idaho, and Montana. Thanks to area laws, Hopworks is also able to sell 15,000–16,000 reusable growlers each year. In addition, the 20-barrel brewery has made a conscious effort to maintain a small distribution area. "Generally speaking, we are sticking very carefully to what we like to call the Cascadia region," Young said. "Portland is centrally located to that area, which means we have a very small transportation footprint." But Hopworks isn't totally content. Like Flying Goose, the brewery would like to find a way to treat wastewater so it can be reused. The team would also like to find something other than natural gas to use as fuel. Young mentioned burning the nearby furniture company's scrap wood or taking note from
Alaskan Brewing Co.
and putting in a
spent-grain boiler
to dry out the leftover grain and use it as fuel. Currently, Hopworks' spent grain feeds the cattle that provide the brewpub with dairy products. Either way, Young is conscious of the brewery's environmental footprint. "We're just a little too close to the land to really ignore our own impact," he said.
Photos courtesy of respective breweries
BY: Shannon Jewitt
Resident Beer Stalker Shannon has an insatiable thirst for craft beer. Despite being a vegetarian, she always makes an exception for fries cooked in duck fat.