Craving Chicago: Five Chicago Favorites from a Vegas Food Writer and Techno Blogger
BY: Aimee Algas Alker |
May 20, 2013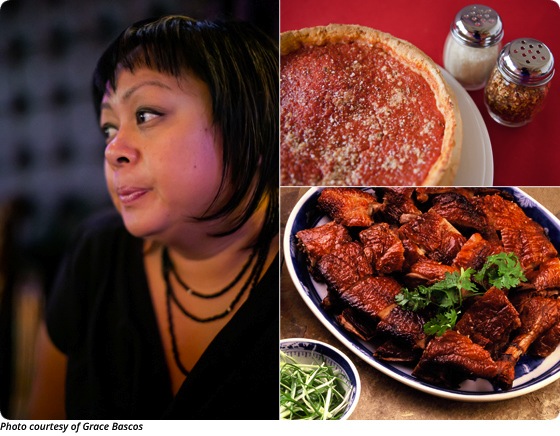 Grace Bascos spent her formative years on the North Side of Chicago, honing the palate she now uses as a food writer for
Vegas Seven magazine
. She catalogs her personal culinary adventures on her blog
FoodPlusTechno
—tagging most posts with a link to what's she's listening to as she writes. Though most of her meals take place on white tablecloths in Las Vegas restaurants, Grace's roots remain in the city of big shoulders, hot dogs, and cheese fries. Here's a rundown of the Chicagoland restaurants she runs to when she's back home, paired with some music-centric wisdom from the techno-phile.
Seven Treasures | Chinatown
What she orders:
Braised noodles, barbecue pork, and wontons
What makes it so good:
According to Grace, the main reason to go to Seven Treasures is the braised noodles, drizzled with oyster sauce and garnished with green onion.They're topped with a choice of protein, such as roasted duck or shrimp. Grace orders the same thing every time: braised noodles, barbecue pork, and wontons.
Why it's worth a plane ticket:
"It's comfort food for me: good, chewy noodles; plump juicy dumplings; sweet and salty barbecue pork. It hits all the major flavor profiles I need in my life."
The techno music event where she'd toss them into the air:
Electric Daisy Carnival
(Las Vegas), where "dressing up in next to nothing is de rigueur. Noodles would be nice strings to hold bikini tops up."
Dengeo's | Skokie
What she orders:
Gyros
What makes it so good:
Grace believes Dengeo's serves the perfect gyro: meat with the optimal balance of gaminess and flavor and the best tzaziki sauce she's tasted. Also, she says,
"
It's a family-run business, and the kids running the place have grown up there, as I have."
Why it's worth a plane ticket:
"It is virtually impossible to get a decent gyro anywhere west of the Mississippi. If the meat's right, the sauce is off. If the sauce is decent, they can't get the onions right."
The artist she'd like to see play a show there in the middle of the lunch rush:
Michigan native
Seth Troxler
, to highlight her belief that "you can't get a decent gyro outside of the Midwest."
Burt's Place | Morton Grove
What she orders:
Pan pizza
What makes it so good:
First and foremost, the crust. Grace loves the caramelized crust, which owner Burt originally created for
Pequod's
, the first pizza shop he ever owned (and still a favorite among Chicagoans). This crust, says Grace, "has crunch and flavor and texture." She also loves the eatery's jaunty atmosphere—"a converted house with an eclectic dining room filled with all sorts of knickknacks"—and the toppings, which are "all strewn about, in a rustic way that lets you know someone real made [the] pizza."
Why it's worth a plane ticket:
"Chicago-style pizza anywhere outside of Chicago is a joke."
The musician whose records she would hang on the wall without Burt noticing:
"
Green Velvet/Cajmere
: Chicago homegrown talent for Chicago homegrown pizza."
Sun Wah BBQ | Argyle
What she orders:
Beijing duck (aka peking duck)
What makes it so good:
Grace likes that diners can experience all the pomp and circumstance of peking duck—usually reserved for celebrations—at an easy-on-the-wallet price.
"The duck is carved tableside; you eat the delectable, crispy skin with a little bit of the rendered duck fat with fresh warm bao, spring onion, and hoisin; then the rest gets turned into soup and fried rice."
Why it's worth a plane ticket:
"Where else can I stuff [myself] and three of my family members with a regal three- to four-course duck feast [for less than $40]? The rest of the menu is solid as well."
Where she could use a beijing duck to barter for admission:
Outside Lands
(San Francisco), where the food is so good, you could probably walk in "with nothing but a beijing duck and no one would bat an eye."
Buffalo Joe's | Evanston
What she orders:
Wings, suicide style (extra sauce and jalapeños) with extra ranch
What makes it so good:
The wing sauce, with a perfect balance of heat and tang that makes Grace want to "drink [it] by the gallon." And though ranch dressing is taboo in Buffalo, New York, she says it's the perfect complement to the wing sauce.
Why it's worth a plane ticket:
"I can't seem to find [this flavor] anywhere else. As a result, I avoid most buffalo wings elsewhere, except for [in] Buffalo, New York."
The music that sounds like this sauce tastes:
"Old-school house. ... Both make you want to jack your body."
Lastly, as she does in her blog, Grace suggested a song to listen to as I wrote this article. You can listen to it here. Sandwiches!