Deaf Artist Christine Sun Kim Interacts with Sound on Her Own Terms
BY: Courtney Ryan |
Jul 14, 2014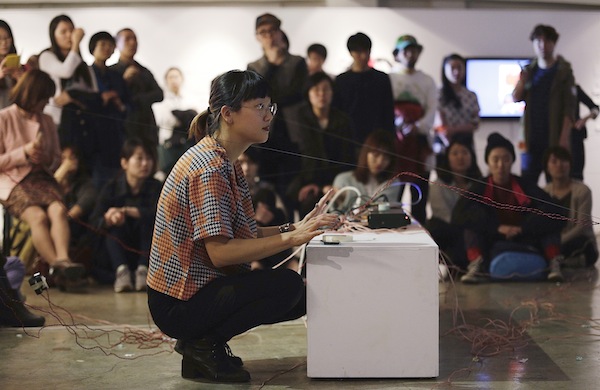 On July 15 and 16, artist and TED Fellow
Christine Sun Kim
will lead two workshops for
UIC's Free Art School
. Each will conclude with a public performance at the
Chicago Cultural Center
, during which participants will have the chance to showcase their workshopped ideas. It's tempting to label these performances "concerts," save for one small detail: they involve almost no sound. Kim's
A Choir of Glances
explores how humans interact with sound by removing the actual noise that makes sound
sound
. Instead of speaking up, participants will use gestures and other manners of body language to communicate their ideas. Kim is in a unique position to analyze sound, as she has been deaf since birth. That hasn't stopped her from making sound her primary medium for artistic expression—if anything, it's given her a wholly unique perspective on the role sound plays in our lives. We got in touch with Kim to discuss what she learned from producing her workshop and what she would like to explore next.
GROUPON: You were born deaf, but have you always had a relationship with sound?
CHRISTINE SUN KIM: Yes, I've always had
your
relationship with sound. Without realizing it, I instilled everyone else's perception of it rather than having my own. Just a few years ago, I started pondering the social capital of sound and realized how much and how little I knew about it.
G: How does sound affect the way you communicate?
CSK: I mostly communicate in American Sign Language, but there are some times when I have to use my own voice to make myself "heard" and have people take me seriously or show them that my deafness is real. Oh, the irony.
G: Since you started working with sound in your art, have the ways you communicate changed?
CSK: The more I know about sound, the more patient I am when typing or writing with people who do not know sign language. Also, the longer I work with sound, the more I get asked to collaborate with musicians. I find that it's a great way to add value to my sound work and make it "legit" to people who [are skeptical of] my work.
G: People are skeptical of your work?
CSK: There is a stigma surrounding deafness, and the fact that I work with sound automatically makes me a novelty in some ways. The more I work with musicians, the more valid my work becomes. That's the way it works, I suppose. [
Ed. note: listen to some of Kim's musical collaborations.
]
G: You debuted A Choir of Glances at MoMA last year. What was your biggest takeaway from that experience?
CSK: Four of my large visual scores were showcased with other sound artists' installations [or] pieces for the
Soundings
exhibition. Additionally, I did a workshop with the education department that deals with different states of silence, sound, and gestures, which culminated in a small public performance. This is similar to
Face Opera
, [in which] I had a group of deaf friends "sing" with their faces only. But the audience was mostly hearing, so I tweaked it to make it more abstract and open-ended.
G: How will your UIC workshop differ from what you did at MoMA?
CSK: It will be pretty much the same, except that there will be earmuffs, which I hope will help the participants hear less.
G: How should participants go about preparing for the workshop?
CSK: Prepare nothing. Expect nothing. Don't be shy. Come and enjoy.
G: Do you have any favorite instruments?
CSK: My relationship with sound is relatively new and evolving, so my answers might change from week to week. But right now I use my iPhone as my audio recorder, small transducers to feel the sound files as they play, and a small digital boombox I bought from India.
G: What about your favorite sounds?
CSK: I think my voice is the most accessible sound because it comes from my own body and there's no need to use technology to feel it. I guess that's my favorite sound.
G: What do you hope to explore with sound in the future?
CSK: I'd like to collaborate with musicians some more and perhaps make a music video—but on my own terms. A Choir of Glances
takes place on Tuesday, July 15, and Wednesday, July 16, from 3 p.m. to 5 p.m. Register for one of the two workshops, or explore Groupon for other activities in Chicago.
Photo courtesy of Festival Bo:m