Delta Rae Made a Fan (and Collaborator) Out of Lindsey Buckingham
BY: Kelly MacDowell |
Apr 10, 2014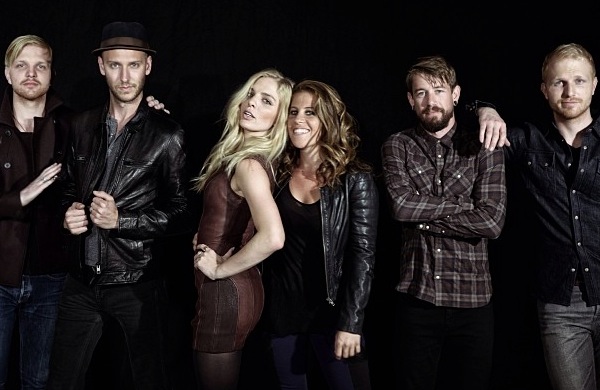 A few years into their career, the pop-rock-country sextet already has friends in high places. Just ask Fleetwood Mac's Lindsey Buckingham.
The Hölljes siblings' mother once dreamt a story. It was about a Southern girl who could summon Greek gods to earth. She never ended up putting that story to paper, but she did pass on the heroine's name to her children's band: Delta Rae. She also passed on quite a bit of talent. Just ask Lindsey Buckingham, who was so impressed with Delta Rae that he agreed to collaborate on a song. The fact that Buckingham is a classic-rock god is, of course, entirely coincidental. Right? The Fleetwood Mac guitarist lends some sprightly notes to the Durham-based sextet's newest single, "If I Loved You," which instantly recalls his own band's "Second Hand News." But the track is certainly Delta Rae's own, as they spike a well-mixed cocktail of pop, rock, alt-country, and gospel with Elizabeth Hopkins's strong vocals. The song is featured on the band's 2013 EP
Chasing Twisters
, but a second full-length album is due out later this year. Fans can expect to hear some new material when Delta Rae comes to Chicago this Saturday.
Watch the video for "If I Loved You":
Delta Rae plays Lincoln Hall on Saturday, April 19, at 9 p.m. The show is sold out, but you can enter to win tickets through 93XRT here, or catch their set at Lollapalooza in August.
Photo courtesy of Delta Rae
BY: Kelly MacDowell
Kelly's first concert was Fleetwood Mac and her first career was in the beauty industry. Now a style and music writer, she loves Project Runway and her dog, Watson.