Dinner and Drinks with Grandma and Grandpa for National Grandparents Day
BY: Halley Lawrence |
Sep 6, 2013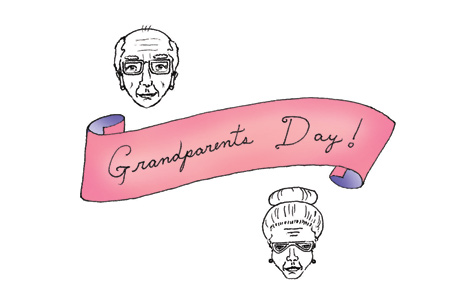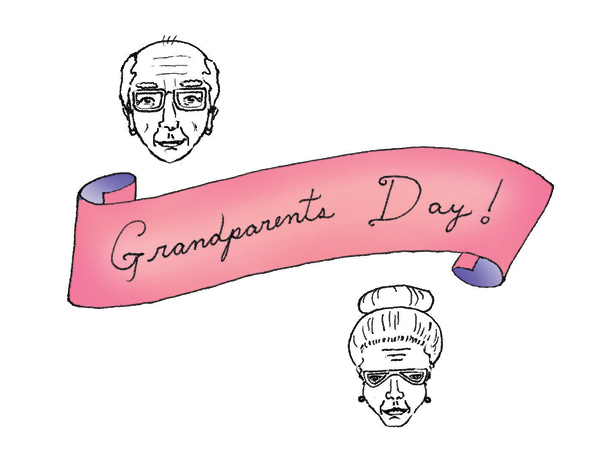 Chicago's foodie scene seems to feed on of-the-moment trends: gourmet donuts, Prohibition-era cocktails, and offal entrees are just a few fads that come to mind. But if you ask an old-timer who's spent decades cultivating their tastes in Chicago's restaurants and lounges, you'll find that some "modern" trends have been around for quite some time. In honor of
National Grandparents Day
, which falls on Sunday, September 8, this year, we've asked a few local grandparents to share their favorite dining destinations around Chicago and their memories of the city's foodie past. Take heed, and treat grandma and grandpa to lunch or dinner at these grandparent-recommended restaurants and lounges. They deserve it: after all, they helped your parents to raise you, and they've continued sneaking you cookies into your adulthood.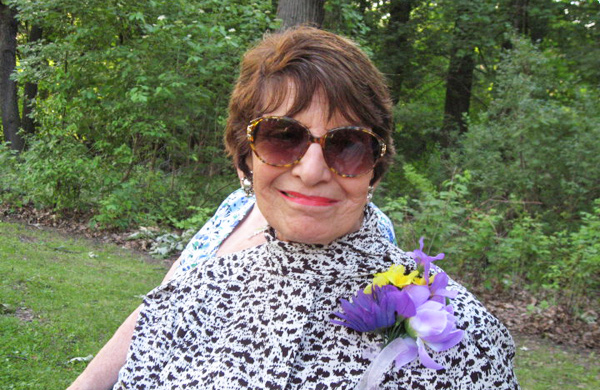 Carol Eisenschiml
Born in 1926 in Chicago, Carol grew up in Wilmette.
Favorite restaurant in Chicago:
Carol:
"My favorite restaurant just closed in the last few years. ... It was Eli's The Place For Steak [formerly located at 215 E. Chicago Ave.]. I do remember being laughed at because one of my favorite things was calves' liver. People thought that was eccentric." [
Editor's Note:
Eli's The Place closed in 2005, and calves' liver is a hard-to-find entree in Chicago these days. However, the chefs at
mk
(868 N. Franklin St.) have been known to serve the iron-rich offal in certain seasons, paired with stone-ground mustard, burnt onions, smoked bacon, and aged balsamic vinegar.]
For a fancy night out:
Carol:
"If we felt very fancy, we'd get dressed up and go to the
Pump Room
[1301 N. State Pkwy.] in the the Ambassador East Hotel. They'd have a wonderful pianist or orchestra and a dance floor. We'd go the bar and order a drink, or we would go someplace like the 5100 Club [formerly located at 5100 N. Broadway]. [One of the comedians we saw there was] Danny Thomas; he was a great comedian who got his start in the 5100 Club. He was a very funny guy. We'd go there for the price of a beer and get to hear the comics."
For a taste of summer in the midst of winter:
Carol:
"We would come into the Loop whenever we went out because that's where all the restaurants were. One place we went was called Fritzel's [formerly located at 201 N. State St.]. I remember that for one reason. ... It had watermelon in the winter. Watermelon was very much a summer treat. If you felt like watermelon in the winter, go to Fritzel's."
For spinning salads:
Carol:
"At The Blackhawk [formerly located at 139 N. Wabash Ave.], we went for the spinning salad bowl—the first one we ever saw." [
Editor's Note:
Blackhawk, a culinary institution that closed in 1984, was lauded for its tableside salad presentations: servers would spin a bowl of greens inside a larger bowl of ice, adding additional ingredients as the bowl rotated. For a similar dining experience, head to
Lawry's The Prime Rib
(100 E. Ontario St.), where servers use the same spinning technique.]
On drink trends from the past:
Carol:
"I always had the same thing: a whiskey sour. I didn't like alcohol, and it was a small drink. I think [other] people were drinking martinis, manhattans. I know in the 1960s, all of a sudden, everyone got into wine. Before then, I don't think wine was terribly popular. I can remember when, all the sudden, everyone had wine in their house."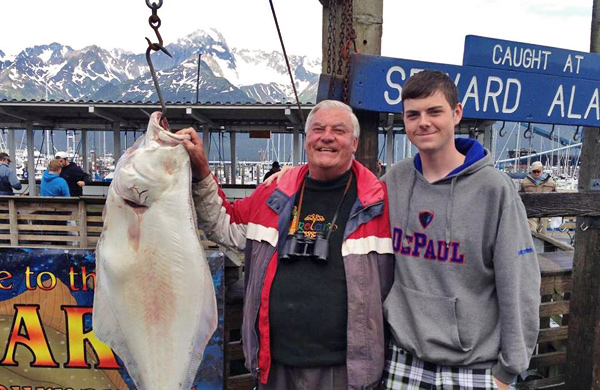 Peter Wrenn
Born in Chicago in 1936, Peter moved to Skokie in 1959 and to Oak Park in 1970. 
Favorite restaurant in Chicago:
Peter:
"I have many favorite restaurants in Chicago. I like
Manny's
[1141 S. Jefferson St.],
Lou Malnati's
[1120 N. State St.] for pizza,
the Parthenon
[314 S. Halsted St.],
Lao Sze Chuan
[2172 S. Archer Ave.]—I have takeout from there because he charges corkage. Manny's makes the best short ribs in town."
Favorite waiter in the city:
Peter:
"I have a [favorite] waiter at the Parthenon. He's very genuine; he always made every attempt to make sure we were well taken care of ... and he's just pleasant. The best thing about him is the fact that he really, really services you. He comes all the time to make sure everything's OK, and he's just a joy. He loves to get kidded. You got to know him in a much more personal way. If he's on the other side of the room and he sees me, he gets this big smile. And he usually trades off [with the waiter] to make sure he takes care of us. And I'm not an extravagant tipper."
Favorite Chicago bar:
Peter:
"I never go to bars. Too expensive. And I was always too serious. But the place to go would've been Bruno's, to a degree, but mostly the place by Loyola: Hamilton's." [
Editor's Note:
Bruno's Lounge (6562 N. Sheridan Rd.) continues to fill mugs to this day, but Hamilton's has shuttered its doors.]
On drink trends from the past:
Peter:
"I don't think they drank as much wine in those days. It was cocktails. Highballs. Scotch and soda, gin and tonic, martinis, manhattans, old-fashioneds, grasshoppers ... martinis were probably the most popular. The martinis as you know them today are probably vodka martinis. Most of the people I knew had gin martinis, which I didn't. You couldn't drink gin martinis because they'd make you crazy."
On modern mixology:
Peter:
"It's a fancy name for a bartender. Mixologist. That's the dumbest thing I've ever heard. I'm surprised somebody didn't come up with 'remnant analyst.' 'Well, what the hell is a remnant analyst?' 'That's the guy who takes the garbage out!'"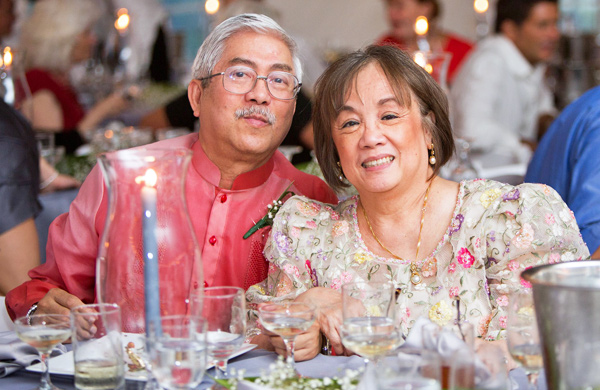 Armando and Adeliza Algas 
Born in the Philippines, Adeliza relocated to Chicago in 1965 and Armando in 1967. 
Favorite restaurant in Chicago: 
Armando:
"
China Chef
[one of several locations is at 4600 W. Belmont Ave.]. I love Chinese food. They have good egg rolls, pancit guisado. They have Filipino food, too."
Adeliza:
"We used to go to Tad's Steak [formerly located on the South Side]. Like after payday, all the Filipinos would go to Federal Bank on State Street to send money home, and if you wanna meet someone, you'd go there on Friday. We'd meet there and go to Tad's Steak for lunch. That's our bank, Federal. I still have my bank book from there."
Favorite bars—or lack thereof: 
Adeliza:
"We didn't go to bars. At parties, we drank vodka and 7&7s. Because we didn't really drink much so we kept it in this cabinet. And we found out the maids were drinking it and putting water in it."
Armando:
"[Instead of going to bars], we played basketball. We went dancing in Niles at George's. They played disco. It was popular with the Filipinos. It was on Milwaukee in Niles near Golf Mill."
Adeliza:
"For me, we go bowling. At Palladium and
Waveland
[3700 N. Western Ave.] with my group, male and female."
For dinner and a show:
Armando:
"You know where else we used to go? Shanghai Lil [formerly located at 5415 N. Milwaukee Ave.]. They have a Hawaiian show—dancers and fire. They have a combination of food, Chinese, Hawaiian, Filipino." [
Editor's Note:
Though Shanghai Lil is gone, you can treat your grandparents to a similar experience at
Chef Shangri La
(7930 W. 26th St. in North Riverside). Think hula dancers, time-honored tiki drinks, and Cantonese-Polynesian fare.]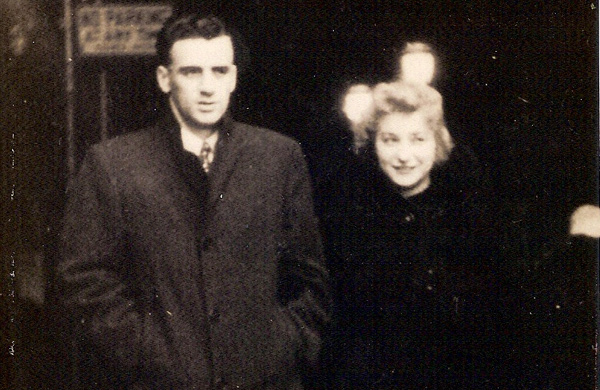 Bill Cosgrave
Born in Canaryville on the South Side in 1923, Bill raised a family of seven children in the Saint Gall Parish at 55th Street and Kedzie Avenue. He lives in Alsip today. 
On bars south of 35th Street:
Bill:
"You would mostly hang around taverns after playing softball, and most of the sponsors of the softball teams were taverns. So one went with the other. In other words, you hang around the tavern of the guy who sponsored your baseball team [typically at taverns between 47th and 55th Streets and Halsted].
Schaller's Pump
[3714 S. Halsted St.] is kind of a novelty. … We'd go there occasionally. But the only reason we went there was for Friday nights. They had entertainment—this singer who used to sing Irish songs. … I got to know Jack Schaller. I met him many times. He still lives upstairs from the tavern. … Most any time you went in there you'd see somebody you know. It was kind of a Bridgeport deal. It has a little nostalgia to it. It goes back a long time."
On drink trends from the past:
Bill:
"Highballs. 7&7s. Most of the ladies would drink highballs. Women wouldn't drink beer like they do now. Beer was the probably the best drink for the most guys because it was the least expensive. But as you got older, people started getting into martinis and manhattans and all those fancy drinks. … Then Southern Comfort came out, and everybody got into that. Then that died out. … See, bourbon is different than regular blended whiskey—has a different taste all together. Very few guys ordered bourbon. They preferred whiskey—Canadian Club [was] considered more top shelf. … Light beer is new. Your old-timers would never order light beer—that is diluting the beer. Budweiser, Miller, and Pabst Blue Ribbon were really popular in the 50s and 60s because they sponsored the Friday Night Fights."
A Chicago-area restaurant with a loyal clientele: 
Bill:
"
Jack Gibbons Gardens
[14700 S. Oak Park Ave.] has been out there at 147th and Oak Park Avenue for years and years. And they have the same clientele that are there all the time. If you went there on a Sunday, say four or five consecutive Sundays, you'd find the same people there. It's kind of a loyalty thing."
Carol Okon
Carol was born in Chicago in 1939 and relocated to Florida in 1995. In November 2012, she returned to Chicago to be closer to her large, loving family. 
Favorite restaurant in Chicago: 
Carol:
"My favorite restaurants are in Greektown.
Roditys
[222 S. Halsted St.] and
Athena
[212 S. Halsted St.]. I was introduced to Greektown when I was around 18. My mom was Greek, so we enjoyed all the Greek foods. … My favorite foods to order are avgolemono soup [egg-lemon soup], dolmathes [ground meat and rice wrapped in grape leaves with an egg-lemon sauce], greek salad, et cetera. Athena has been remodeled over the years for the better. … All the waiters at Athena are very cordial and helpful. They know us, but I don't know them by name."
Favorite drinks:
Carol:
"[I] never did hang out at any bars or lounges in my youth. … Whenever we did go to a lounge or bar, my favorite drink was a champagne cocktail or vodka and 7 Up.  I'm talking many, many years ago. Now it's margarita time."
On foodie trends from the past and Chicago's ethnic dining scene:
Carol:
"As far as trendy food goes, French restaurants were in, but I really never cared for that type of food. Give me the ethnic Greek, Italian, Bohemian-Polish, Mexican, Thai, [and] Asian food, and I am in hog heaven."
Illustration: © Lisa Ladehoff, Groupon
BY: Halley Lawrence
Guide Staff Writer
Halley is a Chicago writer with southern roots. When she isn't typing, she enjoys cooking without recipes and designing garments for her upcoming clothing line, Ambidestre.