Dish of the Week: Bigos at Smak-Tak Polish Restaurant in Jefferson Park
BY: Anna Skorczeski |
May 21, 2013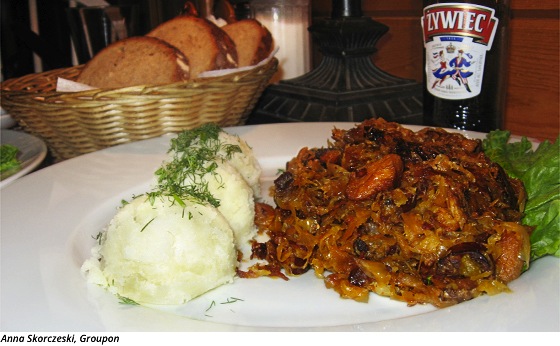 Walking into the wood-paneled dining room at
Smak-Tak
feels like stepping into a Northwoods cabin. Beneath its peaked wooden ceiling—complete with exposed beams—it's not hard to imagine a hunter coming home from a long day in the woods, his game bag filled with the makings of dinner. After the owner, whom I recognized from his appearance on
Check, Please!
, showed me to my table, I scanned the menu and found what I had come to Smak-Tak for on that overcast spring day: bigos. Listed on the English menu page as "Hunter stew old Polish style" ($9.99), bigos is a mélange of cabbage, mushrooms, and meats. In more rustic settings, those meats could include morsels of venison and rabbit, but the kitchen here uses pork, veal, and kielbasa sausage instead. According to the
Polish Ministry of Foreign Affairs
, bigos is the country's national dish—sorry, pierogi—and something I first tried a few years ago on a self-guided Discover My Heritage trip to my ancestral homeland. Because of its hearty nature, many people pigeonhole Polish food as winter-only fare. But a plate of bigos is just as at home at a summer cookout as a bowl of potato salad or a kiddie pool filled with baked beans. Smak-Tak's bigos was thick enough to be served on a plate, not in a bowl, its consistency more like fried hash than crock-pot stew. The meat bits were seared and crisp, defying stereotypes of mushy northern European cuisine; the kraut was tangy but not too sauer; and prunes added a subtle sweetness to the mix. The portion was on the large side, and since I had pregamed with a few pierogis, a potato pancake, and a couple BYO-ed bottles of Żywiec, half of the entree came home with me in a doggy bag. Fortunately, bigos is just as delicious reheated the next day—any time of year.
BY: Anna Skorczeski
Guide Staff Writer
Raised in Minnesota and schooled in Wisconsin, Anna is now a well-traveled eater and amateur bassoonist.