Dish of the Week: Chicago-Style Deep Dish at Pequod's Pizza in Lincoln Park
BY: Kevin Moore |
May 16, 2013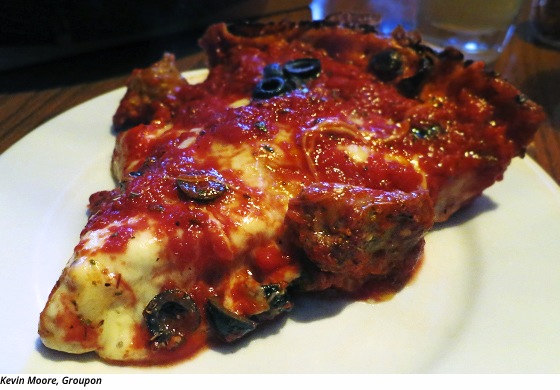 I don't eat deep-dish pizza at very many places. Too often, the pies are unappealingly dense, smothered in unnecessary amounts of cheese and overly sweet tomato sauces. But whenever friends want a real taste of Chicago, I do have one place I recommend:
Pequod's Pizza
. I always make it clear to friends that the thing that makes Pequod's better than any of its longer-established, better-marketed competitors is the crust. Instead of a doughy base, the ingredients and toppings sit atop a layer of firm yet slightly crumbly crust that feels and tastes almost like a cross between corn bread and a pasty shell. This layer never seems to get soggy, although that may be because I always devour my slices so quickly. But the real reward is along the edge. Where the crust meets the lip of the pan, the chefs add a layer of cheese, which caramelizes in the oven. This salty, crunchy ring of blackened cheese circles the entire pizza and lends a delicious bit of textural contrast to those precious last few bites. I do my best to explain why this crust is unexplainably delicious as I arrive at the corner of Webster and Clybourn Avenues with three friends—Chicagoans all—who have not yet been to Pequod's. Flat-screen televisions show the Ottawa Senators dismantling the Montreal Canadiens when we walk inside, though the flags and banners adorning almost every wall assure us that if there were a Blackhawks game to be found, we would definitely be watching that instead. We place our order for a large deep-dish pizza with sausage and black olives and, after one-and-a-half pitchers of Goose Island 312, a server arrives with a telltale cast-iron pan fresh from the oven. I've spent so long hyping the crust that I feel obligated to take a second before we start eating and remind everyone that Pequod's knows what it's doing with the toppings. Here, balance is key. There is no shortage of melted, stringy mozzarella, although not so much that it overwhelms the other flavors. The chunky sauce is judiciously applied and features enough herbs to temper the sweetness that can become so cloying on other restaurants' pizzas. At our dinner, the black olives are just fine, but the cloud-shaped dollops of sweet italian sausage—piled on without any casing—are the standout, adding a succulent meatiness and unmistakable hints of fennel. One slice apiece is more than enough for each of us, and I ask everyone for their thoughts once we've finished. The feedback is universally positive: one friend hails the pizza as the "best deep dish I've had in a while," while another goes even further, saying that it's "one of the best deep dishes I've ever had." This is pretty high praise, though I have to admit that their rhetoric falls just short of my own zealous devotion to Pequod's. Fortunately, there's still time to compare thoughts and opinions before leaving. We still have half a pitcher of beer to finish.
BY: Kevin Moore
Iowa-born, Arizona-raised, and Illinois-tax-paying writer who can answer any Trivial Pursuit question about wine or snakes.