Dish of the Week: Po' Boy and Fries at Big & Little's in Near North
BY: ALISON HAMM | 5.1.2013 |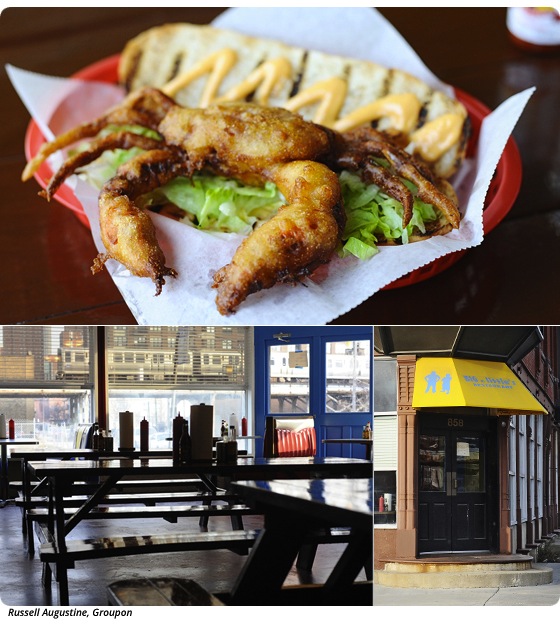 Guy Fieri loves Big & Little's. But on the Friday evening I headed there with two friends and a 12-pack, we weren't too worried about anyone else's opinion. Our needs were pretty simple. We wanted some fries, tacos, or maybe a burger. (Maybe all of those things.) Mostly, though, we wanted to drink on the cheap while we ate.
When we got there, it was packed, so we plopped our Bud Light (don't judge) on one of the picnic tables to claim a spot. The line was long, so we grabbed a beer to drink while we waited to order (don't judge). A chalkboard menu above the counter listed tacos, burgers, and po' boys. One guy was handwriting the orders while patiently describing menu items to each person, completely unconcerned with the long line. My friend nudged me. "That's Big," he said. (He'd seen the Diners, Drive-Ins and Dives episode.)
"Big," aka Gary Strauss, partnered with Tony "Little" D'Alessandro (from season six of Hell's Kitchen) to open this cash-only spot in the Near North hood. By the time I made it up to the counter to place my order with Big, I didn't have any questions for him. I wanted a shrimp po' boy and Cajun fries, no doubt about it.
In spite of how busy it was, after my friends and I had ordered, I barely had time to plop down on our bench before my name was called and the cook handed over my basket of freshly made po' boy goodness. As soon as I took the first bite, I was in a flavor-packed happy place. The po' boy was perfection and stuffed with so much shrimp that every time I took a bite, more shrimp fell out of the sandwich and into my basket. I promptly scooped the fallen shrimp into my mouth. The hand-cut Cajun fries were also a delicious mess with just the right amount of spice, and though they were a little soggy, even that seemed right. While I was falling in love with my food, my friends finished their tacos, then promptly got back in line to order more.
Some might turn up a nose to our BYOB choice of the evening, but this isn't the place to try to impress with a great bottle of wine. A craft beer would have worked, sure, but the perfect thing about drinking a cheap, light American lager at Big & Little's? It means there's that much more room to eat another fish taco (or, in my case, an entire basket of fries).
Big & Little's is located at 860 N. Orleans St. Plan ahead: come with cash and wear pants with an elastic waistband.
BY: Alison Hamm
Guide Staff Writer
Alison would rather interview a chef or food blogger than actually cook. She never says no to a Hamm's Beer on special.