DIY: Upcycle Old T-Shirts into a Nightgown
BY: Amelia Buzzell |
Jun 19, 2013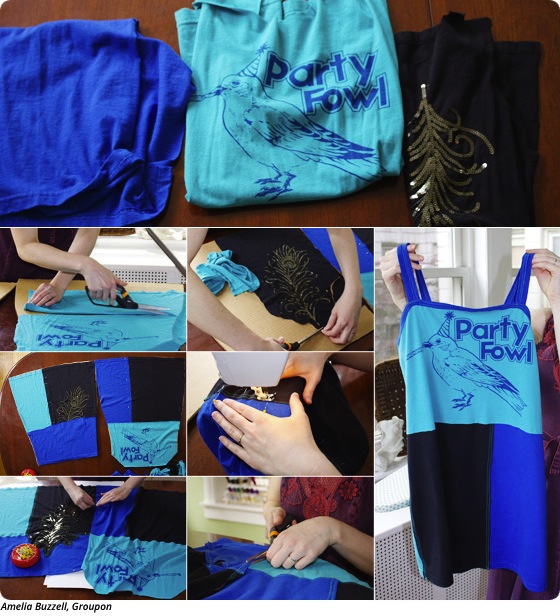 During one particularly sweaty and unbearable summer a few years ago, Megan Keach worried she'd wear her favorite slip down to shreds, so she decided to make some of her own as backup. Scores of upcycled shirts and more than 100 NighTees later, Megan can now cut and stitch her signature sleepwear in less than an hour and a half—which is good, since they've become a hot item in her Etsy shop,
Make by Megan K
. In her sunny Edgewater dining-room-turned-workshop, Megan showed me how to upcycle three tees into a flirty nightgown, from picking a punny "Party Fowl" T-shirt to painstakingly spacing the straps, and she shared tips for anyone interested in thrifting T-shirts of their own.
1. PICK YOUR SHIRTS
Megan makes sure each shirt she buys is free of stains and has high-quality hems, necks, and sleeves. "People say, 'Your shirts are cleaner than the ones in my closet!' and I say, 'Yep, [because] I am very, very picky,'" she says. Shirts with good bones allow her to use preexisting hems and save scraps for future projects. Note: For your NighTee, you'll need three tees in different but complementary colors, and at least one should have a prominent printed design, either at the bust or hip.
2. MAKE YOUR PATTERN
Every NighTee has an A-line silhouette, fitted at the bust and free through the hips, and is made from three multicolored panels per side. Megan admits to eyeballing nearly everything except the straps with help from handmade cardboard patterns, but she doesn't stitch willy-nilly. "It's a big deal when someone wants to pay you money for something you've made. I take it really seriously," she says. Note: If you aren't as good at estimating (or pattern making), try altering a basic slip dress or nightgown pattern from a fabric store. Use Megan's design as inspiration for how to turn one piece into three—just don't forget to add in a half-inch seam allowance on all cut lines.
3. MAKE THE CUT
Start by removing each T-shirt's sleeves at the seam, then carefully cut the binding from the necks. Separate shirt backs from shirt fronts at the side seams. Lay (or pin) pattern pieces on the T-shirt fabric and cut, taking care to center the main logo on the front bust or hip piece as desired. Note: When cutting her pieces, Megan sometimes matches the fabric on the top bust and back bust pieces and often likes to alternate the asymmetrical bottom pieces to create a patchwork effect.
4. PIN AND SEW
Start with the front's two bottom pieces. Create a lapped seam by overlapping the center edges, one atop the other, so that they overlap about a half an inch. Pin the seams together and sew down the right side of the fabric using two parallel zigzag stitches (Megan likes to use a contrasting thread to provide a pop of color). Next, sew the front top to the front bottom using another lapped seam. Repeat the process for the back pieces. Pin the front and back pieces together at the sides and sew them together using the same method. Carefully trim away any excess fabric at the edge of the seams for a more finished look.
5. MAKE STRAPS 
Megan likes to make her own straps using the leftover fabric from the discarded T-shirt sleeves, but you can also use ribbon or even seam binding. To follow her method, determine the desired length of your straps, then cut the sleeve fabric into strips. Sew the edges of the strips using the same double zigzag stitch so that the fabric won't unravel. Pin straps to the dress's front and back and sew, then iron the NighTee to keep the straps from twisting. Note: For a more polished look, Megan also creates perfect binding by sewing a strip of the extra T-shirt material along the edge of the top front collar. If you aren't familiar with perfect binding, try using packaged seam binding. And don't worry if your finished garment isn't perfect. "The stuff I do is not perfect, but the ways that it is not perfect are the ways in which it is handmade," Megan says. "I think part of the charm is that I can say, 'Yes, I made that with my hands; I made it carefully and deliberately.' And that's one of the cool things."
IF ALL ELSE FAILS ...
Megan sells her NighTees—along with hand-crocheted hats and scarves, painted leather headbands, and skirts made from oxford shirts and upcycled denim—in her Etsy shop and at craft fairs throughout the year. Catch Make by Megan K. at the
Glenwood Avenue Arts Fest
in Rogers Park on August 17 and 18.