Don't Fear the Man Bag
BY: Michelle Schuman |
Mar 27, 2014
Yes, men accessorize too. Here are the sunglasses, scarves, sneakers, and totally masculine leather bags they'll be into this spring.
In pop culture, men's attempts at accessorizing have traditionally been seen as comical. When
Joey showed up to Central Perk
with a "man bag" on an episode of
Friends
, Chandler called him "Mrs. Tribbiani." And when
The Hangover
guys were about to hit the Vegas strip, Alan had to
defend his satchel
from being labeled a "man purse." But thanks to multiple trends seen in the spring 2014 menswear shows, real-life accessorizing is hardly hilarious—it's high fashion. While designers' envelope-pushing presentations weren't always the most wearable, accessories can be an easy way to introduce trendy elements into a wardrobe. To that end, we've rounded up some on-trend pieces for the style-conscious and (somewhat) adventurous man.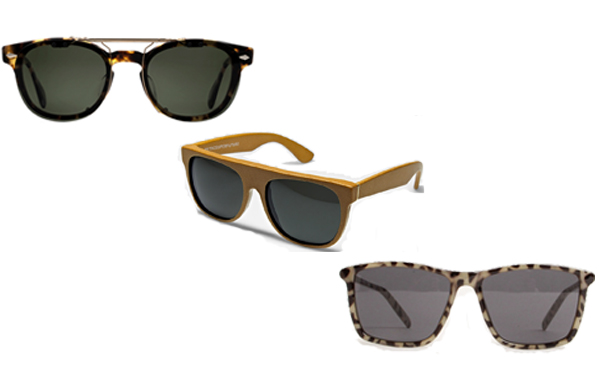 Bold Sunglasses
From left:
Retro-inspired sunglasses
(Oliver Peoples; $550);
flat-top leather sunglasses
(
Labrabbit Optical
; $300);
leopard-print sunglasses
(Penelope's; $40) Perhaps the most beginner-friendly way to accessorize is with a pair of bold, bright sunglasses like those seen on Frankie Morello's spring 2014 runway. Frames in funky shapes, colors, or patterns add youthful, urban style to any outfit without much commitment.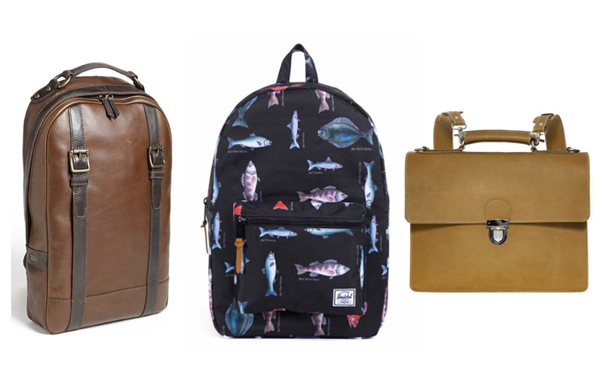 Backpacks
From left:
Leather backpack
(Nordstrom; $278);
Pacific-print backpack
(Herschel; $54.99);
briefcase backpack
(Sandqvist; $399) Another foolproof accessory. They're much more subtle than "man bags," and unlike the high-fashion styles seen at Gucci, these 'packs will ease you into the trend without a multi-thousand-dollar investment. The European-style Sandqvist backpack presents an added benefit: it doubles as a briefcase.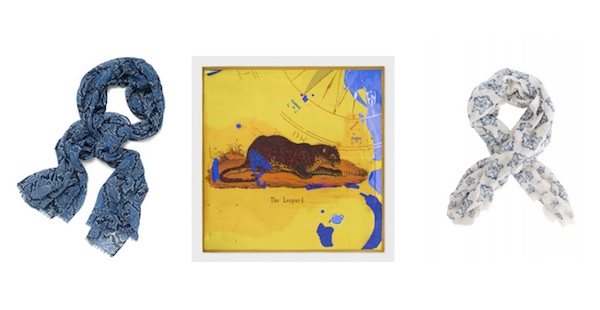 Bright Scarves
From left:
Paisley scarf
(Paul Stuart; $167.50);
leopard square scarf
(Paul Smith; $350);
wolf-print scarf
(Zadig & Voltaire; $205) If you're ready for more advanced accessorizing, try incorporating color and texture into your outfit with a scarf. These lightweight accessories are relaxed yet vibrant (even when draped across the shoulders of more traditional outfits), and they're also functional during still-chilly transitional months.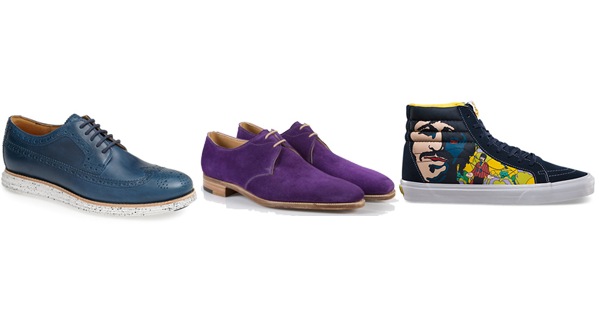 Colorful and Graphic Shoes
From left:
Sneaker-sole oxfords
(Nordstrom; $228);
purple suede derby shoes
(Paul Smith; $1,275);
graphic Beatles sneakers
(Vans; $75) Shoes are an even more unexpected way to introduce color. Ever since Dolce & Gabbana helped set the trend, oxfords and sneakers have been popping up in bold hues and prints. These purple suede shoes from Paul Smith make formal looks more interesting without dressing them down. Some styles are made unique by more than just color, though, like these sneaker-soled oxfords or these high-tops with
Yellow Submarine
–inspired graphics.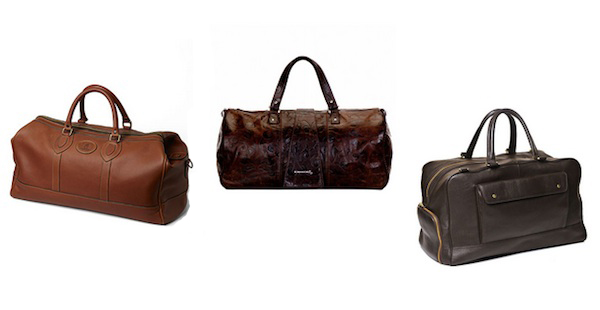 Leather Duffel Bags
From left:
Pebble-grain duffel bag
(Paul Stuart; $867);
custom chocolate tote
(Borris Powell; $750);
dark brown carry-all
(Suit Supply; $599) And if you feel ready to tackle the man bag, then try a leather duffel in the tradition of Louis Vuitton's luxury travel gear. Multiple pockets keep personal items organized whether you're using the bag for a trip out of town or just to the gym. While they're a bit of an investment, they're also fairly timeless.
BY: Michelle Schuman
Michelle is a freelance fashion designer and dancer from Detroit. She has traveled the US extensively (and loves it!), but her biggest goal is to travel abroad.