Dress Your Dining Room Like St. Vincent
BY: Amelia Buzzell |
May 7, 2014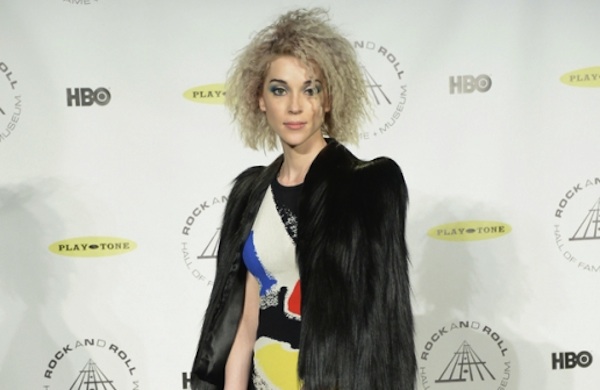 When grunge kings Nirvana were inducted into the Rock and Roll Hall of Fame last month, the surviving members invited female artists to help perform some of their best-known songs. While the celebration focused on the band's influence on rock 'n' roll, there was plenty of edgy style to focus on, too, like St. Vincent's Mondrian-inspired dress and coat. (She joined the band to
sing lead vocals on "Lithium."
) Though it's rad, it's probably not the kind of outfit a person can live in every day—but a person can definitely live in a dining room whose housewares are inspired by it.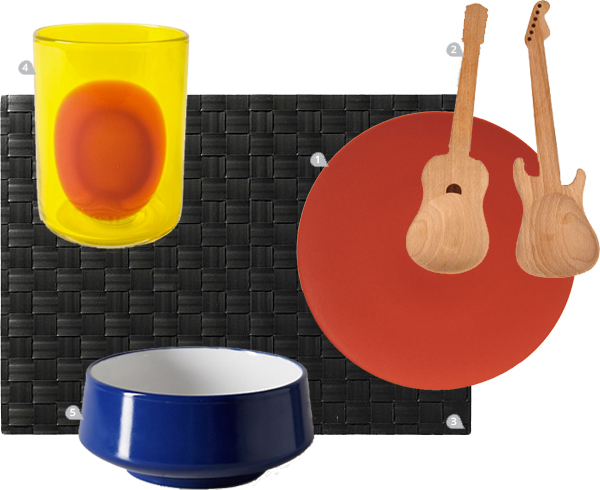 Swap St. Vincent's fur coat for a textured black place mat, which offsets pops of primary color from a red salad plate and electric-yellow tumbler. Electric and acoustic guitars inspired the silhouettes of salad tongs that can be used to serve greens into angular blue bowls. As for your guests?
They're in your head
. 1.
Disc dinner plate
; CB2 ($5.99, on sale) 2.
Beech Wood + Rockin Guitar salad servers
; Kikkerland ($16) 3.
Ordentlig place mat
; IKEA ($2.99) 4.
Dot glass
; Jonathan Adler ($28) 5.
Kobenstyle bowl
; Anthropologie ($14)
Top photo: Spin.com