Dylan Baldi of Cloud Nothings Is a Man of Few Words. But They're Good Ones.
BY: Kelly MacDowell |
May 1, 2014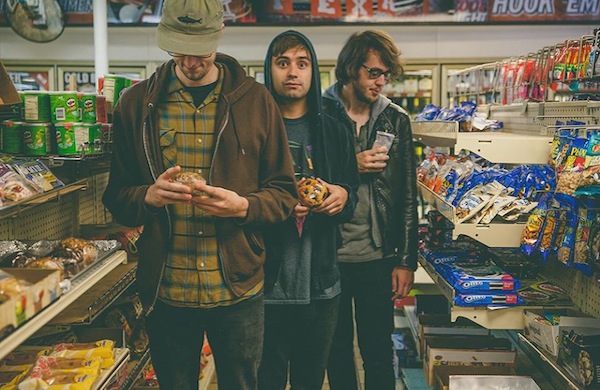 The first time many people heard Dylan Baldi sing was on the opening track to Cloud Nothings' breakthrough album, 2012's
Attack on Memory
. It was an appropriate introduction. "No Future/No Past" consists of only nine words, sung in a loop that expands from a despondent, piano-backed croon to a searing scream that threatens to drown out the suddenly vicious drum track. The fact is, most Cloud Nothings songs adhere to a similar template: lean lyrics backed by crashing cymbals and scuzzy, lo-fi guitar melodies. When we asked Baldi about his minimalistic approach to words, the Cleveland native had predictably little to say. But he did let us in on a curious secret to his songwriting process. Instead of obsessing over verses for months, he writes all of the lyrics to his songs just days before going in to record them ("It always ends up feeling more real," he explained.) In conversation, Baldi is similarly concise. Over the course of our interview, he showed a tendency for sound-bite-like responses that end abruptly, either with dead silence or a knowing laugh. We've presented his thoughts in the same matter-of-fact way he tends to communicate them—starting, naturally, with the topic of brevity.
On brevity:
"Shorter stuff is just better. If you can make a full statement quickly, I feel like you should. Also, I get bored sometimes if I'm listening to something that's really long. … I don't want to get bored by my record. I want it to be something I would like."
On his newfound popularity:
"It wasn't what I was aiming for. It wasn't something I was purposely trying to do. I guess the only goals I really have are to keep improving as a musician and a songwriter. I just like playing music. I'm happy to do that for as long as I can."
On how Cloud Nothings' new album, Here and Nowhere Else, is a step forward:
"I think the songs are more interesting because they encompass a little more. They're all very short and direct, but each one of them has a little jammy section, too—something more interesting. And I think I've learned to play guitar a bit better."
On writing lyrics at the last minute:
"If I actually started writing the lyrics a year before the record was coming out, I would just think about them way too much and never actually get anything I even liked. It would all end up being really boring by the end. And confusing, probably. If I just sit down and do something more or less stream-of-consciously, it always ends up feeling more real."
On his hands-off approach to the, um, surprising video for "I'm Not Part of Me":
"We have a friend named Ryan [Manning] who makes all our videos. We tell him to do whatever he wants. … I don't really know what it means."
On Cleveland's low-key music scene:
"It seems like everyone can do anything they want. People don't go to Cleveland to see the best new band. There is no real nationally known scene there. So it kind of feels like you can just grow in whatever way you want to."
On feeling confused by big cities like Chicago and New York:
"It just seems like the culture of a big city is different from what I like. It always seems based more on keeping up appearances, and that's something I don't care about at all. So it always feels like I'm a little out of place when I'm somewhere like that. But that's just my experience. There's good restaurants in New York. I like that [laughs]."
Cloud Nothings will brave the big city when they come to Chicago and play Lincoln Hall on Saturday, May 3, at 10 p.m.
Photo credit: Pooneh Ghana, courtesy of Cloud Nothings
BY: Kelly MacDowell
Kelly's first concert was Fleetwood Mac and her first career was in the beauty industry. Now a style and music writer, she loves Project Runway and her dog, Watson.