Eat with the Third Shift at These South Side Restaurants
BY: Shannon Jewitt |
Nov 27, 2013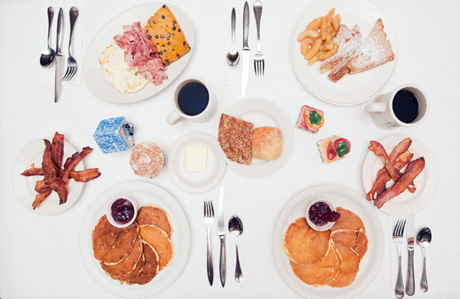 A Thanksgiving-esque dinner for breakfast may sound unusual, but it's very typical for Annie Godette, a nurse who works the 7 p.m. to 7 a.m. shift at Little Company of Mary Hospital in Evergreen Park. "I'm actually very strange," Annie said. "I'll wake up and I'll have dinner. I live still with my parents and my family. So if they made dinner, I'll wake up and have a turkey dinner with them." She packs a small lunch for work, generally whatever she can eat in the small amount of time she isn't tending to patients. After work, she either heads home or out to eat for her final meal of the day. She warned us, though: "I'm not a healthy eater in general. I never have been. And then at nighttime when you're hungry, there's only certain places you can go. It's usually not the most healthy joints." Annie gave us a few of her recommendations for eating out before the sun comes up. "I feel like the night shift," she said, "is such a different world." Here are three spots from this world that are worth finding:
Beverly Bakery and Coffee Roasters (Beverly | 10528 S. Western Ave.)
"If I've had a bad day at work, I'll stop by the bakery. And that happens, probably once a week or every other week," Annie said. "It's a cute little bakery, and it's delicious." The bakery offers countless fresh-brewed coffees and pastries, including gluten-free varieties. Annie, however, made it clear she has a favorite—"Their croissants are to die for."
Nonna's Pizza (Oak Lawn | 13636 S. Cicero Ave.)
"And sometimes, if I've had a
really
bad day at work, I'll stop at McDonald's on the way home, or some 24-hour pizza place," Annie said. That 24-hour pizza place is Nonna's, where "you get this ridiculously huge slice of pizza for $5." A small price to pay for the cheesy, greasy goodness of what the restaurant boasts is "the world's largest pizza slice."
Niko's Breakfast Club (Oak Lawn | 4002 W. 111th St.)
"If I go out to breakfast, which happens more often than not, I go with a coworker or some friends who are also nurses who work the night shift," Annie said. This Oak Lawn greasy spoon serves eggs in just about every form, including omelets, frittatas, skillets, and scrambles, as well as six different varieties of french toast.
BY: Shannon Jewitt
Resident Beer Stalker Shannon has an insatiable thirst for craft beer. Despite being a vegetarian, she always makes an exception for fries cooked in duck fat.