Eating Incognito with Food and Drink Critic Julia Kramer
BY: Will Landon |
Jun 20, 2013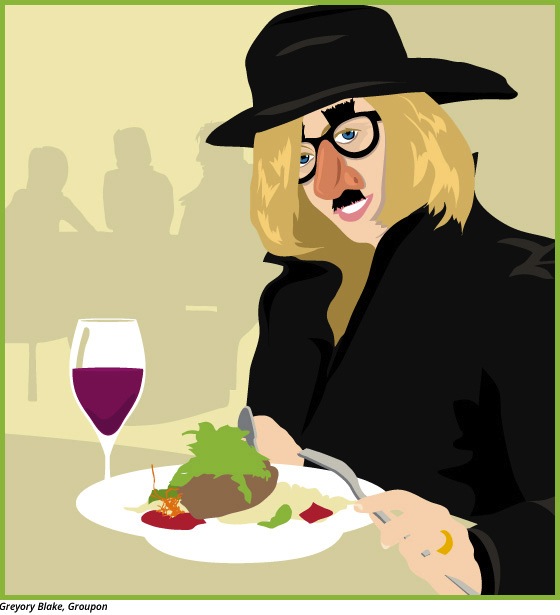 It was a good thing
Julia Kramer
wasn't going to dinner to meet up with a casual acquaintance. They probably wouldn't have recognized her when she arrived at
Balena
, a rustic Italian restaurant in Lincoln Park. She sat down to dinner decked out in full makeup and a wig. And it worked. She wouldn't normally resort to a disguise, but on a previous visit she'd caught the eye of the owners, who immediately rushed her table to attend to her. This time, however, the staff walked by her table time and time again without a single sideways glance. Kramer finished her meal undisturbed. Kramer doesn't resort to disguise often—to her, wigs are mostly just hot and uncomfortable—though on occasion, she's taken the precaution. She donned a false head of hair and new face on a visit to
GEB
, one of chef Graham Elliot's restaurants, after giving his
Grahamwich
in River North a rather
scathing review
. She often makes table reservations under pseudonyms, calling from a stock of false numbers. She's also invisible on social media, with virtually no photos of her posted or tagged anywhere online.
Two Schools of Thought
As a food critic, Kramer says her advantage has always been that "no one knew who I was." Though she's had a more difficult time the longer she's been in the game—she recently moved to
Bon Appétit
after working at
Time Out Chicago
for about five years—she still flies largely under the radar. After all, she didn't always plan on being a food writer, though she's always loved food; she went to college for fiction writing. Jonathan Gold's critiques of Los Angeles restaurants made her realize that being a food critic was a real, viable career. When she's in the office during the day, Kramer spends much of her time tracking down restaurant openings and devising story ideas. Her nights, however, are devoted to fieldwork: roughly four nights or lunch breaks each week, she visits a new restaurant. When it comes to restaurant reviews, she says, there are two schools of thought. The Michelin approach requires critics to consider a restaurant within the parameters of a predetermined rubric. The other, which she prefers, looks at what the restaurant is trying to achieve and evaluates its performance based on the execution of that goal. Although it's rare to have a confrontation or meet a chef face-to-face, she says, it does happen. Her online
review
of The Black Sheep's shortcomings prompted the restaurant's chef to begin posting in the comments section with allegations that she had announced her presence on arrival and was rude to the wait staff. Laughing, Kramer recalls that it seemed like he was having a mental breakdown. She's usually able to shrug off those incidents.
On Blogging
Kramer says that one of the downsides to food blogging in Chicago is the "inside baseball" nature of the community: the same bloggers take the same free meals from the same publicists and write about those same experiences again and again. She does identify
LTH Forum
as a good resource for refreshingly honest—if sometimes insane—critiques. In these unfiltered threads, contributors often police one another to ensure no one is shilling for a particular restaurant. So Kramer advocates a more honest approach to food blogging. Audiences have enough access to pieces about the hottest restaurant and bar openings, she says, so bloggers should instead focus on documenting those establishments that are off the beaten path. She sums it up: "The only thing that will keep people coming back is if they can identify with your voice and trust you."
"How Is Everything?"
Kramer may visit a new eatery nearly every night, but she has her favorites. Of
Le Bouchon
in Bucktown, she says "the food is great, but that isn't what makes it." Compared to the overly attentive staff at some restaurants, the service at Le Bouchon is very "French." Waiters bring a course to the table and then just leave the diners to their own devices. This hands-off approach allows her to focus on the meal she's tasting and the people she's spending time with. As a bonus, she doesn't have to offer up a false answer to the eternal question: "How is everything?" Her favorite bar is Logan Square's
Scofflaw
. She once worked several shifts as a barback there for an experiential story, which introduced her to the owners and staff. Due to the nature of her job, it's rare that Kramer feels like a regular at any bar, which, she admits, isn't always a bad thing. One of her favorite parts of the work is being able to explore. She just hopes she won't have to wear that wig again.
BY: Will Landon
Will Landon is a Chicago-based writer who sings punk rock songs with the Blue Ribbon Glee Club and occasionally works for free as an assistant stage director.