El Rey in Brighton Park: One of Chicago's Most Chicago Restaurants
BY: Cody Braun |
Mar 14, 2014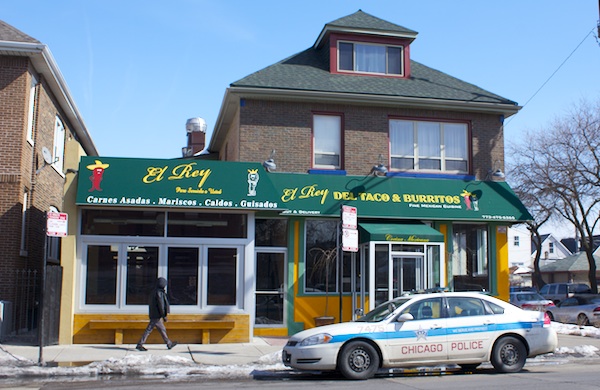 How do you find Chicago's most Chicago restaurant? You begin by taking the world's best decision-making device: the bracket. Then you combine it with Chicago's best device to represent its messy, opinionated landscape: the ward map. Some have called this pursuit "patently absurd." We humbly disagree. By taking our logic above (bracket + ward map) and extrapolating it into a larger, totally airtight algorithm, our computers have found a winner for the title of Chicago's most Chicago restaurant. See the finalists and read more about the search here. Below is one of the finalists.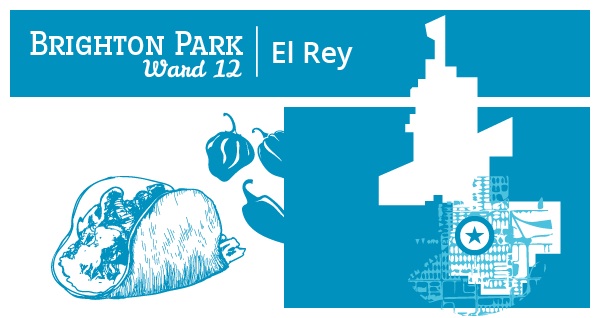 The cast of characters at El Rey (4157 S. California Ave.) is a good indication of what an important hub it is in the neighborhood. Below, we meet a few of its principal actors.
REY MACIAS:
Macias runs the place. His parents own it, but he says they "don't always want to hear about it."
TEACHERS:
Macias went to school at Kelly High School, directly across the street from El Rey in Brighton Park.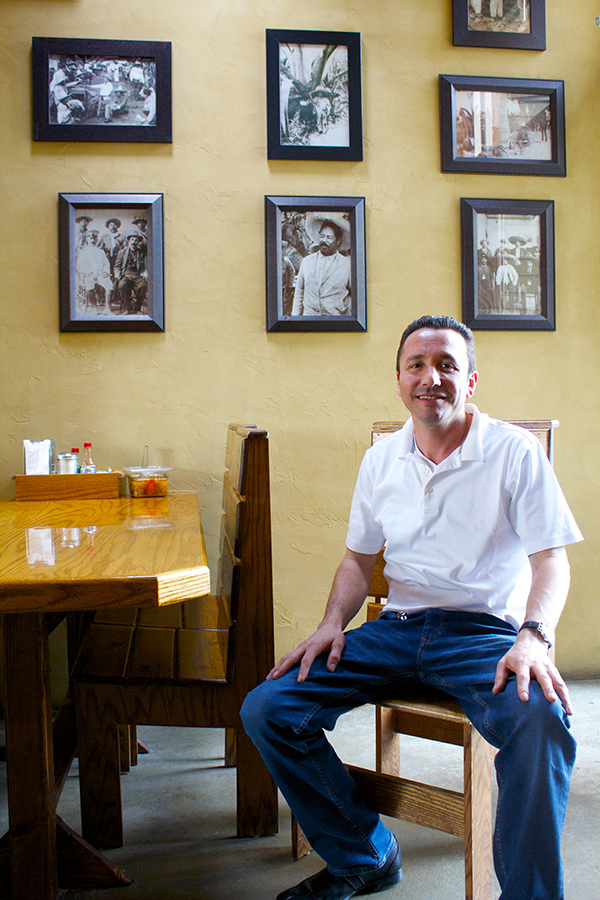 When he first started working at the restaurant five years ago, his old English teacher came in. "'Ms. Johnson, remember me?" he joked. "Why'd you fail me? Listen to my accent, I could've been president." Now, many of the teachers from Kelly come in, and he tries to look out for them. He says he carried a sign with them during the strike in 2013, and they fill the back patio during fundraisers and special events.
ALDERMAN CARDENAS:
George Cardenas
named El Rey his favorite eatery in the 12th Ward. When the alderman stops in for lunch, he jokingly asks, "Where are the margaritas?" "Sorry, sir," Macias will reply, "but the alderman won't let us serve them so close to the school."
COPS:
El Rey doesn't really match up with the slick diners where I imagine cops eat. But there they are, at least a dozen plainclothes detectives swapping stories that sound straight out of
The Wire
and a handful of uniformed officers in the corner looking at them shyly. Occasionally one of the cops will attempt an order in Spanish, impressing his compatriots around the table. "We love our officers," Macias says. They don't just get free coffee. Macias says the restaurant used to close at 10 p.m., but he would sometimes see a disappointed patrolman outside at 10:10 p.m.. So he started staying open until 11 p.m. And then midnight. Now El Rey closes at 5 a.m. Macias says a friend once asked him if you had to be a cop to get great service here. "No," he told him, "you just have to have a .45 in your pocket!" He's proud that they hang out here, though—his grandmother always told him you could identify a good restaurant by the police cruisers outside.
CONTRACTORS:
"I started doing construction when I was 10," Macias says. He built an addition to the restaurant himself and did much of the work on the interior. Before cutting wood for new booths, he went with one of his contracting buddies to secretly measure the tables at Portillo's. They got caught and had to fib to the skeptical waiter: "We made a bet about how wide your tables were."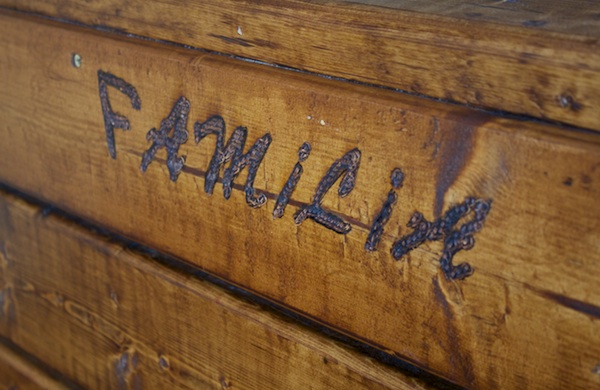 One old construction boss, who Macias calls Inspector Gadget, only ever wanted the chicken burrito. Macias finally told a waitress to tell him they were out of tortillas (which El Rey makes in house). Inspector Gadget tried something new, venturing off into a surprisingly thick menu that includes everything from tacos with cesos (brain) and lengua (tongue) to gringas. Gringas? "Oh, you don't know what a gringa is?" asks Macias, his eyes wide. "In Aguascalientes [in Mexico], there's a big festival; offices shut down for a week," he says. "And at the end of the night, all the guys say they're going to get some gringas." Macias was confused too until he saw what they were actually talking about: marinated pork, onions, and cheese wrapped in pristine white flour tortillas (which give the dish its name). The cooks at El Rey also make a soup I'd never seen before, with a name that literally just means "meat in juice." It was at least as rich as a good pho, and I can imagine even someone with a taste for simple burritos loving it. The menu also includes tacos botaneros and tacos chilangos, both of which have lengthy backstories that are worth asking Macias about if you have half an hour to kill.
STUDENTS:
Macias identifies with the kids in Brighton Park. After all, he used to go to school there, walking home through the neighborhood so he could pocket the bus fare his parents gave him. He gives students cheap lunches and runs a work-study program. The students are part of the reason the walls are plastered with stars of '60s Mexican cinema, too—he seems worried they'll grow up with posters of Elvis and Marilyn Monroe. He points out Antonio Aguilar ("he was kind of the horse guy"), Jorge Negrete ("so tough and handsome"), and Pedro Armendáriz ("he made movies with John Wayne").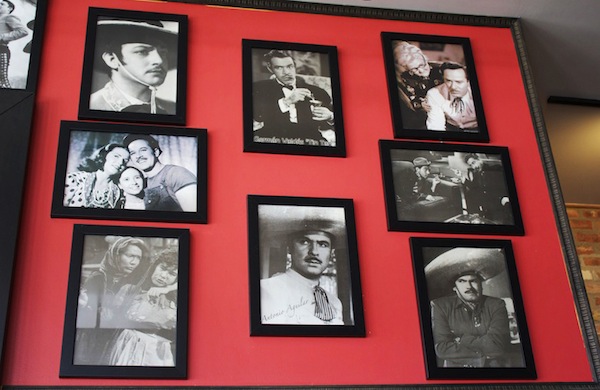 When he starts talking about María Féliz, a middle-aged woman leaves her table at the restaurant to affirm that Feliz did not indeed "take any crap from guys." Nor did Frida Kahlo, who, Macias hypothesizes, may have actually liked ladies more than men. The wall seems carefully curated, both to educate a younger generation and to delight Macias. But the wall itself is actually in constant flux. "I have thousands of these photos in my office; I change them all once in a while," he says.
EVERYONE ELSE:
Macias doesn't have an unkind word for anyone (with the exception of a certain Chicago celebrity chef, who Macias says steals recipes from small Mexican towns), and El Rey is an almost overwhelmingly hospitable place. I tried to leave there empty-handed. Instead I was eating leftovers from the bag Macias packed me for days afterward. It can be hard to separate kindness and savvy in businessmen, but Macias seems to genuinely care about his neighbors. He feeds the occasional drunk or homeless person or kid with a tough family—or really just anyone—if he's feeling generous. "God is watching," Macias says. "If you do good, he'll do good to you."
Photos by Nathalie Lagerfeld, Groupon
BY: Cody Braun
Guide Staff Writer
Cody is a banjo-carrying gypsy now accustomed to having a permanent home in which to brew beer, store journalism degrees, read Wodehouse, and bake bread.