Three Ways Engagement Rings Can Go Beyond a Diamond Solitaire
BY: Kate Raftery |
Feb 11, 2015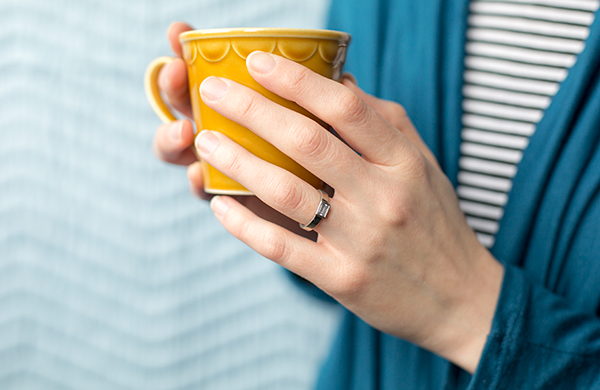 Diamonds weren't always a girl's best friend. In fact, for many years, they were just one of many acquaintances, albeit an especially sparkly one. That all changed in the late 1930s, when the De Beers diamond syndicate, faced with flagging sales, initiated one of the most successful marketing campaigns of all time. Intended to make diamond engagement rings the standard for all Americans, it included the iconic slogan "A Diamond Is Forever" and essentially created a tradition out of thin air.
"Diamonds—and the diamond solitaire in particular—have the reputation of being what an engagement ring is. It's really something that's been implanted in people's minds," said Erica Weiner, a jewelry designer with two brick-and-mortar stores in New York City whose pieces have been featured in Elle and on Refinery29. "[Couples] still really feel like if they're doing this traditional thing, getting married, they want a more traditional ring."

Engagement rings with large central diamonds continue to be the standard-bearer in American culture, but things are slowly changing. Some people are opting out of the traditional look in favor of custom settings, one-of-a-kind antiques, and different gemstones altogether.
We talked to Erica about three ways to say yes to non-traditional engagement rings.
1. Think beyond the solitaire setting.

Of course, diamonds are classic for good reason. They're one of the hardest minerals in existence, making them exceptionally durable for everyday wear. And their sparkle is a highlight: "Diamonds have this light-refracting capability that is just way better than anything [else]," Erica said. "It reflects just a ton of colors of light—that's a special thing."

But some people find their ubiquity boring and their price exorbitant, not to mention mining's effects on the environment and human rights. To combat this, Erica hunts for older stones and antique rings dating back to the 1800s. With vintage pieces you often get more unusual settings, especially compared to the typical jewelry-store selection.

So even if you're not prepared to ditch the diamond, you can still get creative. Consider arranging several smaller diamonds in an interesting shape, choosing a statement setting, or even framing a solitaire within another stone, like the onyx ring pictured at right.
2. Play with color.

Still stuck on diamonds? Try one in yellow, chocolate-brown, or pink to add visual interest. If you're open-minded to other stones, try one of the "big three": sapphires, rubies, or emeralds.
Sapphires are the most popular, possibly because of their placement in the engagement ring worn by both Princess Diana and Kate Middleton (aka Duchess Catherine, a future princess). Erica even has an Edwardian sapphire ring similar to it, albeit much smaller.

"I love sapphires," said Erica, who recently combined a platinum art-deco setting with a spectacularly blue antique stone. "People want the solitaire sapphires." In hardness, they are a step below diamonds. But like diamonds, they come in several colors, including white, pink, yellow, and green.
Rubies and emeralds are also increasingly popular. Rubies are durable, though Erica warns that pinkish stones can be more common than the deep red ones many people envision. Emeralds are less resistant to cracks and chips, but their vibrant color is sought after.

However, settings should be carefully considered for an emerald or ruby ring, because they can often look like cocktail jewelry or be set in a dated Victorian style. Look for white-gold and platinum settings where the decor of the ring itself is in balance with the size of the stone—for example, compare the sapphire piece above to the Victorian opal ring below.
3. Go big with a less expensive stone.

If price is an issue, opt for cubic zirconia or moissanite, which simulate diamonds in their durability and appearance. Though professional jewelers would miss the brilliance inherent to well-cut diamonds, most average joes won't know the difference. Lab-grown diamonds are another option, especially for shoppers with ethical or environmental concerns.

Aquamarine (pictured above) has become popular for those who want a big rock without the steep expense of a precious gem. In fact, the stone's beautiful, pale-blue hue becomes more pronounced with size. "A tiny, tiny, little aquamarine won't look very blue," Erica noted. "It's the light bouncing around in the stone that gives it its blueness."
"Opals are a really, really popular stone right now, but opals are soft and they do get scratched and degraded," Erica said. Wearers, however, are fans of the way light plays with the stone, which can express nearly every visible color.

Violet amethysts, another semiprecious stone, remind Erica of Victorian jewelry, so they may be suited to a very antique-minded bride. However, they're hard enough to be cut into a variety of shapes to make for a more contemporary look.
Top photo by Andrew Nawrocki, Groupon. All ring photos except the emerald courtesy of Erica Weiner.
Read more about engagements on the The Guide: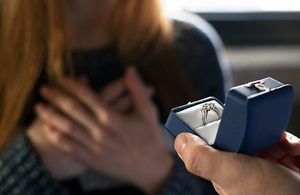 The managing partner of Chicago's most romantic restaurant clues us in. His first tip? Call ahead.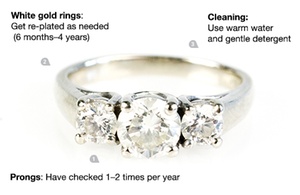 Are you even getting your prongs checked?
BY: Kate Raftery
Kate reads just about everything she lays eyes on, especially when it regards style and beauty trends. Despite this, she is still totally inept at applying eyeliner.