Ethically Engineered: How to Build a Sustainable Beauty Routine
BY: Katie Cortese |
Aug 23, 2013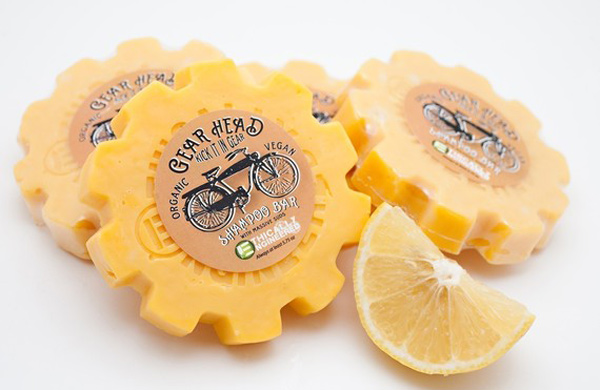 It was a feeling of frustration, many years ago, that first prompted Jack Nugent to dive into the unknown. Aisles at the grocery store or pharmacy were filled with shampoos, soap, and shaving cream, but very few were crafted from plant-based ingredients. Or made in a sustainable manner. Or not tested on animals. So Nugent did what any knowledge-hungry, motivated person would do: he decided to make his own. "I put my thinking cap on and made something that I like and I can use every day," Nugent said of his creations, which include items such as bar shampoo and soap. Today, with the help of a three-person staff, Nugent hand makes all of Ethically Engineered's products in a sustainable manner. The company's West Humboldt studio, outfitted with a solar-power generator, can churn out the
no-bottle shampoo
—Nugent's favorite product—in a few hours. Soaps, such as this
Chicago Flag version
, on the other hand, are cured for two months to obtain a neutral pH balance. His stash of ingredients includes Himalayan salts, organic coconut oil, and locally sourced essential oils. The end products are packaged in containers that can be composted or buried in a planter to produce herbs. A lot of trial and error goes into each product Nugent creates. "Using only plant-based products gives me the ability to use it on myself, because I know that plant-based products with natural ingredients, like olive oil and nut oil and natural colorants, have been used for centuries and require no testing," Nugent said. "By using those freely, I am able to try different formulations over and over again until I get it right."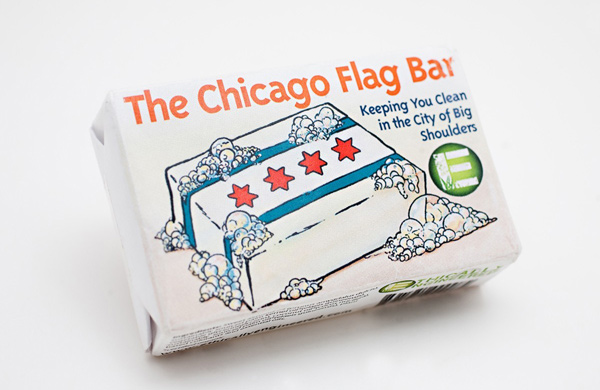 The ABCs of Animal Products
According to Nugent, the main reason companies use animal ingredients is because they are less expensive. "The cost to use a plant-based oil is a little bit more than the throw-away products from the slaughterhouse," he said. "That is often the choice that is facing the manufacturer, and that is why animal products pop up in our cosmetics." Nugent outlined a few tips for people who wish to incorporate veganism into their products. The first step, he said, is to read the ingredient label. But alas, that isn't always so simple. "The hard part comes when you look at the ingredient list and these names are hard to read, such as chemically driven names, or even in Latin," he said. Common animal ingredients include:
Beeswax:
Also known as Apis Cerana, Apis Mel, Apis Mellifera, and Cire d'Abeille Blanchi. Obtained from the honeycomb of bees, beeswax is a common ingredient in lipsticks, face creams, lotions, mascaras, eye creams, eye shadows, and makeup bases. Alternative sources for beeswax include vegetable oil and carnauba wax.
Carmine:
Also known as Crimson Lake, Natural Red #4, C.I. 75470 and E120. This red pigment is made from crushed cochineal insects and is found in many red-colored cosmetics, including lipsticks. Alternative sources include beet juice and alkanet root.
Fish Oil:
Also known as Oleyl Alcohol, Ocenol, Oleths, and Oleyl Arachidate. Derived from fish and marine mammals, it is commonly found in soaps.
Gelatin:
Also known as Gelatine and Gélatine Hydrolysée. A protein obtained from boiled animal skin, tendons, ligaments, and bones, gelatin is a natural thickener found in shampoos, face masks, and other cosmetics. Alternative thickeners include seaweeds and pectin from fruits.
Lanolin:
Also known as Isopropyl Lanolate, Laneth, Lanogene, Lanosterols, and Triterpene Alcohols. An emollient derived from the sebaceous glands of sheep. It is found in all sorts of skincare products and cosmetics, though it may be linked to sensitivity issues. Vegan alternatives include plant and vegetable oils.
Take It From the Experts
Nugent acknowledges that keeping track of all these complicated names can seem daunting. But rather than toting around a pocket dictionary, he recommends three easy-to-use websites that can help make it easier to understand what is really inside that lotion or bar of soap. 1.
Leaping Bunny
: The work of the American Anti-Vivisection Society, the Humane Society of Canada, and other animal protection organizations across North America and Europe that banded together and formed a list of cosmetic companies who have pledged to make vegan products and not test on animals. These cruelty-free products can easily be found in local grocery stores and pharmacies, and are imprinted with a Leaping Bunny logo, Nugent said. 2.
Environmental Working Group
: Environmental health research and advocacy organization with a
searchable database
of ingredients that includes a ranking score if the product is considered safe or harmful to our health. 3.
Vegan Wolf
:The site provides a raw list of any possibly animal-derived ingredients. "When you go through the list, the end result is that a lot of the animal ingredients in cosmetics are from the slaughterhouse—they reuse their products by selling it to the cosmetic industry," Nugent said.
Photos courtesy of Ethically Engineered