Farm to Table: The Mushrooms of River Valley Ranch
BY: Anna Skorczeski |
May 15, 2013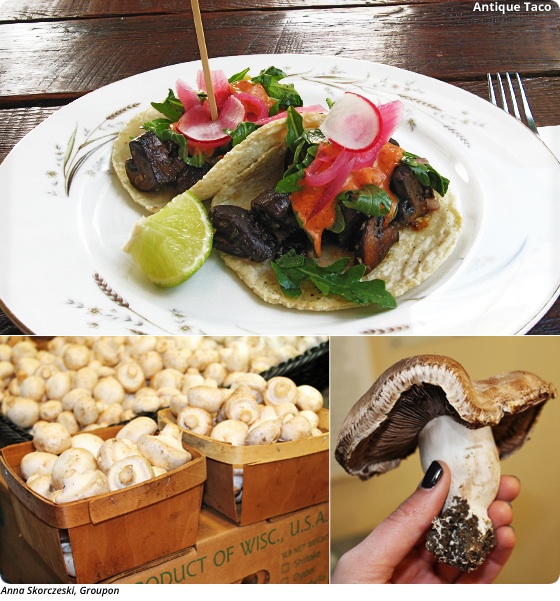 Bill Rose started
River Valley Ranch
in 1976 because, as a restaurant owner in the Chicago 'burbs, he couldn't get his hands on fresh mushrooms. From a white-button-only operation in those early days to churning out five different varieties of organic fungi today, River Valley Ranch is now in the able hands of Bill's son Eric and can name Rick Bayless among its loyal customers. And according to farm lore, Eric may be responsible for introducing portobello mushrooms to the citizens of Chicago. The air conditioning went out in the mushroom house one warm spring day in 1990. The spike in temperature caused Eric's cremini mushrooms to mature unexpectedly fast, their caps popping open like fleshy tan parasols. Not knowing what they were or what they would do with them, the RVR crew shrugged their shoulders and brought them to the first farmers' market of the season. Passersby gawked at the jumbo alien mushrooms until one shopper said she recognized them. They were not cremini, but portobellos, which she had eaten for dinner once at an Italian restaurant. Realizing they had their hands on a specialty item—portobellos weren't available in Illinois supermarkets yet—Eric and his crew began raising the enormous 'shrooms to sell at farmers' markets all summer long. Word traveled fast, and soon enough, they were often selling out after crowds had lined up to nab them first thing in the morning. River Valley Ranch is still a mainstay presence on the farmers' market scene, hawking its wares at more than 20 markets in Chicago and Milwaukee. In addition to homegrown mushrooms, the crew also sells pickled mushrooms, salsas, and other goodies made in their onsite kitchen. They've also been hitting the mark with frozen products such as vegan veggie burgers and portobello tamales, all homemade in small batches in the farm kitchen.
Get out and try River Valley Ranch mushrooms at any of the following places:
Farmers' Markets | Multiple Locations
Click here for the full list, which includes Federal Plaza downtown, Logan Square, Andersonville, Hyde Park's 61st Street market, and the Green City Market.
Antique Taco | Wicker Park
This Michelin Bib Gourmand spot has earned kudos for its mushroom taco.
Handlebar | Wicker Park
Wisconsin aged cheddar adds cheesy goodness to the roasted-mushroom omelet here.
Frontera Grill | River North
Rick Bayless, longtime RVR buyer, tosses mushrooms into tamales steamed in corn husks.
J. Parker | Lincoln Park
Mushrooms, pickled sweet peppers, and cream-cheese dip top crostini at this rooftop restaurant.
Irv & Shelly's Fresh Picks | Delivery
RVR mushrooms make the cut for this local food delivery service.
HomeMade Pizza Co. | Multiple Locations
Build your own take-and-bake pizza using RVR mushrooms and other fresh toppings.
Mushroom-growing kit | Online
Order your very own mushroom-growing kit ($23–$28) and sprout up to 10 pounds of the same 'shrooms that are sold on the farm.
BY: Anna Skorczeski
Guide Staff Writer
Raised in Minnesota and schooled in Wisconsin, Anna is now a well-traveled eater and amateur bassoonist.