The Best of the New Yorker's Style Coverage
BY: Mae Rice |
Aug 1, 2014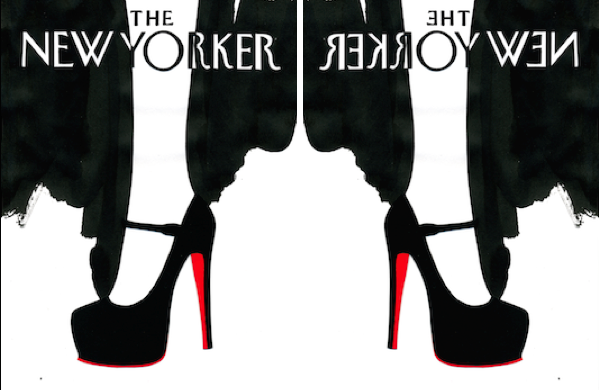 The
New Yorker
isn't known as a fashion mag—but maybe it should be. Since the magazine opened up its 2007-and-onward online archive to the public, we've found some pretty amazing style coverage in there. Our first must-read? John Colapinto's
profile of Karl Lagerfeld
, Chanel's creative director. We already cited it extensively in
our Karl Lagerfeld playlist
, and since then, we've found even more gems. We're not the first to go fishing for our favorite subject in the
New Yorker
archives—The Awl has
already posted a roundup of New Yorker article roundups
—but as far as we know, there hasn't been a style roundup so far. Read on for snippets from our five favorite fashion longreads.
"Pixel Perfect"
Lauren Collins
|
May 12, 2008
TL;DR:
A profile of Pascal Dangin, one of fashion's most famous photo retouchers. He's rarely publicly credited for his work, but he's worked with big names like photographer Annie Leibovitz, Balenciaga, and
Vanity Fair
.
Most scandalous reveal:
Dangin retouched Dove's Real Beauty campaign. In the article, he says: "It was great to do, a challenge, to keep everyone's skin and faces showing the mileage but not looking unattractive.'"
"Man on the Street"
Lauren Collins
|
March 16, 2009
TL;DR:
A profile of fashion photographer Bill Cunningham, the man behind the
New York Times
' "On the Street" and "Evening Hours" columns. His knack for predicting trends seems almost supernatural, and his utter devotion to photography was the subject of the 2010 documentary
Bill Cunningham New York
.
Most obscure trend he documented:
"At one point in 2000, many young hip-hop fans spontaneously took to wearing their sweatshirts abstractly, with the neck hole on the shoulder, or with the sleeves dangling down the back. (He related the phenomenon to both the Japanese deconstructionists and the sideways baseball cap.)"
"Fashion Democracy"
Alexandra Jacobs
|
March 29, 2010
TL;DR:
A profile of Polyvore, an online community that's a bit like Pinterest, except it allows users to create custom outfit collages. As Polyvore's then-vice president and current CEO Jess Lee puts it: "Our mission is to democratize fashion … to empower people on the street to think about their sense of style and share it with the world. … Newspapers and magazines are, like, these things outside that get wet. They're like roadkill." (For a better sense of the site, check out
MyChanel
's profile. Her real name is Gail Helmer, and she's featured in the
New Yorker
piece as one of Polyvore's tastemakers.)
Most literal transcription of an Internet comment thread:
"'Awesome :d,' a user named CzeskaVanilla had written. 'Toooooooooooo cute!' agreed another, signed sourcat. 'MWAAAAAAAAAAAAAAH! BACIO GRANDE!!!!' Lilli, from Italy, wrote."
"Nobody's Looking at You"
Janet Malcolm
|
September 23, 2013
TL;DR:
A profile of designer Eileen Fisher, chronicling how her eponymous company started (with four simple linen pieces) and how it operates now (still focused on simple pieces but also on corporate language that Malcolm found frustratingly vague).
Most zen description of an Eileen Fisher company meeting:
"The meeting ended when an elegant older woman held up two bronze bells connected by a cord and rang them. 'I ring a bell to remind us of timelessness,' she said. Then an object, a sort of gilded gourd, was passed from hand to hand. Each woman said something as she received it. 'I feel lighter,' one woman said. 'I feel humbled and honored,' the woman who had rung the bell said."
"Dressing Up"
Judith Thurman
|
May 5, 2014
TL;DR:
A profile of designer Charles James, known for his "ingenious tailoring—'off-grain' cuts, displaced seams, [and] asymmetric draping that eliminated darts." He also invented modern fashion staples, like the down coat, the infinity scarf, and even a proto-sports bra!
Most shocking fact about the cost of fashion:
"[James] once reworked a sleeve so many times that the labor and the materials invested in it supposedly amounted to twenty thousand dollars."
BY: Mae Rice
Guide Staff Writer
Mae Rice is a staff writer who writes about eyelash extensions, French food, what "business casual" even means, and other style and food topics.