GROUPON GUIDE TO NEW YORK CITY
At FIKA, Chocolate is a Work of Art
BY: Amy L. Hayden |
Aug 22, 2014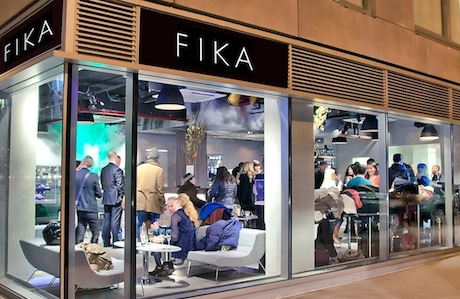 For a company that only arrived in Manhattan eight years ago,
FIKA
is doing a pretty good job of showing the coffee world how it's done. It's already the largest privately owned coffee company in New York and the fastest-growing coffee company in New York City
history
. In 2015, FIKA will open its flagship store in one of downtown's most coveted locations: on the ground floor of Tower 4 in the new World Trade Center. Overlooking the memorial, the new location is expected to draw more than 55 million visitors a year—a far cry from the one-location company founded in 2006 by Swedish native Lars Åkerlund, whose sole goal was to bring to New York the Swedish concept of "a daily FIKA" (a coffee break, often accompanied by a sweet or savory snack).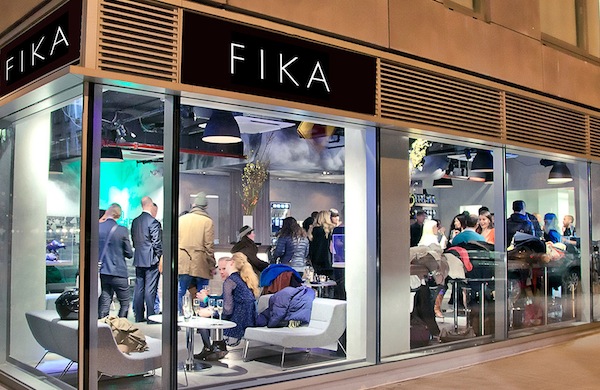 Åkerlund's coffee shop—FIKA 58th Street—remains in its original location at 41 W. 58th St., but the company has added eight more locations since 2006. It's also added two more partners: Åkerlund's wife, Lena Khoury, whose background includes five years with Hermés, and chocolatier Håkan Mårtensson, a Culinary Olympics Gold Medal winner. Mårtensson joined the FIKA family in 2009; today, you'll find him behind glass windows that offer a view of the chocolate production process inside FIKA Tribeca & Chocolate Factory (450 Washington St.), where he supervises one full-time staff member and six interns while retaining his well-deserved status as a chocolate artist. Mårtensson, born and raised in Sweden, knew from an early age that he "didn't want to be sitting behind a computer all day," and that he "liked to eat." When it came time to pick a vocational training path, his creativity and facility with his hands led him to a pastry and baking-design course, which he took from ages 15–18. After graduation, he worked with leading Swedish pastry chefs (cue
Muppets
theme) and developed a love of all things chocolate, particularly chocolate carving and design. That remains his specialty today.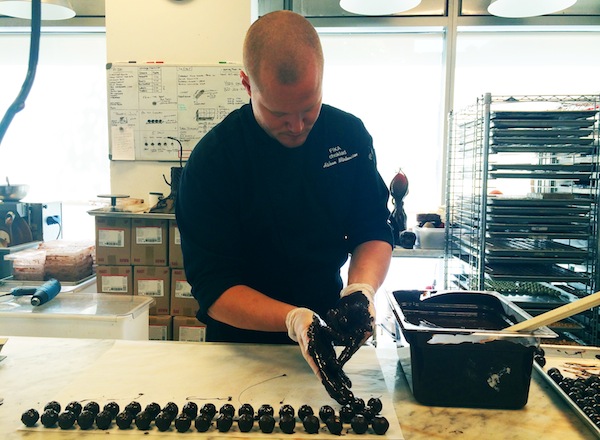 At FIKA Tribeca & Chocolate Factory on a Thursday morning, Mårtensson took me on a tour of the various sculptures in progress in the factory. There was the chocolate Yoda that my co-worker had urged me to steal when he discovered I'd be taking the tour (alas, it would have been too obvious); a giant chocolate dinosaur Mårtensson has been working on for weeks; and a dragon that Mårtensson considers his favorite kind of figure to carve. "Whatever you do, no one can ever say it's wrong," he says. "I can use my imagination completely."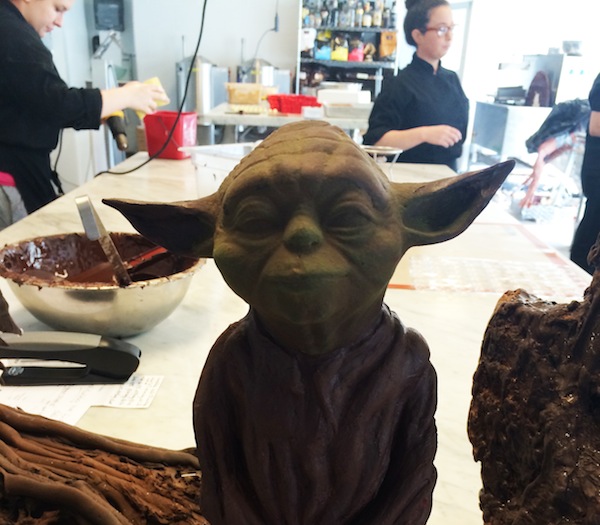 When asked if he's bothered that his name isn't on the door (like other chocolatiers around the city), Mårtensson doesn't skip a beat. "FIKA is a much stronger word than my name," he says, referring to the Swedish concept. (Mårtensson, Åkerlund, and Khoury are all Swedish, and all three deeply identify with the idea of "taking a FIKA.") And when I asked him what he thought of the pastry chefs and dessert shops that have a habit of making a name for themselves by coming up with quirky, trendy products (cough, cough, cronut), he was similarly nonplussed (perhaps a Swedish trait). "I have things people have never tried before, but it's all part of a consistency of being innovative and creative, not to be different," he says. "I could do a smoked-salmon truffle and make it taste good, but do I want to be known as the smoked-salmon truffle guy? No."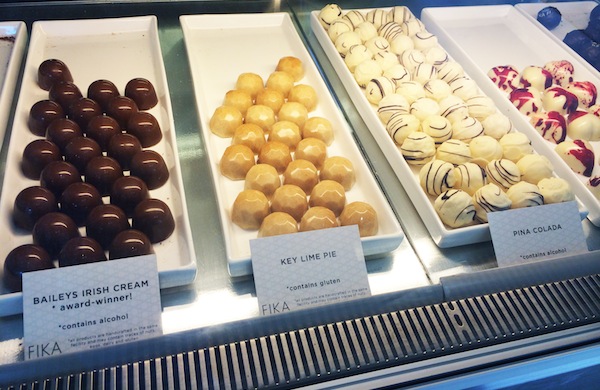 As for the future, there are big plans for FIKA—even bigger than the flagship store at the World Trade Center. Next month, the company will open FIKA Tower, its largest location yet, at 55th Street and 10th Avenue. The three-story building will house a catering kitchen, a bakery and pastry factory, and an event space. They hope to open 5–10 more stores in Manhattan, then branch out to Brooklyn, New Jersey, Boston, Philadelphia, Chicago, Washington DC, Los Angeles, Las Vegas, and Seattle. No small dreamer, Mårtensson says the ultimate goal is 50 stores in the US within the next five years, and then to set their sights on the global market. "Chocolate is one of those things that knows no boundaries across the world," he says. But in the here and now, Mårtensson is simply doing what he does—though in a spectacular fashion that makes it quite obvious that he loves every second of it. Tall and quiet, his usual presentation is anything but showy. But watching him prepare chocolate and then finish truffles by hand in the factory, it's impossible to miss the almost imperceptible smile on his face.
FIKA Tribeca & Chocolate Factory is located at 450 Washington St., New York, NY 10013. They are open Mon–Fri from 6:30 a.m. to 9 p.m., Sat. from 8 a.m. to 9 p.m., and Sun. from 9 a.m. to 7 p.m. In addition to a full range of chocolate products, FIKA serves breakfast, lunch, and dinner, plus a full wine list. Visit http://www.fikanyc.com/ for more information.
Check Groupon for deals at more New York City coffee shops.