Finally, a Food Blog That Drops F-Bombs
BY: Alison Hamm |
Feb 19, 2014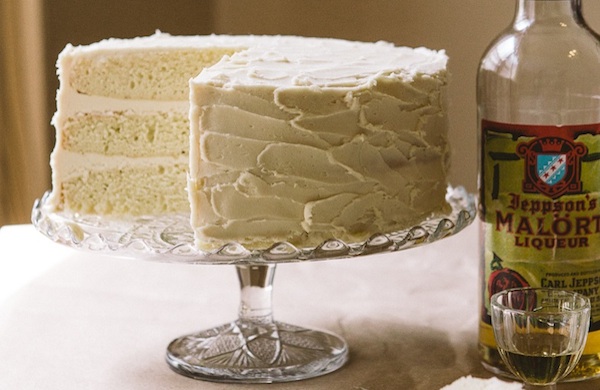 In 2013,
Saveur
named
Dinner Was Delicious
as a finalist for
Best New Food Blog of the year
. Meanwhile, Rachel Adams and Lucy Hewett, the duo behind the blog, call it "another f**king food blog." It's this light-hearted—and f-bomb-friendly—approach to sharing recipes that makes Dinner Was Delicious a lot more than just another food blog, though. Collaboration is key, as they rely both on Rachel's prowess in the kitchen and Lucy's gorgeous photography with each new post. The Logan Square–based pals talked with me about what's next for Dinner Was Delicious,
some of their favorite eating and drinking spots in the city
, and what in the world possessed them to create a Malört cake (pictured).
GROUPON: How did the two of you meet? Was it a friendship that began with a shared love of food, or was that just an added bonus? 
DINNER WAS DELICIOUS: We worked together for a company that, essentially, encouraged tweens to text. Lucy worked in the design department and Rachel was the entire customer service team. It was not particularly glamorous. We became friends out of a shared love of Robyn, affinity for lunches at Panda Express, and what can only be described as traumatic office bonding.
G: What inspired you to start Dinner Was Delicious?
DWD: We were bored. On a, like, deep, existential level. Rachel was writing freelance dating articles for a bar magazine circulated in the western suburbs (shudder) and had an underground bakery running out of her teensy apartment. Lucy was just getting her freelance photography career off the ground. We were both desperately seeking any kind of creative fulfillment outside of our job. One day Rachel baked for a wedding that Lucy happened to be photographing, so she came by to get glamour shots of the cupcakes in progress as, like, a bonus for the bride. It was superfun, so we decided cooking and documenting it was probably something we should do more often.
G: Any big plans for the blog this year?
DWD: We're both neurotic Capricorns so we always have schemes in the works—but we've got a particularly huge top-secret project in the works for 2015. We can't wait until we're ready to tell you all about it! This year you can look forward to a couple of cool features, too—we're both reconfiguring our tiny, shitty kitchens and are excited to share that process with our readers. It's going to be a lot of fun to move beyond recipes for a bit and start talking about general kitchen life.
G: What recipes would you suggest to help others survive the remainder of this brutal Chicago winter?
DWD: Rachel can't stop eating nachos. No one is surprised. They make a really great, nutritionally dense breakfast with a little scrambled egg and a quick cabbage salad. Lucy just revisited our
shepherd's pie recipe
last weekend and it was a perfect, cozy foil to this bullshit weather. Loaded with random veggies, it makes a good pantry cleaner or just a dish to make when you can't be bothered to go to the store.
G: Your Malört cake sounds both amazing and terrifying. What possessed you to create this recipe? Are friends initially scared to try it (assuming they haven't already been drinking Malört, of course)? 
DWD: Rachel came up with
Malört
cake as a birthday joke for a dear and snarky Malört-obsessed friend—but it turned out delicious. Like actually and sincerely delicious. The fat and sugar mellows out the kerosene burn and bitterness. Once that stuff's out of the way, all you taste are the grassy, herbaceous, and grapefruit-y flavors that Malört has to offer. People are always a little worried when they first see it, but it only takes one bite until they're hooked! It's cake! Even bad cake is pretty OK.
G: What's your favorite part of having this blog?
DWD: Getting to work together all the time and celebrate each other's creative successes. It's just really cool to watch each other get better at stuff on a level that normal friends don't usually see or notice or have access to. Looking at where we were two years ago, it's a pretty marked difference. And we're helping each other improve where, in the past, we were superdeficient. Rachel can Instagram a plate of food without it looking like a crime scene, and Lucy made some seriously killer risotto last weekend. We've also had some rad experiences to travel because of the blog. Namely:
Eat Retreat
. It's an annual four-day gathering of chefs, food producers, writers, and photographers. We spend the whole time nerding out about food, cooking for each other, learning in attendee-led workshops—like slaughtering our chickens to eat for the weekend and olive-oil tastings—and, of course, eating. It's like summer camp for adult gluttons and it's incredible.
Photo courtesy of Dinner was Delicious
BY: Alison Hamm
Guide Staff Writer
Alison would rather interview a chef or food blogger than actually cook. She never says no to a Hamm's Beer on special.