Where Acclaimed Food Bloggers Find Coffee That Tastes Like Blueberries, Dark Chocolate, and Tobacco
BY: Alison Hamm |
Feb 19, 2014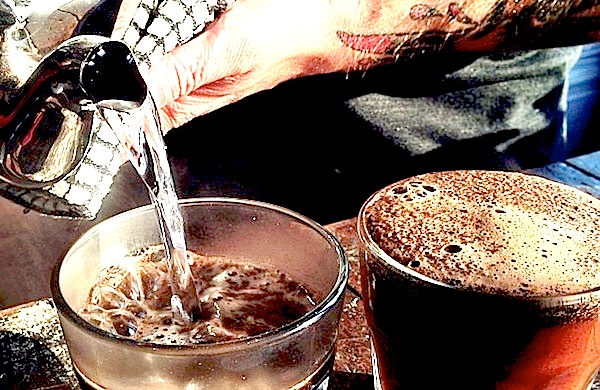 The Dinner was Delicious bloggers (finalists for Saveur's Best New Blogs of 2013) on their favorite coffee, ice cream, seafood, and date-night cuisine in Chicago.
When we talked with Rachel Adams and Lucy Hewett
, the duo behind
Dinner was Delicious
, they gave us a sneak peek about where to find them when they aren't whipping up shepherd's pie, Malört cakes, and more in their Logan Square kitchens. Here, some of their favorite eating and drinking haunts in the city.
Rachel and Lucy's Picks
To forget about the work day:
We're really into bellying up to
Telegraph
's bar (2601 N. Milwaukee Ave.) after a long day at work. Their cocktails are great—but their wine list is heaven (and so are their oysters!).
To get coffee:
Picking a favorite coffee shop is like Sophie's choice. Can't do it. But if we HAD to, probably
Gaslight
(2385 N. Milwaukee Ave.)? Their pour-overs taste like blueberries and dark chocolate and tobacco and it's amazing.
To get dessert:
Jeni's Scoop Shop
(3404 N. Southport Ave.) is pretty much the best thing that has happened to either of us.
To eat and drink on the cheap:
The snack counter at
Joong Boo
(3333 N. Kimball Ave.). Perfect spicy soup full of miscellaneous seafood! We're also pretty into the
Previous Administration
(3152 W. Diversey Ave.): fair food and negronis, forever.
To splurge on a meal:
Omakase at
Juno
(2638 N. Lincoln Ave.) is 1) the only valid reason to ever go to Lincoln Park and 2) the best meal you will ever eat. BK Park is an evil genius that does unforgettable things to fish—and the service is simply unmatched. Jason Chan should train every front of house ever.
To go on a hot date:
Nightwood
(2119 S. Halsted St.): well-executed and affordable, sharable plates, and lighting that makes everyone looks like a Disney Princess.
To share a meal with friends:
It might be a cop-out, but your own kitchen is always the best place to have a meal with friends. Cooking for and with folks you love is one million times more satisfying than going out—and you get to keep all the leftovers.
Photo of Gaslight courtesy of Tristan Coulter