Five Finds: Randolph Street Market
BY: Kelly MacDowell |
Oct 7, 2013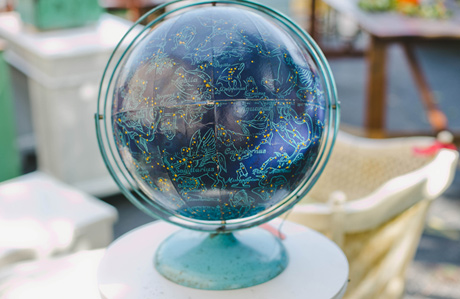 On a perfect September Sunday, I visited
Randolph Street Market
for the first time. As I looked out at the sea of around 100 vendors in the parking lot—knowing that there were about 100 more inside
Plumbers Hall
—I started to feel overwhelmed. However, the will to browse was contagious, and the majority of the browsers were old pros. It's no surprise that they keep coming back; this bazaar of art, jewelry, furniture, and other home goods has been lauded by everyone from Nate Berkus to the
New York Times
, and is inarguably one of the best shopping destinations in the city. Now in its 10th year, the market has certainly hit its stride, and the eclectic mix of vendors meant that there was a surprise at every turn. Both vintage curators and independent designers set up their booths in the sun-drenched lot, so the salvaged and hand-painted side tables at
Pink Elephant
seemed right at home near the record stacks at Vinyl Swap Meet, or the cruisers lovingly restored by Mike's Bikes. Though the lot was expansive, a full exploration was completely doable, and the journey unearthed five charming treasures. With any luck, they'll still be available at the market when it returns (this time, indoors only) on
October 26–27
.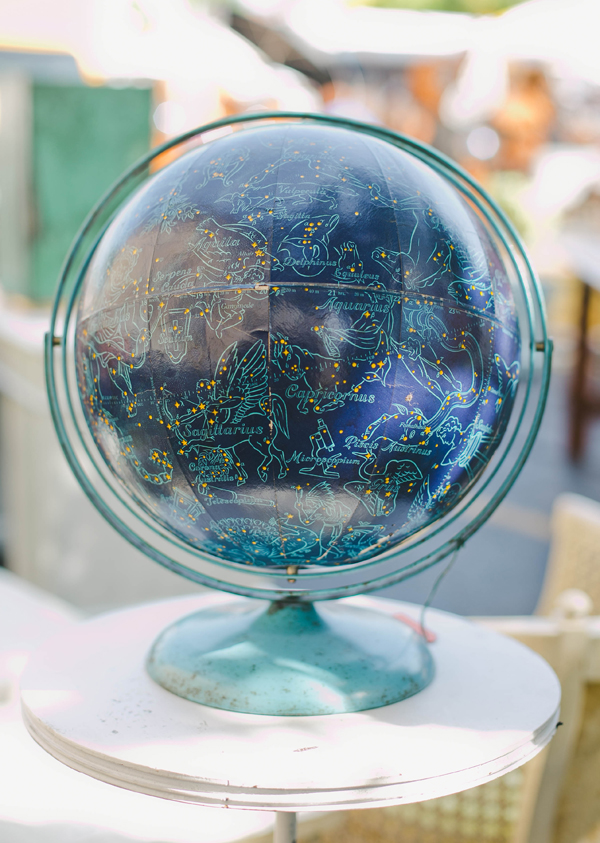 1. Rare celestial globe, $115
Booth:
Lehman's Antiques (they also sell items at
Vintage Garage
) One globe stood out amidst others in an antique collection: a navy-blue sphere on a turquoise stand that mapped constellations instead of continents. Mr. Lehman estimated the globe to be from the 1940s or 1950s.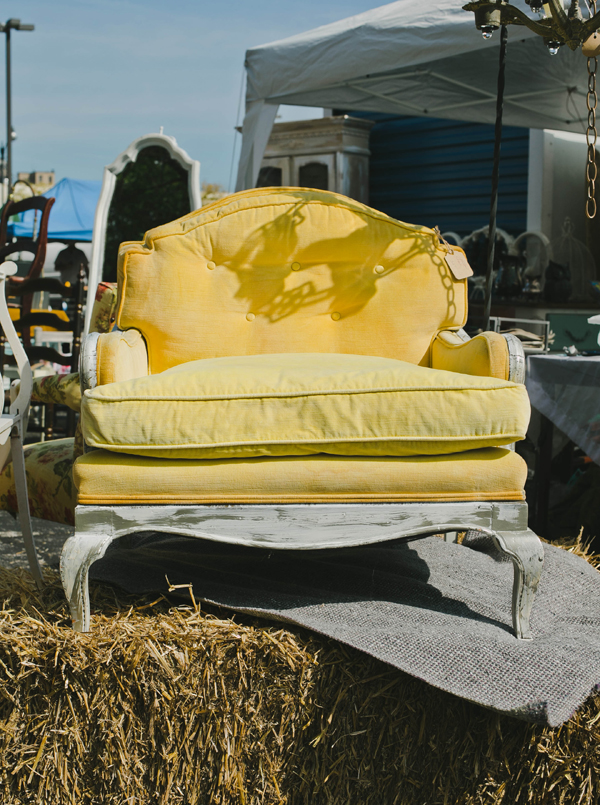 2. Plush yellow boudoir chair, $32
Booth:
L'Abeille Vintage
This strangely sweet chair is short and squat, two characteristics that L'Abeille co-founder Juliet Lamarre assured me were standard for boudoir chairs. She found the Baroque-inspired piece at an estate sale in Lake Forest, and it's estimated to be from the 1960s.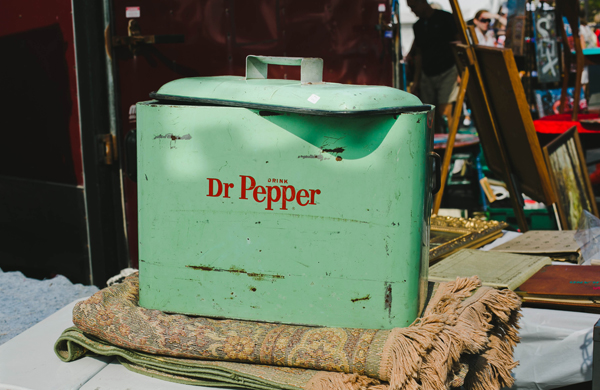 3. Metal Dr. Pepper drink cooler, $250
Booth:
Keith Manners Vintage There might be chips and dings in this cooler's celadon exterior, but Keith said that such marks were to be expected, given the preservation of the original paint job. He also said that the red lettering makes this cooler a rarer find—typically, the letters were done in white. This particular model was made in Louisville, Kentucky, in the late 1940s.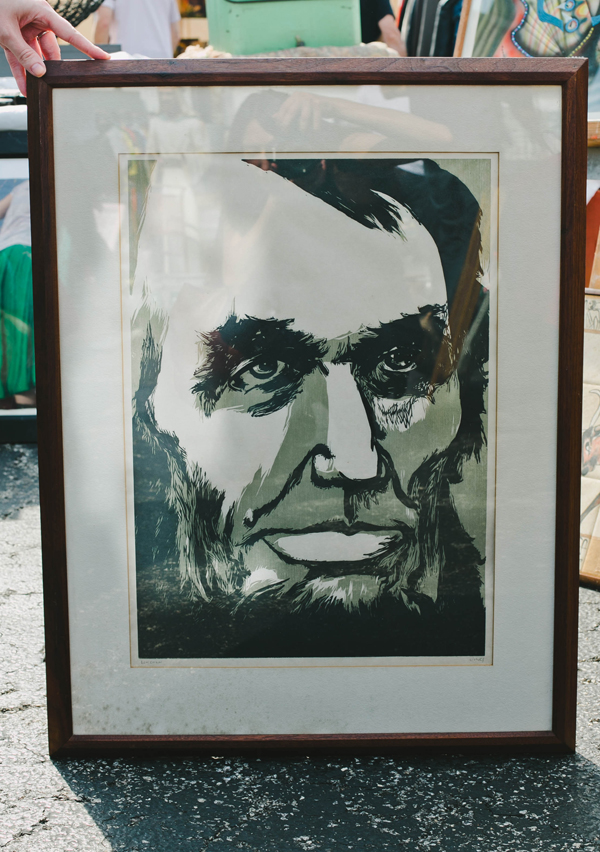 4. Modernist Abraham Lincoln portrait, $80
Booth:
Backstreet Vintage The fact that booth-owner Shymaine Wright couldn't remember exactly where she scored this portrait just added to the mystique of its outlandishly modern interpretation. Plus, it's already matted in a ready-to-hang vintage frame.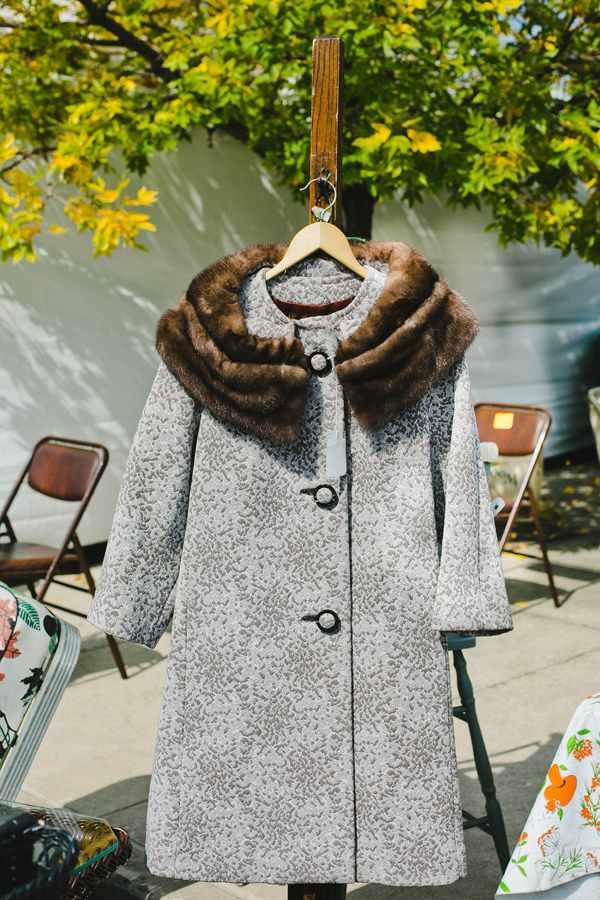 5. Vintage mink-collar coat, $150
Booth:
Hello Good Buys (they also sell items at Vintage Garage and
Lincoln Antique Mall
) This 1950s coat looks just like something Eva Marie Saint would have worn in
North by Northwest
. The unique blue-gray print is somewhere between floral and plaid, and the inside is double-lined by heavy satin over a toasty wool underlayer. (And yes, the mink overlay on the collar is real.) Hello Good Buys founder Donna found the coat at an estate sale in Evanston.
Photo: © Stephanie Bassos, Groupon
BY: Kelly MacDowell
Kelly's first concert was Fleetwood Mac and her first career was in the beauty industry. Now a style and music writer, she loves Project Runway and her dog, Watson.