Five Meals Near Holiday Shopping Spots
BY: Editors |
Dec 13, 2013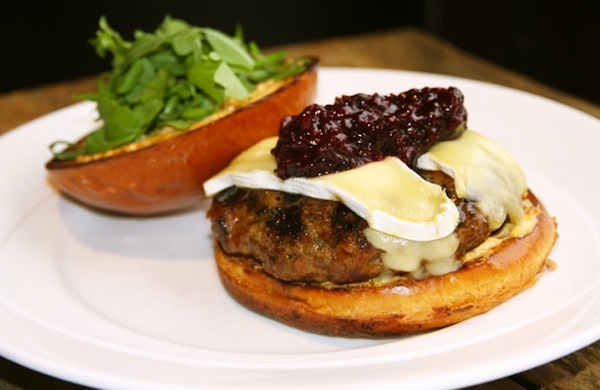 Wild Boar Burger at The Peasantry (Lincoln Park | 2723 N. Clark St.)
For when you shop at: clothing chains on Clark
The proprietors of The Peasantry are obsessed with street food—the kind of rustic, meaty dishes you find at bustling outdoor marketplaces around the world. Amid Lincoln Park's ample shops, they offer modern tribute to the world's greatest alley fare with dishes like Chef Joe Doron's wild boar burger. Each Cajun-spiced hog patty entices with the cured crunch of bacon and the hearty juice of a perfectly pink steak. The toppings are equally impressive: blackberry compote, spicy aioli, and soft brie cheese. Tired shoppers can enjoy this locally sourced food magic while warming at the flickering fireplace, or admire the 60-foot graffiti mural of barnyard animals in silhouette—fitting homage to those who give the menu so much. – Adam Bass
Pork confit sandwich at Southport Grocery and Café (Lakeview | 3552 N. Southport Ave.)
Shop at: Southport Ave. boutiques
Shopping excursions along Southport Avenue easily become a daylong affair, with specialty boutiques for kids, adults, and even pups. To keep my energy levels from flagging, I like to stop in at Southport Grocery and Café, where all food, including its famous cupcakes, are made from scratch.
For a recent lunch outing, I ordered pork confit on rye, which arrived slathered with melted baby swiss, kimchi, beer mustard, and buttermilk herb dressing, along with a side of preserved-lemon-peanut-broccoli salad. What makes this pit spot ideal for last-minute shoppers is that you can eat and gift-hunt at the same time: the grocery shelves are stocked with gourmet pancake mixes, jams, and several flavors of Co-Op hot sauce ready to be wrapped up in gift baskets. Whether you're still shopping or not, just remember not to leave without grabbing a cupcake. – Carolyn Alterio
Garlic bread at Michael Jordan's Steak House (Streeterville/Magnificent Mile | 535 N. Michigan Ave.)
Shop at: Mag Mile department stores
Once you get past the throngs of tourists, there's still something magical about shopping on Michigan Avenue in December. When you need a snack break, duck into the InterContinental and grab a seat in the Michael Jordan's bar for a drink and the signature garlic bread. You would think crispy slices of buttery, garlicky bread are enough of a luxury on their own, but not here. Instead, the server brings the tower of bread to the table, then pours a silky blue-cheese fondue all over it. You'll want to soak up every last bit of that sauce—and, if you're sharing, try your best to resist a second order. – Hillary Proctor
Burrata pizza rossa at Sono Wood Fired Pizzeria (Lincoln Park | 1582 N. Clybourn Ave.)
Shop at: home-decor and clothing stores by North/Clybourn
With its flickering candles and exposed-brick walls, Michelin-recommended Sono lets shoppers decompress in an ambiance upscale enough to feel luxurious, but casual enough that you won't feel out of place with a pile of shopping bags. Paired with a glass of red wine, my burrata pizza was welcome sustenance after long hours of browsing the upscale retail chains near the North/Clybourn Red line. The dollops of cool, creamy burrata provided a contrast of both taste and temperature to the slightly chewy thin crust, which was drizzled in flavorful olive oil. Though Sono's a sit-down affair, solo shoppers need not be intimidated: grab one of the bar-style seats in the back to pass the time watching pizzas emerge from the wood-fired oven. – Nathalie Lagerfeld
Tonkotsu Ramen at Wasabi (Logan Square | 2115 N. Milwaukee Ave.)
For when you shop at: thrift stores in Logan Square
Though I generally end up doing most of my Christmas shopping online, I like to start with visits to my favorite thrift stores, Village Discount Outlet (2032 N. Milwaukee Ave.) and Family Thrift (2160 N. Milwaukee Ave.). They're both at least medium depressing, and thrift shopping can be hard physical labor—I once moved a church organ from Family several blocks in the freezing rain. After exertion like that, the broth of tonkotsu ramen at Wasabi, right across the street, is so reviving as to feel almost medical. It's a thick stock the color of dark leather, and it makes each shard of marinated bamboo or smoky pork leap out surprisingly. A bowl makes you feel almost ready once again to go look at too-small boots and clarinets with missing pieces. – Cody Braun
Photo courtesy of The Peasantry
BY: Editors
The Guide: we cover the coolest food, beauty, and entertainment trends happening nationwide.