Five New Year's Resolutions We Bet You Haven't Thought Of
BY: Ashley Hamer |
Dec 31, 2013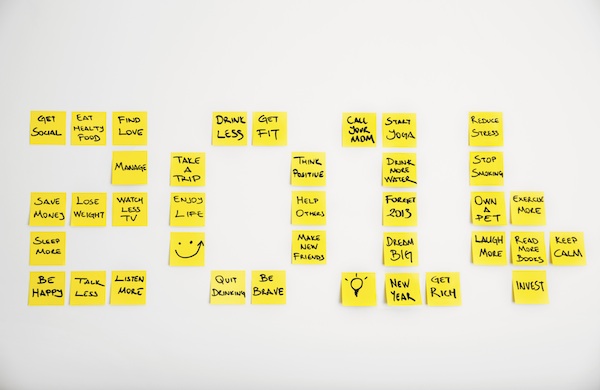 "Lose weight" and "save money" are so 2013. Here are five fresh resolutions and the Chicago spots that can help you achieve them.
Instead of setting yourself up for failure with a tired old resolution—lose weight, quit smoking, design and market a successful smartphone app—why not find something fresh that will actually be fun to achieve? Below, we share five such resolutions along with concrete steps for knocking them out.
Dress Like a Grownup
Some people are born with the fashion gene, and others need a little nurturing. Luckily Bridget Smith of
The Wardrobe Coach
can be your style mentor. Send her three full-length photos and 99 bucks, and she'll draft a comprehensive body-type analysis that explains which pieces are most flattering on your body and why. For a heftier fee, she can also go through your closet and help you shop. If stylist services are beyond your budget, there's plenty of inspiration to be found online. Search Instagram for the hashtags #ootd or #outfitoftheday to find thousands of fashionable ensembles users are wearing. Hone in on a few that include items in your own closet, then copy at will. Reddit is also a good resource: subreddits such as
r/malefashionadvice
and
r/femalefashionadvice
are full of guidance on what to buy and how to wear it, and
r/todayiwore
invites users to post their outfits for comments and critiques.
Learn to Love Jazz
Even if you can discern the subtle aromas in a good cabernet and name a dozen Bergman films, you can't call yourself cultured until you can appreciate, nay, even
enjoy
jazz. Start with the experts at
Jazz Record Mart
(27 E. Illinois St.). They can recommend albums based on music you already like, and they also maintain a list of
essential jazz records
on their website. Another excellent method for learning the ins and outs of the genre is to attend a jazz jam session. These intimate events, which often unite players who have never worked together before, offer a glimpse into the way musicians approach the music and interact with one another.
Andy's Jazz Club
(11 E. Hubbard St.), just steps from Jazz Record Mart, hosts a jam every Sunday from early evening until late into the night. Further north,
Lilly's
(2515 N. Lincoln Ave.) features one every Wednesday night, and the historic
Green Mill Cocktail Lounge
(4802 N. Broadway) hosts a Friday jam an hour after midnight.
Make People Recognize You By Scent
Chicago is home to a handful of spots that let customers create a one-of-a-kind fragrance from scratch. The process is simple: staff members help you choose an appropriate base scent and then add in top notes with complementary fragrances. Check out the brand-new
Body Chemistri
in Andersonville and the long-established
Aroma Workshop
in Lincoln Park. Never again will a beloved pet follow home a party guest who uses the same shampoo as you.
Brush Up on the Language You Forgot Since High School
Learning a foreign language ranks highly on the list of things most people wish they would have tried harder to master in school, right after playing dodgeball with grace. But it's still possible to catch up. If your main obstacle to renewing your love affair with verb conjugation is time, try the
Bilingual Boot Camps
at
Multilingual Connections
in West Bucktown. The $150 programs take place over six hours on a single Sunday, and cover everything from common words and phrases to culture. A less expensive and more social alternative is to connect with a local Meetup group. The
Chicago French Language Meetup Group
, the
Chicago Japanese Language Meetup Group
, and
Spanish Events in Chicago
are but a few groups that host informal gatherings focused on practicing language skills and learning about foreign culture (it helps if you still remember bits and pieces from your lessons).
Be a Better Chicago Tour Guide
When friends come to visit, it's nice to have answers to their questions: what's the name of that building with the pointy things on top? Which bars did Al Capone
really
commit tax evasion inside? You don't have to be a tourist to take a tour of our fair city, and doing so will help you become an authority of your own. The tours by the Chicago Architecture Foundation are led by certified docents with hundreds of hours of training. Their ever-popular
boat tour
is out of season until April, but they put on equally fascinating
walking
and
bus tours
(dozens of them, in fact). For its part, the Chicago History Museum holds
pub crawls
organized around different historical themes. And to make sure you can satisfy a visitor's more morbid curiosities, go for the 105-minute, $30
Untouchable Tour
, which visits the Biograph Theater, Holy Name Cathedral, the scene of the St. Valentine's Day Massacre, and other gangster-ridden spots.
BY: Ashley Hamer
Guide Staff Writer
Ashley Hamer is a musician, marathon runner, and science lover. She writes about science for Mad Art Lab.