Five Only Sort of Depressing Ways to Spend Valentine's Day Alone
Some singles celebrate Valentine's Day by going to the movies alone, ordering in pizza for one, or crying inconsolably. Here are five Chicago-centric ways to steer clear of the happy couples.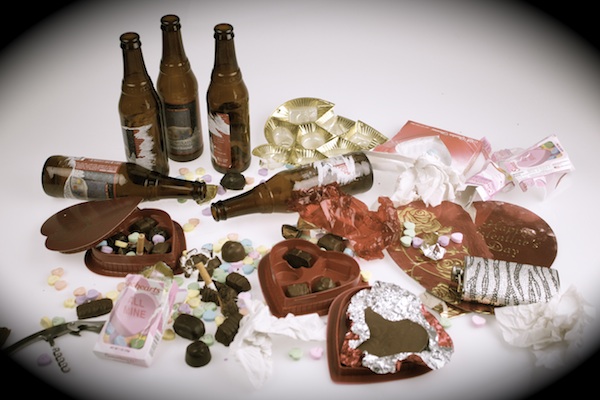 In recent years, there's been a movement among singles to take back Valentine's Day from all those sickeningly cute lovebirds. Some have even taken to celebrating Singles Awareness Day (better known by its all-too-appropriate acronym, S.A.D.) by going to the movies alone, ordering in pizza for one, or sitting on a park bench and crying inconsolably. While these are all good options, we've come up with five Chicago-centric ways to spend February 14 with the person you love most: yourself.
Get Blitzed on Homebrews at Hostel Earphoria's Lonely Hearts Ball
So your lover moved out weeks ago, but his/her stench is still all over the furniture in your apartment. You need to get out of there and drown your thoughts in a barrage of snare drum, distorted guitar, and beer—yes, lots of beer. Accomplish all of the above at Hostel Earphoria's Lonely Hearts Ball, where the only happy couple will be a bottle of homebrew from Powell Brew House and a lineup that features four of Chicago's noisiest bands. A $5 donation gets you free beer, free candy, and hours of sludgy surf rock from the likes of Inflatable Best Friend, whose name is all too fitting given the circumstances. Look on the bright side: if you can't stand to go back home after the show, you'll already be inside a functioning hostel. (3464 W. Diversey Ave., 9 p.m., $5 donation)

Take Off Your Shoes and Sing Along with Jason Anderson at The Den Theatre
Jason Anderson is no stranger to heartbreak. The New England–based songwriter doles out anthemic choruses like they're elementary-school Valentines, and his best work seems always to revolve around the theme of unrequited love. Anderson has been touring the country's basements and living rooms for years now, and he's perfected a schtick based on positive, hippie-punk vibes (at a Chicago show last year, he somehow convinced everyone to take off their shoes). Part of the singer's appeal lies in his strained delivery of lines such as the oft-repeated refrain to "July 4, 2004": I will wait for you, and I always will. Overstretching his voice to the point where you're unsure if he's about to break down in sobs, he comes off like the earnest, unlikely offspring of Bruce Springsteen and Bryan Adams. (1333 N. Milwaukee Ave., 9:30 p.m., $5 donation)

Fall to Pieces with Patsy Cline Cover Band The Weepin' Willows at The Hideout
If you can't move on from a former flame, don't feel down on yourself. Embrace it the way heartache was always meant to be embraced: through the heart-wrenching love songs of Patsy Cline. This year's annual St. Valentine's Day Massacree combines the crooning talents of Cline cover band The Weepin' Willows with haunted blues and jazz courtesy of Grit & the Double Knit, who are set to debut their first 7" on Friday. Grit & the Double Knit will share The Hideout's intimate stage with Burlesco!, a sexy vaudeville troupe whose knifeplay, flamethrowing, and whip tricks might momentarily distract you from that all that aching in your chest. But not for long, as The Weepin' Willows promise to conclude the night by breaking every heart in the room into a hundred little pieces. (1354 W. Wabansia Ave., 10 p.m, $10)

Sabotage Happy Couples During Room Escape Adventures at the Fine Arts Building
If Valentine's Day makes you bitter enough to want to stick it to a happy couple, here's a thrilling way to embrace the "single freak" stereotype. Room Escape Adventures is an interactive performance in which up to 12 people are locked in a room with a bloodthirsty zombie that's chained to the wall. You have one hour to work together and solve clues in order to make your escape. Billed as "The Coolest Date Night Ever," it's sure to attract a few demented couples who are more likely to call on Wes Craven than Cupid for romance. Show up alone and and act like you don't fully understand the point by pleading to save the zombie. Or simply curl up in the corner and tell everyone you want to stay in the room forever. You won't ruin anyone's night (they're the ones choosing to spend their date locked up with a zombie), but you also won't help make it romantic. That's some sort of consolation, right? (410 S. Michigan Ave., 6:30 and 8:30 p.m., $28)

Challenge Traditional Dating in "A Room of Her Own" at the Leather Archives & Museum
Some images in the below links are graphic in nature and might not be suitable for viewing in public or at the office.
Valentine's Day is less depressing if you think of it as a chance to do something you wouldn't normally suggest for a date. A visit to the Leather Archives & Museum doesn't exactly scream "traditional"—in fact, the museum has a way of actively challenging long-held relationship norms. Current exhibition A Room of Her Own is not exactly about Virginia Woolf's 1929 smash hit, A Room of One's Own, but it does build on the feminist essay's conclusion that women should have their own space for creativity. In this particular space, artist Alex Warner explores the typical living room of a leatherwoman. Selecting pieces from the museum's permanent collection, she makes a powerful statement of inclusivity within the leather community. (6418 N. Greenview Ave., $10 admission)