Five Questions with an Edible-Seaweed Harvester
BY: Nathalie Lagerfeld |
Jun 11, 2014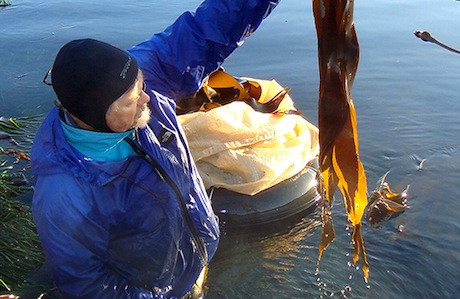 Not all seaweed salad has to come from Japan. Mendocino, California–based
Rising Tide Sea Vegetables
is one of a growing number of companies that harvest edible seaweed in US waters, making it possible to buy kombu and sea lettuce that's as local as a farmer's market's kale. Even as demand expands, owner Larry Knowles remains committed to the practice of wildcrafting—a kind of systematic foraging that yields a sizable harvest while leaving local ecosystems intact. We caught up with him to ask about his sustainable-food philosophy and whether or not it's a good idea to chow down on that random frond of seaweed you found at the beach.
See our guide to edible seaweeds, with commentary from Knowles, here.
What is wildcrafting?
"The idea would be that…we're taking out little enough biomass that it's not affecting that species' function in the ecosystem. And we're taking it out in such a way that it's going to reproduce in a really healthy way next year. Recruitment has to be good—there has to be a good, thick bed of kombu showing up the next year, and the next year."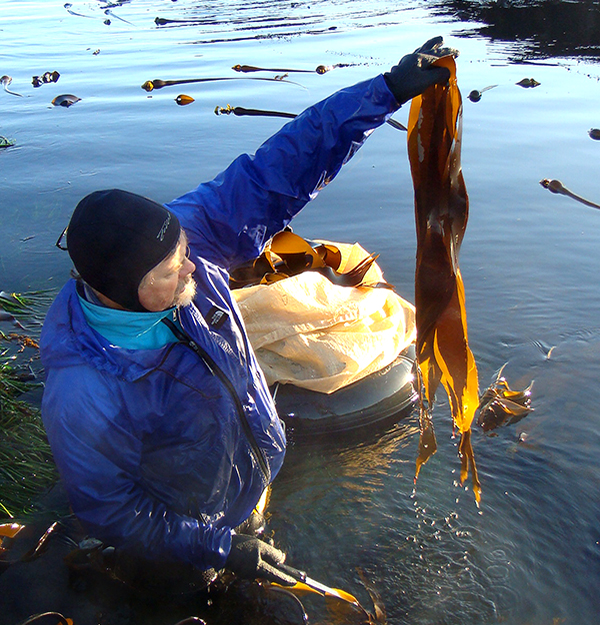 How do you define sustainability?
"My definition of 'sustainable' is different from that of the forest-products industry. They say, 'There's just as many trees out there as there were 100 years ago.' But that's not really an ecosystem—it's more of a monoculture tree farm. To me, it's the viability of an ecosystem that has to remain intact for it to be sustainable."
What kind of ecosystems are you protecting?
"The last harvest we did, we were harvesting kombu [a type of kelp common in Japanese cooking –
Ed
.]. We were out in a sort of outer bay where it's still directly in contact with the open ocean. It's a very diverse ecosystem; there are a lot of seaweeds that grow there. In the case of kombu, it's seaweed that is providing a certain amount of cover for all sorts of invertebrates and fish, and it provides a nursery for a lot of different baby organisms."
Should people try to pick their own seaweed?
"I can't speak for Maine, but the cool thing about California is that there isn't any highly toxic seaweed out here. Unlike mushrooms, where you have to be so careful, there isn't anything that's highly toxic. There's one that has huge amounts of sulfur in it. It's not a highly toxic element, and it tastes awful. You'd have a bite and you'd be like, that's awful. You'd have to be mentally not okay to keep eating it."
So I can just pick some up off the beach?
"No, we don't pick it off the beach! We're harvesting out in these ecosystems where there are these vibrant, healthy—for lack of a better word, since lots of people call them this—plants. We're not picking up off the beach because it's hard to tell where it's from."
Shop for deals on vegetarian restaurants in your city.
Photo courtesy of Rising Tide Sea Vegetables.
BY: Nathalie Lagerfeld
Guide Staff Writer
Nathalie is a writer and editor on the Guide's food team. Originally from Virginia, she now lives in Chicago, where she regularly indulges her love of tortas, bibimbap, and Cheez-Its. Follow her on Twitter @maviswillsaveus.