Edible Seaweed Would Prefer to be Called Sea Vegetables
BY: Nathalie Lagerfeld |
Jun 11, 2014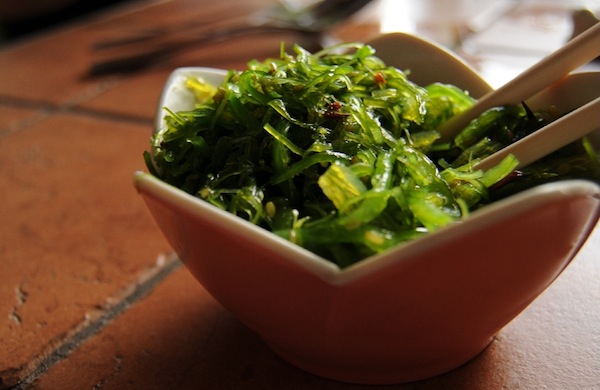 From fictional pirate stories to real-life sunken ships, it's common knowledge that there's hidden treasure in the ocean. But what if, instead of silver or gold, the treasure was a brownish, mottled green? That's how some chefs and nutritionists feel about seaweed—or "sea vegetables," as they prefer to call the many varieties of edible plants that grow in the ocean. Chock-full of iodine and other nutrients, they've been cultivated for centuries along Asia's coasts. But they're only now starting to make inroads in the US. Thanks to their ubiquity in all forms of sushi, varieties such as nori and wakame are starting to make their way into salads and marinades beyond their original Japanese-food ken. But even if you eat seaweed often, you might not know what kind you're eating. Sea vegetables' names are unfamiliar and so is their appearance, especially when they're dried and packaged on a grocery-store shelf. To help understand these vegan fruits of the sea, I talked to Larry Knowles, owner of
Rising Tide Sea Vegetables
in Mendocino, California. One of only a few seaweed producers in the United States, Knowles's small company sustainably harvests several types of sea vegetables from Pacific waters, so he was the perfect candidate to explain the different varieties.
See our full interview with Knowles here.
NORI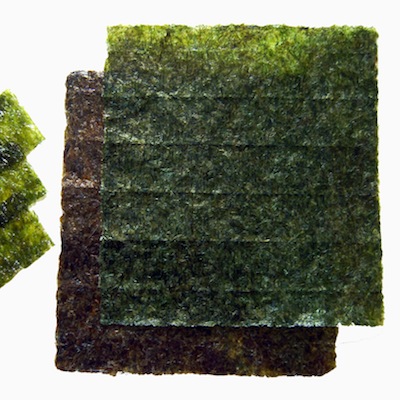 Claim to fame:
Probably the most ubiquitous seaweed in America, nori is what's in those paper-like sheets that wrap california rolls and other maki sushi.
You've eaten it in:
Sushi rolls, or straight from the package as a snack.
Where it grows:
All over. But making sheets of sushi nori is a labor-intensive process, and it's difficult for small, domestic companies to do it efficiently, Knowles said. So the nori sheets you find in the supermarket will almost definitely be imported from China or Japan.
How to use it:
If you're over traditional maki, try this recipe for
nori veggie wraps from A House in the Hills
. You can also crumble nori on top of rice—or buy a shaker of
furikake, a nori-based seasoning that's all the rage in the Philippines
.
WAKAME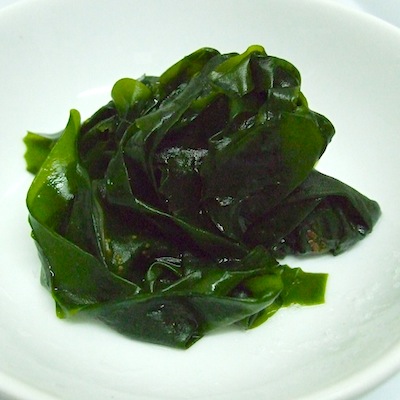 Claim to fame:
It's the leafy greens in miso soup.
You've eaten it in:
Miso soup, seaweed salad.
Where it grows:
In the Pacific. But if you buy local on the East Coast, you'll be getting a slightly different plant known as alaria, AKA Atlantic wakame.
How to use it:
Throw it in your miso or try a fancy seaweed salad, such as
Yotam Ottolenghi's version with watermelon
(via the
Guardian
) or a more traditional
cucumber-based version
from
Food & Wine
.
KOMBU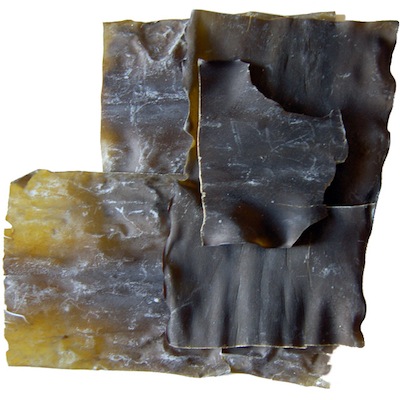 Claim to fame:
Its nutritional value. The variety of edible kelp includes nutrients such as polysaccharides and iodine.
You've eaten it in:
Japanese soup stock, or dashi.
Where it grows:
True kombu, AKA saccharina japonica, only grows in Asia, but American sea-veggie purveyors on both coasts gather similar varieties of kelp.
How to use it:
Due to high levels of glutamic acid—the naturally occurring amino acid MSG is derived from—kombu packs a wallop of umami flavor. If you've already mastered a recipe for kombu dashi (like
this one at Just One Cookbook
), challenge yourself to try chef Jesse Koide's
Tuscan-style beans
. According to the
Kitchn
, the glutamic acid in kombu can tenderize beans and meat.
ARAME AND HIJIKI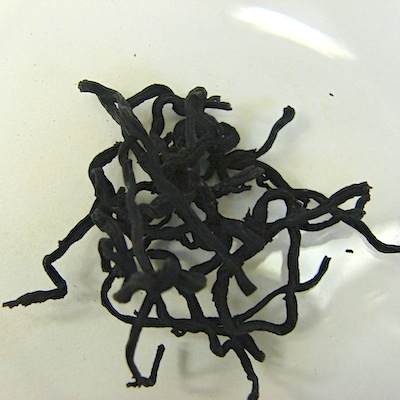 Claim to fame:
Hijiki's long, black threads look like thick, black hair. As a result, according to old folktales, consumption of hijiki is what gives Japanese people thick, black hair themselves.
Where it grows:
Along the Pacific Coast in Asia.
How to use it:
Both varieties add flavor to grains and vegetable sautés and go particularly well with carrots. Try this recipe for
arame with sautéed carrots, onions, and sesame
from Coconut & Quinoa or this one for
hijiki with carrots
from the Kitchn.
DULSE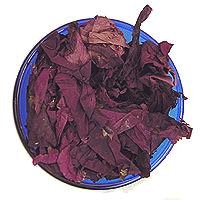 Claim to fame:
Its blood-red color makes it stand out from its sea-vegetable brethren.
You've eaten it in:
Vegan chowder recipes, where it imparts a fishy taste, eliminating the need for actual fish. It's often eaten raw as a snack in Ireland and Iceland.
Where it grows:
The northern coasts of the Atlantic.
How to use it:
For starters, try sprinkling it on a salad, as in this simple
avocado salad recipe from The Rawtarian
.
SEA PALM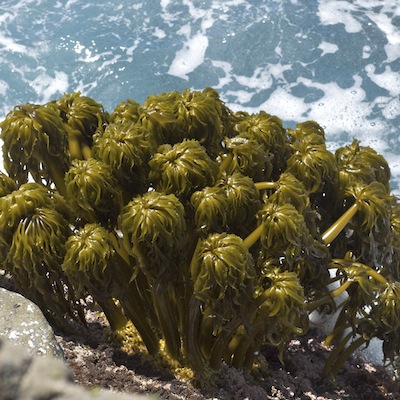 Claim to fame:
One of the most mild-tasting seaweeds, this species' long, narrow fronds "don't have a strong fishy taste—they've got more of a land-green flavor to them," Knowles said.
You've eaten it in:
You haven't, unless you eat a lot of raw, vegan food and live on the West Coast. This is one of the only seaweeds on this list that's not common in Asian cuisine. Knowles has heard of sea palm being covered in tomato sauce and eaten like spaghetti.
Where it grows:
The West Coast of North America.
How to use it:
Try out the
recipe for sesame sea palm and cucumber salad
, created for Rising Tide Sea Vegetables by raw vegan chef Cherie Soria, founder of the
Living Light Culinary Institute
.
Shop for deals on sushi in your city.
Top photo by Teresa Morgan on Flickr.