Until You've Sprinkled Furikake Over Rice, You Have Not Had Rice
BY: AIMEE ALGAS ALKER | 4.30.2014 |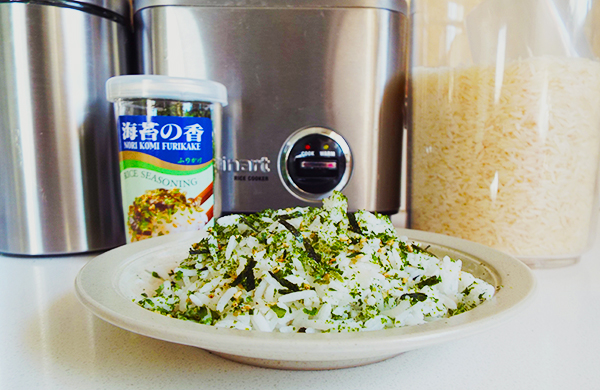 What is it?
Also known as sushi-rice seasoning, it's a shakeable blend of bright-green chopped nori (dried seaweed), sesame seeds, sugar, and salt. It's Japanese in origin, but used a lot in Hawaiian cooking. Some variations also incorporate bonito flakes (katsuobushi, i.e. fermented and smoked skipjack tuna), wasabi powder, and dried kimchi.
How does it taste?
A little salty, a little sweet. There's the nuttiness of sesame seeds, and the oceanic tang of seaweed. It's more complex than, say, soy sauce, although from experience, adding soy sauce brings out furikake's many flavors.
What do you do with it?
You can simply sprinkle it on rice or noodles, as well as raw or cooked fish. People also shake it on top of popcorn, french fries, or party mixes.
You can also cook with it; here are a few recipes:
1. Soba Noodle Soup with Japanese Crispy Pork and Black Garlic Paste from The Urban Domestic Diva
2. Mochiko Furikake Chicken from Just Jenn Recipes
3. Tatsutage Fried Chicken with Spicy Yuzu Mayonnaise by Susan Feniger for Chow
4. Furikake Salmon from Stuff Yo Face
5. Furikake Crusted Mahi-Mahi from Hungry to Happy
Photo by Aimee Algas Alker, Groupon
BY: Aimee Algas Alker
Guide Staff Writer
Though Aimee stays up to date on the latest food trends for the Guide, most of her meals are served cold and cut into tiny, toddler-sized bites.