GROUPON GUIDE TO SAN FRANCISCO
Five Spots for Inventive Sushi in the Bay Area
BY: Anjali Shah |
Jun 5, 2014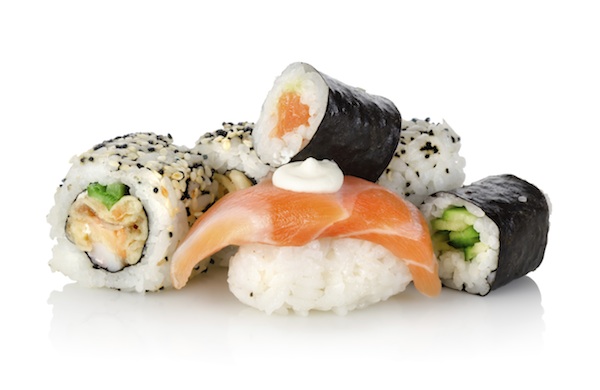 Sushi
is not hard to come by in San Francisco, but so much variety means that finding the perfect sushi spot can be a challenge. Here are our picks for the five freshest, most innovative sushi restaurants in the Bay Area.
1. Cha-Ya (762 Valencia St.)
Vegetarian sushi anyone? While that may sound like an oxymoron, Cha-Ya is redefining what sushi means, veggie- and vegan-style. It's cash-only here, and the wait can be long, but the food is inventive and the service is great. Even meat eaters should enjoy the Cha-Ya Roll: tempura-battered asparagus, avocado, yam, and carrot with Cha-Ya's special sauce.
2. Minako Organic Japanese Restaurant (2154 Mission St.)
Never tried fried "veggie eel" before? This place has you covered, and it accommodates most dietary restrictions. There's a vegan menu, a gluten-free menu, animal-product-free tempura, and sushi made with brown rice.
3. Roka Akor (801 Montgomery St.)
The presentation at Roka Akor is out of this world: sushi served on a landscape of salt rocks, ice, bamboo boxes, and light (that's right, your sushi plate will glow). The tasting menu is a must-try and incorporates a wide range of different fish.
4. Tsunami Sushi Panhandle (1306 Fulton St.)
Tusnami's classic california rolls are half off during happy hour, but the restaurant is most famous for its combination rolls. Try the Mama San with tempura shrimp and spicy tuna or the Magic Mushroom roll with salmon, snow crab, and enoki mushrooms. Also, consider adding some zing to your meal with sake or wine.
5. Akiko's Restaurant (431 Bush St.)
Located in Union Square, Akiko's serves up superfresh sushi—the menu changes daily based on the availability of ingredients. The kitchen focuses on serving sustainable, organic, seasonal, and local fish at high-end prices. The omakase menu will run up to $100 per person, but for sushi die-hards, it's worth it. If you're not feeling fish, there are non-sushi items on the menu, too, including teriyaki meats and udon soups.