Five Things to Do This Weekend: November 22–24
BY: Tyler Clark |
Nov 22, 2013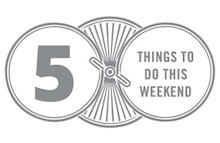 Food Film Festival
Where:
Kendall College | 900 N. Branch St.
When:
Friday, 6:30 p.m.; Saturday, noon and 7:30 p.m.;
see the full schedule
How Much:
$55+;
buy tickets here
From the lowliest italian beef to the
brightest Michelin stars
, Chicago's reputation as a world-class food city is on stronger footing than ever before. The organizers of the Food Film Festival agree, choosing the Windy City as one of just three destinations for the traveling exhibition. During three programs this weekend, audience members can watch
short films
about everything from artisan salt makers in New York to the best corned-beef hash in Oak Park before sampling dishes inspired by the films themselves. If we had to choose based on menus alone, we'd give the nod to Friday evening's
The Food Porn* Party Chicago
, where edibles will include salted-caramel donuts from Seattle's
Top Pot Doughnuts
and Warsteiner-dipped corn dogs in the Fondue Lounge.
The festivities conclude at Saturday night's closing ceremonies, where organizers will hand out awards in seven categories, including Best Film Made Locally and Food Filmmaker of the Year. Proceeds from the Chicago stop benefit the
Good Food Project
. For a deeper look at this tasty event, check out
our interview with festival producer Seth Unger
.
The Mikado
Where:
Steppenwolf Theatre, The Garage
| 1624 N. Halsted St.
When:
Friday, 8 p.m.; Saturday, 4 p.m. and 8 p.m.; Sunday, 4 p.m.
How Much:
$36+;
buy tickets here
If Gilbert and Sullivan were alive to see what Chicago theater troupe
The Hypocrites
did to their 1885 masterpiece
The Mikado
, they might have a few questions. "Where did the orchestra go?" they might ask, or "Whose idea was the 80-minute run time?" All of these misgivings would likely fade away as the lights came up on the brisk, entrancing production. As they did previously with
The Pirates of Penzance
, The Hypocrites have turned a moth-eaten classic into a kid-friendly sing-along, replacing Victorian costuming and orchestration with thrift-style garb and motley folk instruments more suited to a hootenanny than an operetta. These updates paid dividends during their debut last year, earning a
glowing review from the Chicago Tribune
and
a spot on the paper's year-end top 20 list
. While the show's endurance might stem from its catchy tunes or timeless spoofs of love and politics, this 21st-century face-lift ensures its place in the hearts of a new generation. We think ol' G&S would approve.
Smith Westerns with Sky Ferreira
Where:
The Vic Theatre | 3145 N. Sheffield Ave.
When:
Friday, 8 p.m.
How Much:
$21 It's been a busy year for hometown heroes 
Smith Westerns
. In 2013, they signed to tastemaking label Mom + Pop, released their third album (the shimmering
Soft Will
), and played to packed crowds everywhere from Coachella and Lollapalooza to a tightly packed Reckless Records. They'll drop the curtain on this banner year with one final Chicago show. Joining the foursome is
Sky Ferreira
, who finally gets a Chicago do-over after her slightly wilted performance at this summer's Pitchfork Music Festival. Ferreira's had a strong autumn since then: her debut album,
Night Time, My Time
, dropped to positive reviews last month, with tracks like lead single "You're Not the One" proving that the success of her breakout single "Everything Is Embarrassing" might not be a one-time thing.
One Foot on a Banana Peel
Where:
Co-Prosperity Sphere | 3219-21 S. Morgan St.
When:
Friday through December 3; opening reception Friday, 7–11 p.m.
How Much:
Free Wicker Park, Bucktown, and Logan Square continue to assert themselves as the city's hipness triad, but radical art refuses to be contained to a handful of ZIP codes. Take Bridgeport, for instance—the no-nonsense neighborhood known for popping out mayors like so many toaster pastries is also home to the
Co-Prosperity Sphere
. This weekend, the avant-garde event space hosts
One Foot on a Banana Peel
, a group show curated by
Luke Pelletier
that features art installations and pieces by 18 fellow scenesters, including
Suzi Kemp
and
The Yok
. In the spirit of commemoration, the folks at the C-PS will also compile and distribute a free zine containing works by all featured artists.
Chicago Book Expo
Where:
St. Augustine College, Charlie Chaplin Auditorium
| 1345 W. Argyle St.
When:
Sunday, 11 a.m.–5 p.m.
How Much:
Free With winter gearing up for its annual march of occupation across the city, the only thing to do is grab a blanket, hunker down, and crack open an enthralling book (preferably one about someplace warm.) Fortunately, the folks behind the Chicago Book Expo have plenty of ammo to help you weather the weather. The latest edition of this pop-up book fair will take over St. Augustine College's Charlie Chaplin Auditorium for one day only, granting temporary space to some of Chicago's foremost independent publishers, authors, and writing groups. In addition to buying a season's worth of new books, guests can also participate in onsite writing workshops or listen to unguarded chats with local authors such as
Dmitry Samarov
and
Samantha Irby
.
BY: Tyler Clark
Tyler is a writer, storyteller, and musician from Chicago. His stories have appeared on stage at shows including Mortified, Story Club, and Lethal Poetry.