Five Things to Do This Weekend: November 8–10
BY: Tyler Clark |
Nov 8, 2013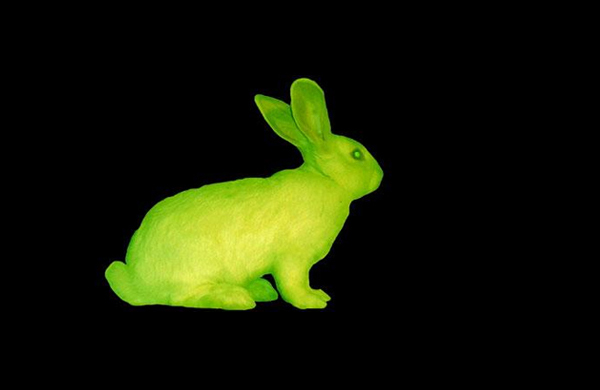 Eduardo Kac: Transgenic Artist
Where:
Art Institute of Chicago, Fullerton Hall | 111 S. Michigan Ave.
When:
Saturday, 1:30 p.m. to 2:30 p.m.
How Much:
$10 (teachers and students: $5; discounted Art Institute passes: $16) The Chicago Humanities Festival might be winding down, but its final weekend of programming still contains too many engaging topics to confine to
a single preview
. Take Eduardo Kac, for instance. A self-described "transgenic artist," Kac fiddles with life's building blocks in the name of art. Some of his iconic pieces include
Natural History of the Enigma
, a petunia spliced to include some of Kac's own DNA, and
GFP Bunny
, an actual rabbit genetically altered to glow in the dark. The School of the Art Institute of Chicago professor will share his view of humanity's role in the genetic conversation in a discussion with Art Institute curator Hamza Walker.
Trombone Shorty & Orleans Avenue
Where:
The Vic Theatre | 3145 N. Sheffield Ave.
When:
Friday and Saturday, 8 p.m. (doors open at 7 p.m.)
How Much:
$26 When he's not busy sitting in with Eric Clapton or educating the next generation of musicians, Troy Andrews still blows a mean trombone. Better known as Trombone Shorty, the New Orleans native parlays a childhood spent in Tremé's famed brass bands into a career as one of the most in-demand brass men in the industry. During a two-night stand at the Vic in support of the well-received
Say That to Say This
, Andrews and his band Orleans Avenue will send up a smoldering fusion of jazz, hip-hop, and marching-band funk—displaying the combination of boisterousness and virtuosity that
earned him the coveted spot as the new closer of the annual New Orleans Jazz & Heritage Festival
.
Reel Art Collectibles' Fall Warehouse Sale
Where:
Reel Art Collectibles | 6727 W. Stanley Ave., Berwyn
When:
Friday–Sunday, 11 a.m to 7 p.m.
How Much:
Free Right now, as you read this, connoisseurs of comics, movies, and all manner of pop-culture minutiae are already speeding toward Reel Art Collectibles. Each one harbors visions of discovering half-priced treasures within the shop's cavernous warehouse. Their hopes aren't just delusions of grandeur: though owner Cory Glaberson is a veteran of the convention circuit, he only opens the full warehouse for infrequent special occasions. Within lies a trove of forgotten glories representing Glaberson's wide-ranging tastes; highlights include vintage pulp magazines, rare movie posters,
Star Wars
memorabilia, and an entire pallet of the ill-fated
Mr. Belvedere
Atari game.
Lycée Français de Chicago's Fall French Market
Where:
Lycée Français de Chicago | 550 W. Irving Park Rd.
When:
Friday–Sunday;
hours vary by day
How Much:
$5–$45;
see the full pricing breakdown
While the cheeses of the Rue Daguerre and the boutique fashions of the Rue des Rosiers remain safely tucked along their Paris streets, the spirit of their open-air origins is spending the weekend at Lycée Français de Chicago's Fall French Market. While adults learn gourmet tips from
visiting chefs
or browse the wares of
more than 70 French-inspired vendors
, little ones can cool their heels in the extensive
kids' pavilion
. For just $10, children aged 3–10 get two hours of crafts, games, and demonstrations from Emerald City Theatre, magician Sean Masterson, and other engaging performers. Grownups can also partake in Friday night's preview cocktail party, a fiesta-themed bash which pairs early access to the market with mariachi music, prize drawings, and dinner from
Mixteco Grill
.
Chicago Architecture Foundation's Andersonville Pub Crawl
Where:
Edgewater Lounge
| 5600 N. Ashland Ave.
When:
Sunday, 2:30 p.m.
How Much:
$15 (CAF members: free) As soon as you spot the gargantuan Scandinavian cross plastered across the side of the neighborhood's water tower, you're reminded that no matter how much the city around it changes, Andersonville remains Chicago's steadfast pocket of Swedish charm. During their neighborhood pub crawl, the building experts of the Chicago Architecture Foundation explore this intersection of Old-World and American sensibilities while simultaneously hoisting pints at the iconic watering holes that surround Andersonville's bustling Clark Street corridor.
BONUS THING: Studs' Place, Episode Two
Where:
The Hideout | 1354 W. Wabansia Ave.
When:
Sunday,
7 p.m. (doors open at 6 p.m.)
How Much:
$10 In 1951, Studs Terkel planted the Chicago flag on the still-untamed shores of Televisionland. His show,
Studs' Place
, was the first national television series shot in Chicago and featured the unscripted interactions of the denizens of the eponymous local diner (television historian Rich Samuels describes it as "
Cheers
without alcohol"). Although the show itself was short-lived, Terkel's indefatigable spirit still stirs within Chicago's artists, including those behind the Pocket Guide to Hell. In 2012, more than 60 years after Studs' Place
went off the air, these Chicago history buffs partnered with members of the city's theater community to produce a new, live reimagining of an episode set at
The Hideout
. A year later, they're back for more. In addition to the improvisation and musical interludes that gave the original series its personality, the Hideout version also shares some of the show's visual qualities. Camped in the space's back room, audience members watch a closed-circuit, black-and-white projection of the action taking place in the front bar, lending the experience an air of authenticity usually reserved for the inside of museum display cases.
Photo: © Chrystelle Fontaine
BY: Tyler Clark
Tyler is a writer, storyteller, and musician from Chicago. His stories have appeared on stage at shows including Mortified, Story Club, and Lethal Poetry.