What (and Who) to See at the Chicago Humanities Festival
BY: Tyler Clark |
Oct 31, 2013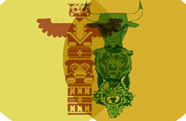 Now in its 24th year, the Chicago Humanities Festival continues its original mission to "extend the riches of the humanities to all who might benefit" with
Animal: What Makes Us Human
. Over the course of more than 60 lectures, performances, shows, and presentations, art and science luminaries invite attendees to take a closer look at a seemingly simple question: are humans animals? From a demonstration of microscopic robot swarms to a chat with an Obama campaign mastermind, here are eight of our favorites.
Purchase tickets here, but don't dally—many events have already begun selling out.
For Those Who Buy Biology Texts for the Pictures: Mark Dion: Krypto-Zoologist
WHERE: Chicago History Museum, Rubloff Auditorium | 1601 N. Clark St. 
WHEN: Saturday, November 2, from noon to 1 p.m.
HOW MUCH: $10 (teachers and students: $5)
Whether they lurk within jars of formaldehyde or romp through the pages of Charles Darwin's journals, scientific depictions of animals often reveal as much about the collector as they do about the creatures being collected. Artist Mark Dion draws on these and other inspirations for his left-of-center cataloging projects; recent works include a collecting expedition to New York's Chinatown and a survey of the (still-living) bugs that eke out their lives between the seemingly antiseptic walls of University of Chicago's
Smart Museum of Art
. In his chat with Northwestern University's Lisa Graziose Corrin, Dion will share insights into these and other projects, exploring the constant conversation between science, the natural world, and the artists tasked with reflecting both.
For Those Who Dream of Electric Sheep: Invasion of the Robot Ants
WHERE: Northwestern University School of Law, Thorne Auditorium | 375 E. Chicago Ave.
WHEN: Sunday, November 3, from 3 p.m. to 4 p.m.
HOW MUCH: $8 (teachers and students: free)
As a
rough-and-tumble youth inventor
, James McLurkin built his first robot out of little more than an old remote control car, a rudimentary computer, and know-how picked up during trips to the public library. Today, as a professor of robotics at Rice University, McLurkin's experiments are smaller and larger at the same time: inspired by the habits of organization-minded insects including ants and bees, his swarms of tiny machines are designed to accomplish daunting tasks ranging from clearing minefields to exploring planets. He won't be alone at his Sunday presentation—McLurkin's creations will also be on hand to give audience members a glimpse at what they can do.
For Anyone Whose Favorite Dancer is Michigan J. Frog: Birds Do It, Bees Do It ...
WHERE: Francis W. Parker School, Diane and David B. Heller Auditorium | 2233 N. Clark St. 
WHEN: Tuesday, November 5, from 7:30 p.m. to 9 p.m.
HOW MUCH: $20 (teachers and students: $10)
Mating rituals from across the animal kingdom become song-and-dance fuel for
Rob Lindley
and
Doug Peck
, the theatrical masterminds behind the cabaret-style revue
Birds Do It, Bees Do It …
. Country tunesmith
Robbie Fulks
, Goodman Theatre favorite
Felicia Fields
, and pianist
Beckie Menzie
bring these displays of affection to life with new renditions of American standards including Hoagy Carmichael's "Baltimore Oriole" and Stick McGhee and His Buddies' "One Monkey Don't Stop No Show." Jeff Award–winning actor
Molly Brennan
joins Lindley for hosting duties.
For Those Who Love Animals for More Than Their Delicious Taste: Jonathan Safran Foer on (Not) Eating Animals
WHERE: Northwestern University School of Law, Thorne Auditorium | 375 E. Chicago Ave. 
WHEN: Wednesday, November 6, from 8 p.m. to 9 p.m.
HOW MUCH: $15 (teachers and students: $5)
For Jonathan Safran Foer—the author of 2000s insta-classics
Everything Is Illuminated
and
Extremely Loud and Incredibly Close
—what began as nutritional crash course in the face of impending fatherhood became a newfound dedication to animals and animal-free eating. He distilled his experiences into 2009's
Eating Animals
, a nonfiction exploration that casts a critical eye on everything from factory farming to the fetishization of food and food culture. Safran Foer will chat about his new dual role as an activist-author and fill audience members in on how they can
get involved in his meat-free mission
.
For Fans of the Lions, the Tigers, and the Bears: Bear Down with Lester Munson
WHERE: UIC Forum, Main Hall C | 725 W. Roosevelt Rd. 
WHEN: Saturday, November 9, from 12:30 p.m. to 1:30 p.m.
HOW MUCH: $10 (teachers and students: $5)
From the snarling bears that roar across orange-and-blue sweatshirts to the twinkle-eyed leprechauns that smirk from their perches on baseball caps, sports mascots are a daily part of life in Chicago. During a Saturday chat, ESPN reporter and former
Sports Illustrated
writer Lester Munson takes a deeper look at these manifestations of fandom, tracing their connections to totemic traditions and examining how their power to inspire devotion turns rational people into feverish fans. He might also answer one of Chicago sports fans' most burning questions: what's so tough about a Packer, anyway?
For Donkeys and Elephants: The Political Animal: A Conversation with David Axelrod
WHERE: UIC Forum, Main Hall AB | 725 W. Roosevelt Rd. 
WHEN: Saturday, November 9, from 5 p.m. to 6 p.m.
HOW MUCH: $20 (teachers and students: $10)
As one of the masterminds behind Barack Obama's historic presidential campaigns, strategist David Axelrod was credited with translating Chicago's boots-on-the-ground activism to the national stage. On the festival's penultimate day, the founder of the University of Chicago's new
Institute of Politics
will sit down with the
New York Daily News
' Washington bureau chief
Jim Warren
for a discussion of power, persuasion, and what the changing expectations of political representation mean for the country and the species.
For Anyone Who Knows the Scariest Animal Is Actually Batman: Jenette Kahn on DC Comics
WHERE: Art Institute of Chicago, Fullerton Hall | 111 S. Michigan Ave.
WHEN: Sunday, November 10, from 3 p.m. to 4 p.m.
HOW MUCH: $15 (teachers and students: $5; discounted Art Institute passes: $16)
Watchmen
.
The Dark Knight Returns
.
The Death of Superman
. During her trailblazing time as publisher and editor in chief of DC Comics, Jenette Kahn oversaw some of the storied company's most memorable storylines. From the stately stage of the Art Institute's Fullerton Hall, she'll delve into three decades of comic history, answering questions such as "How did the graphic novel change the way that comic producers approached their stories?" or "Could the Blue Beetle beat the Flash in a fight?"
BY: Tyler Clark
Tyler is a writer, storyteller, and musician from Chicago. His stories have appeared on stage at shows including Mortified, Story Club, and Lethal Poetry.