Five Ways Brunch Can Be Kid Friendly Without Being "Kid Friendly"
BY: Emily Donelan |
Feb 12, 2016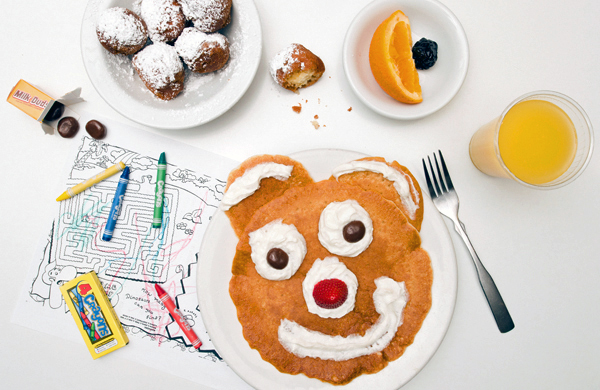 My husband and I love eating out; we used to try restaurants like some people go to the movies, but our two young children have changed that. Now, instead of heading to dinner at 9 p.m., we are out for breakfast at 9 a.m. when we'd rather be sleeping. But fortunately for us, being wide-awake that early does have at least one advantage: no-wait brunching.
Lou Mitchell's, which on its storefront sign advertises itself as the number-one breakfast and lunch spot in America, is a Chicago staple that's been around for 90 years. We took our kids there to judge it based on what we consider the five factors that make a good kid-friendly but not "kid-friendly" restaurant.
1. Feed Us Before You Feed Us
No matter how old you are, when you sit down to brunch, chances are you're starving. Lou Mitchell's prevents low blood sugar, which can turn young children into tornados of tears and rage, by feeding its customers freshly baked donut holes and Milk Duds while they wait for a table—and even when they arrive before 8:30 a.m. and are seated immediately.
2. Give Us Room to Move
This is tricky because you want room for all your gear, but you don't want to be banished to Siberia where you won't feel like part of the action. We were seated in the middle of everything at Lou Mitchell's, but we had a slightly awkward time getting there. After negotiating the double door setup, we followed the hostess down a narrow walkway between tables to our booth by the kitchen. Once seated, we were comfortable with Izzie Infant's car seat wedged on one side and Tommy Toddler happily seated on the other.
3. Be Noisy But Not Too Noisy
When Izzie began to fuss and Tommy proceeded to repeat "dog" like a broken See 'N Say, we remained calm as the hustle and bustle of the restaurant blocked out their tiny, adorable voices. But luckily the noise was not so deafening that we couldn't enjoy some conversation as Izzie drifted off to sleep.
4. Entertain Us
A lot of restaurants come through with crayons and paper (which Lou Mitchell's gave us), but we've found things like fish tanks or huge picture-glass windows that open onto a busy street to be much more engaging. Lou Mitchell's came through big with its open kitchen. It provided Tommy with a flurry of gape-worthy activity: from toast toasting to cooks cooking. My husband and I, on the other hand, stared at each other without blinking for 20 minutes straight.
5. Good Food
We had been to Lou Mitchell's many times and knew what we wanted: a belgium malted waffle with sausage and a fluffy jumbo broccoli and cheddar-cheese omelet served in a skillet with crispy potatoes. A quick glance at the kids' menu showed that it was pretty basic—except for the Milk Dud pancakes, which I would like to eat right now—but we opted to share our dishes with Tommy since we were familiar with Lou's large portions. Our food came fast but not hot. The temperature was mildly disappointing but the quality of the food was just as we remembered—basic but solidly good. So was the case with the dark, diner-style coffee, which makes you almost glad you're tired enough to need it.
By the time we left around 9:30 a.m., a line had formed. And on our way out the door we noticed a few suitcases stacked by the coat rack, proof that Lou Mitchell's is the first place people stop when staying in Chicago or the last place they need to visit before saying goodbye. I know we will definitely be back.
Photo by Andrew Nawrocki, Groupon